U.S. Should Fund Opioid Use Disorder Treatment in Correctional Facilities
New report recommends Medicaid cover needed services during incarceration
U.S. Should Fund Opioid Use Disorder Treatment in Correctional Facilities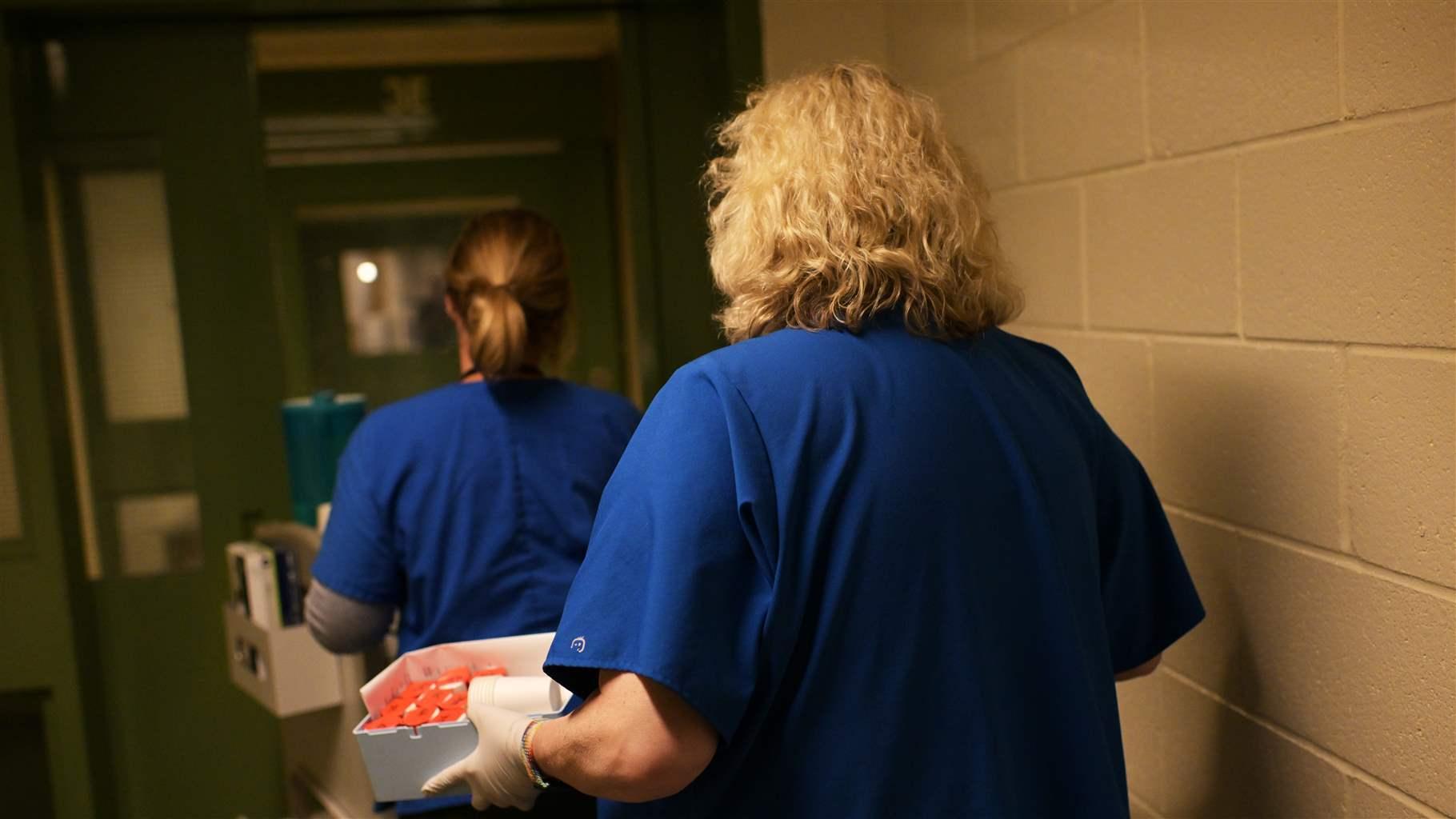 A new report supported by Bloomberg Philanthropies explores Medicaid—the public health insurance program for low-income Americans—as a potential payer for addiction treatment throughout a person's incarceration in state prisons and local jails. Against the backdrop of increased federal and state interest in such an arrangement, the authors propose that Medicaid agencies could consider covering a minimum set of services and standards of care to treat opioid use disorder (OUD), ranging from screening and assessment to treatment and reentry services for people returning to their communities after release.
People who are incarcerated have a higher prevalence of substance use disorders (SUDs) than the general population. Statistics from 2019, the most recent year for which data is available, showed that among the 64% of people in jails screened for OUD, 15% screened positive, compared with less than 1% of the nonincarcerated population diagnosed with OUD. In addition, overdose risk increases after a person is released from incarceration. Despite studies indicating that when people in jails and prisons have on-site access to medications for OUD (MOUD)—methadone, buprenorphine, and naltrexone—they can experience reduced overdose risk and increased OUD treatment engagement following release, few correctional facilities provide such treatment.
But that situation is beginning to change, with policymakers increasingly recognizing addiction as a public health problem that follows incarcerated people back into their communities. States are now seeking federal insurance coverage, such as Medicaid, to help pay for health care services in correctional facilities, and agencies supporting those facilities would benefit from putting standards of care in place.
Roadblocks to OUD treatment
The Centers for Medicare and Medicaid Services (CMS) already requires state Medicaid programs to cover MOUD in community settings, but the statutory "inmate exclusion" has long prevented the program from covering health care services in jails and prisons, except for 24-hour inpatient hospital stays. Some correctional facilities have reported that they can't afford to independently pay for MOUD, and prison- and jail-based addiction treatment programs face other challenges as well: physical space limitations, lack of patient privacy, and security concerns (such as patients having to be escorted to the medical unit for appointments).
Congress and CMS have made legislative and regulatory efforts, respectively, to move away from restrictive past policies and to instead prioritize continuity of care for people who are incarcerated— many of whom are now Medicaid-eligible in some states that expanded Medicaid under the Affordable Care Act. State Medicaid programs are starting to cover health services in correctional settings through CMS's 1115 demonstration waiver program, which allows states to pilot new ways to use Medicaid dollars to better serve beneficiaries.
So as states and CMS contemplate Medicaid coverage for some kinds of correctional OUD care, the report's authors identified best practices that states can use to inform decisions about what OUD services Medicaid should consider requiring for reimbursement, as well as optional services for facilities with the capacity to provide additional care.
Proposed required and optional Medicaid-covered OUD services in prisons and jails
Required services:
Screening.
Clinical assessment.
MOUD initiation for opioid withdrawal.
MOUD initiation for OUD.
MOUD continuation.
Reentry services.
Optional services:
Multidimensional assessment (goes beyond a clinical assessment to identify a person's needs across various physical and mental health domains).
Counseling.
Intensive outpatient (IOP) services.
Under the proposed required services, correctional facilities' staff would screen for OUD just as they do for other health conditions, and a qualified practitioner would conduct an assessment to determine who would benefit from MOUD. In addition, individuals in need of withdrawal management to mitigate discomfort would be able to receive buprenorphine or methadone, and they would then transition to OUD treatment with continued MOUD. Reentry services would include case management, arranging for recovery supports after release, and a 30-day supply of prescription buprenorphine in hand at release. The optional services include not only a multidimensional assessment but also counseling and IOP—a regular, structured programming of counseling and addiction or mental health education—which may improve outcomes for some incarcerated individuals with OUD.
For each required or optional service, the report authors write that Medicaid agencies should apply standards that specifically address who should receive the service, what is included in the service, when the service should be rendered, and who should provide the service.
States take the lead
While the report addresses the minimum services and standards Medicaid agencies should consider when covering correctional OUD care throughout a person's stay, some states are already addressing the health needs of incarcerated people through limited Medicaid coverage immediately prior to an individual's release. In January of this year, CMS approved the first reentry 1115 waiver—allowing California to provide a limited set of Medicaid-covered health and SUD services, including MOUD, for individuals up to 90 days before release. Washington state followed with a similar proposal, which was approved in June.
As of August 2023, another 15 states have submitted 1115 reentry waivers, with most seeking Medicaid to cover OUD services. All of these states will likely need to ensure that prisons and jails provide Medicaid standards of care such as those outlined above; report performance measures to the states; and have the infrastructure to submit for Medicaid reimbursement of services—all activities that are new to correctional facilities.
This report is the first in a three-part series, all produced by Viaduct Consulting LLC. The next two, scheduled to publish later this fall, will recommend performance measures that state Medicaid agencies could consider to assess prisons' and jails' OUD services and suggest reimbursement and payment models for Medicaid-covered correctional OUD services.
Alex Duncan works on The Pew Charitable Trusts' substance use prevention and treatment initiative. Maria Schiff is a consultant for Pew.