In Canada, Indigenous Leaders Take Mantle of Longtime Boreal Forest Stewardship Effort
Move could set the standard for transitioning to Indigenous-led conservation elsewhere
In Canada, Indigenous Leaders Take Mantle of Longtime Boreal Forest Stewardship Effort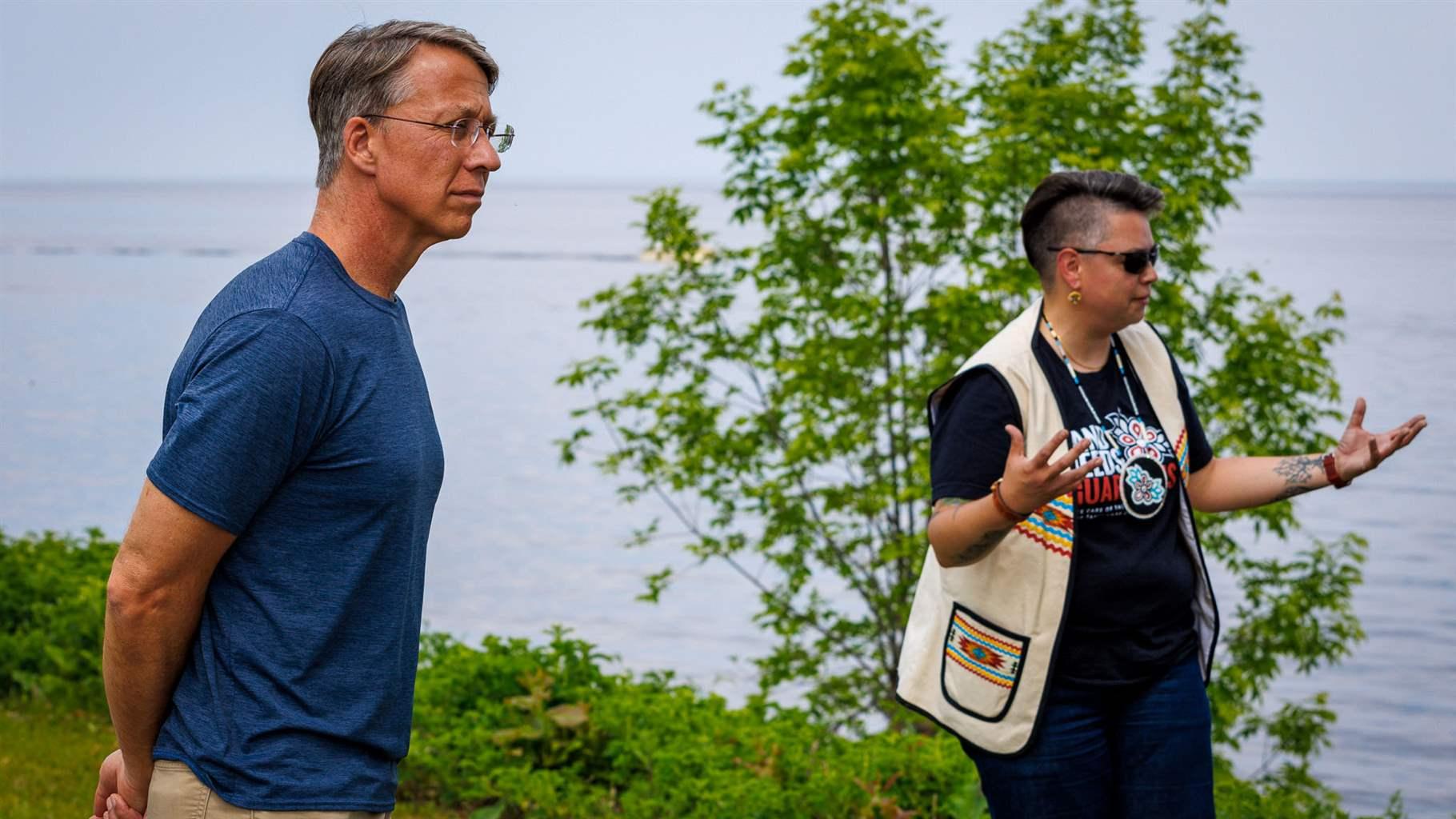 A steady breeze carries the smell of smoking goose and beaver meat to a circle of people gathered on the shore of lake Pekuakami on a brilliant mid-June day in the Ilnu community of Mashteuiatsh, Quebec. The group is sharing stories about working together, some for more than two decades, on a campaign to conserve the lands and waters of the boreal forest in Canada, which spans 1.3 billion acres from coast to coast and is one of the largest intact forest and wetland ecosystems on Earth.
We came together in Mashteuiatsh to celebrate an important milestone: the passing of the helm of the International Boreal Conservation Campaign (IBCC) from the campaign partners to the Indigenous Leadership Initiative (ILI). As ILI Executive Director Valérie Courtois said in a June 15 announcement about the move, this step could "usher in a new era—one that ensures Indigenous peoples are recognized and supported as the appropriate and natural leaders of conservation on their own homelands."
Pew and its partners created IBCC in 1999 to raise awareness of the need to conserve a vital ecosystem found only in the world's high northern latitudes. Laced with freshwater wetlands, the boreal forest in Canada is home to many wildlife species and is an essential nursery for North America's bird populations. With the ability to store up to twice as much carbon per acre as tropical rainforests, the boreal forest is also globally important in the race to manage climate change.
The boreal is also home to hundreds of Indigenous communities; Indigenous-led initiatives have been key to IBCC's success since its inception. ILI continues to focus on establishing Indigenous conservation systems that respect Indigenous Nationhood, including Indigenous Protected and Conserved Areas managed by Indigenous Guardians stewardship programs. This approach sustains nature as well as helps restore Indigenous languages, cultures, and community well-being.
The partnership between Pew and ILI represents the latest step in the evolution of this conservation work in Canada and comes as the government of Canada deepens its commitment to Indigenous-led conservation. For example, at the December meeting of the United Nations Convention on Biological Diversity in Montreal, Canada pledged at least $800 million to support four project finance for permanence initiatives—led by Indigenous communities in the boreal forest, Pacific coastal rainforest, high Arctic, and Hudson Bay region—and announced the creation of the first country-wide Indigenous guardians program to recognize and develop the work Indigenous peoples do in stewarding lands and waters. Indigenous-led initiatives that work with Indigenous Nations to revitalize their own cultures and stewardship responsibilities is good for communities, for nature, and for Canada.
Under the U.N. Convention on Biological Diversity, almost every nation has committed to protecting at least 30% of its lands and waters by 2030—a target known as "30 by 30"; the Paris Agreement calls for similarly high ambitions to limit carbon emissions. These goals cannot be met without the support and leadership of Indigenous peoples, whose homelands constitute as much as half of the world's remaining intact ecosystems and harbor up to 80% of earth's unique species.
But Indigenous-led conservation is much more than a method for achieving international goals; it is also a model for meeting the responsibilities that we all share to justice, equity, and respect for all peoples. It is not only about guardianship of nature but also fundamentally about the inherent rights of Indigenous communities.
As ILI builds networks within Canada, its example can also be a model for other countries. Pew has been proud to play a role in supporting the development of ILI and is even prouder to remain a trusted partner now. As our relationship has deepened, we have learned that for an organization to support Indigenous leadership and the ideas generated from Indigenous Nations, we must be willing to step back and set aside our established ways. One challenge for the field of conservation is that organizations and donors must recognize that they cannot always prioritize their own brands and goals if they are to be true supporters of Indigenous-led conservation. For the reasons stated above, it is vital that we all work to support and sustain self-sufficient Indigenous-led organizations, with growing capacity for conservation and a long-term future.
Indigenous peoples who are engaged in conservation efforts sustain lands and waters for the good of all people. Creating space for Indigenous leadership and decision-making on Indigenous homelands will benefit our shared futures.
Following the sharing circle in Mashteuiatsh, our group gathered for a community feast of moose stew and smoked goose and beaver, celebrating IBCC's progress and the dividends that the work will pay for nature and wildlife far into the future. We also recognized that each group represented had much more to do for the planet and its people—a quest that we all knew we'd be undertaking with each other's support.
Tom Dillon is a senior vice president at The Pew Charitable Trusts, leading the organization's work on conservation and environment initiatives in the United States and around the world. Valérie Courtois is the executive director for the Indigenous Leadership Initiative.