How Washington State's Investments in Electronic Data Collection Helped Bolster Public Health
A focus on reporting cases of illness electronically could support faster responses to outbreaks
How Washington State's Investments in Electronic Data Collection Helped Bolster Public Health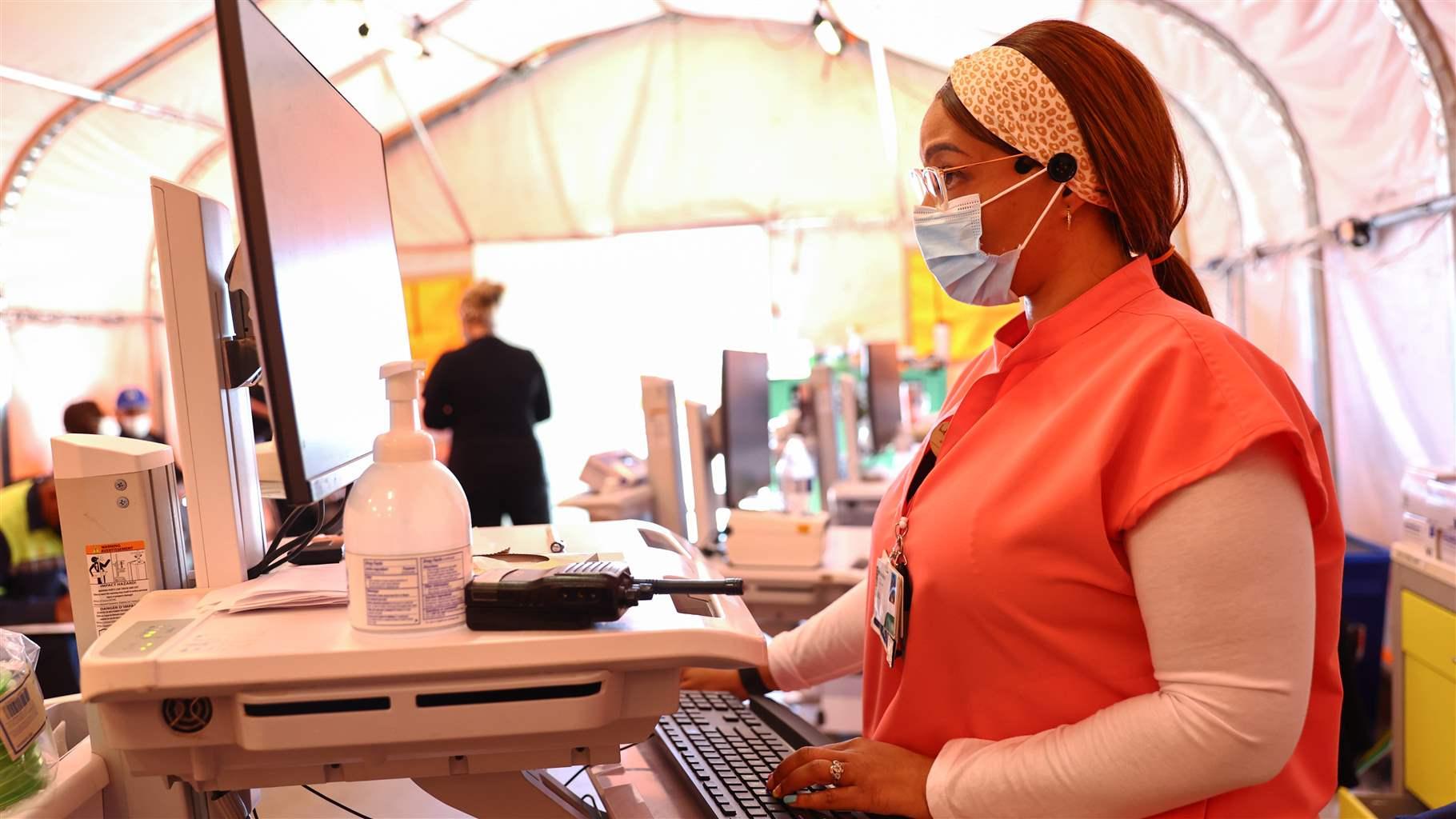 In early 2020, before the COVID-19 pandemic had spread throughout the United States, Washington state was the first to be hit hard by the virus. By March, the state had the highest number of cases per capita in the country. State public health officials worked diligently to contain and track the spread of the disease–a feat made possible by the state's existing public health data infrastructure, which allowed officials to receive critical, time-sensitive information from health care providers.
This interview with Dr. Bryant Thomas Karras, chief medical informatics officer and senior epidemiologist at the Washington State Department of Health, and Michelle Campbell, director of the department's Center for Data Modernization and Informatics, has been edited for clarity and length.
Tell us about your agency's history with electronically collecting and sharing public health data.
Karras: Part of why Washington state did so well in managing our COVID response was because we've been collecting data electronically since the 1990s. Back then it was only coming to us from a small number of partners, such as some hospitals or individual practitioners, and it was mostly demographic or clinical administrative data. Then, in 2009, the American Recovery and Reinvestment Act—specifically the Health Information Technology for Economic and Clinical Health Act—enabled us to modernize and advance electronic data collection from more partners throughout the state.
Last year, from January to November, we had 102 million transactions with our partners throughout the state. Many of those transactions included multiple records. Due in large part to COVID testing and more data coming from an increasing number of providers and hospitals, 53 million of those transactions were electronic laboratory reports, which are essential for many public health activities.
Has electronic data collection improved the state's public health work? If so, how?
Campbell: If we want to quickly implement contact tracing and other interventions, faxes and manual entry slow us down—by the time we have the information we need, it may be too late. And entering data manually can affect data quality by introducing inadvertent misspellings or typos. Electronic data collection has helped us address those issues and get timelier, better-quality data.
How is Washington state continuing to bolster its electronic data collection infrastructure?
Karras: Our focus is on two types of electronic data: case reports, where a patient is diagnosed with a disease, and lab reports, such as a nasal swab for COVID-19 that comes back positive. Both are critical for any response, but electronic case reporting in particular could help us do what public health has always wanted to do, which is allow providers to report individual cases of certain transmissible conditions as soon as a clinician suspects a disease. There's already work underway to make that a reality.
For example, tuberculosis can be reported "on suspect"—that is, before a patient's actual lab results are in. That's important because tuberculosis takes a long time to incubate; a person could continue to expose others for days before public health officials get a positive test result and could intervene. If a provider is able to report a suspicion of a positive case, public health agencies can work with them and instruct patients to quarantine until the test results are in, helping prevent the spread of disease. That would've been incredibly helpful to have in the early days of the COVID-19 pandemic, but it was only in the pilot phase for a few conditions in a few cities and states at that time.
Going forward, our electronic case reporting team is trying to determine how we're going to process this kind of data. Our disease reporting system needs to be able to process it and connect it with our lab reporting process. We're still working on that, but we're already seeing what's possible. At the end of 2022, we were averaging 78,000 electronic reports of individual COVID cases per month. That sounds like a lot, but that's only for one disease. Other conditions that should be reported to public health, such as sexually transmitted diseases, aren't included yet. Adding them would be a game-changer for public health in general and would help us stop other potential outbreaks in their tracks.
What challenges have you faced in getting to this point, and how did you address them?
Karras: Even before the pandemic, we'd been working to make sure that when we brought new partners on board, we were educating them on how to comply with existing national data standards, such as those from groups like Health Level Seven. That sounds highly technical, but it's essential. You can't build an infrastructure like ours without ensuring that everyone is abiding by the same playbook, as previous studies have shown. If a small health department from another state gets a message and doesn't translate a local code into the national standard, that can leave other agencies really confused as they try to figure out what it means. Our agency invested heavily to avoid that, but smaller or local health departments can't always do that, and that can make data-sharing challenging.
When the pandemic hit, what data challenges did you face?
Karras: When the pandemic hit, like many states, we hired people to input data that came via fax, but that wasn't enough; we also used a lot of existing staff time and resources. Fortunately, while the bulk of our data was still coming in through traditional methods like faxes, this additional support meant we could process it faster.
Some of our disease reporting systems were overloaded with records to process, so we had to migrate to cloud-based services to boost our capacity. We had already planned to do that—but with the idea it would be a two-year project. Ultimately, we executed it in, perhaps, two months.
We also warned other agencies across the country that a wave of COVID infections would hit them next, and many states responded by beefing up their systems' capacity.
Looking ahead, are there longer-term issues you're hoping to see addressed?
Karras: The pandemic has put an important spotlight on public health, and as a result, we've gotten the resources we've needed through pandemic response dollars. But we've had surges of investment before, such as after the anthrax attacks after 9/11, as well as after H1N1 and SARS-1. I'm hopeful this pandemic was significant enough that it will spur a more sustained effort to strengthen public health.
What would you tell public health agencies that are interested in improving electronic data collection and sharing?
Campbell: Workforce development is critical. We need skilled people to do this work, and that means helping academic partners understand the need for electronic data collection, where we're headed, and what's needed so students can come out of programs workforce-ready. And we need to invest in people so that we're building up their skills in data science and informatics to meet the need rather than just adding new requirements without equipping our staff to do them well.
Karras: To be clear, improving electronic data transmission will cost money. Even if there are labor savings because we don't have to manually reenter information that comes in by fax, computing costs will eat up much of those savings. But the kinds of investments we've made in electronic collection and sharing of case and lab reports can allow epidemiologists to stop cleaning up data or checking typos and instead focus on protecting the health of their communities. The benefits here are incalculable. We're talking about saving lives.
We're still learning lessons about electronic case reporting. In the next phase, I think we'll find a lot of variability in how our clinical partners treat their systems. How we deal with those differences is going to be a challenging question for us—as a state and as a nation.