Biden Administration Should Improve Data Exchange Practices to Promote Public Health
Authority exists to reduce information gaps and reporting delays that hampered COVID-19 response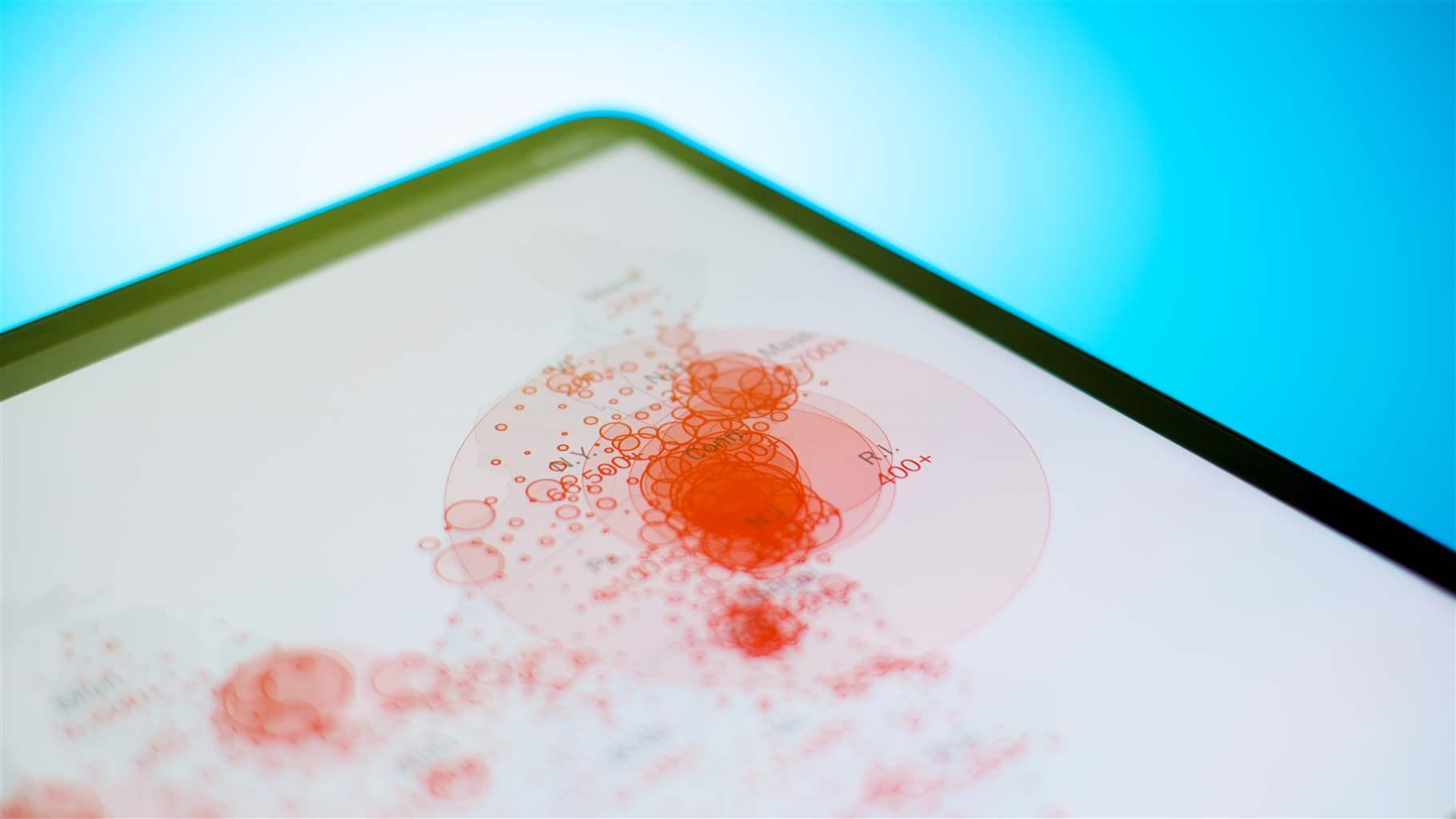 As state health departments continue their COVID-19 vaccination efforts and work to halt the virus's spread, a lack of critical data undermines their ability to effectively accomplish either task, a reality that could prolong the pandemic.
In some cases, test results are shared using antiquated methods such as faxes and may not include the demographic information needed to conduct contact tracing. Likewise, the vaccine rollout has highlighted issues with incomplete data; the Centers for Disease Control and Prevention estimates that it lacks data on the race and ethnicity of nearly half of those who have been immunized. That makes it difficult to track inequities in vaccine distribution and understand when restrictions could safely be rolled back.
Without real-time, complete data, public health agencies cannot do their jobs. The federal government can help to make data-sharing among health care providers and public health agencies more seamless through its rules related to electronic health records (EHRs). Updated rules could support data collection and sharing in four key areas: case reporting, lab reporting, syndromic surveillance, and immunization information systems.
Better Coordination of Health Data Can Strengthen Response to Public Health Crises
4 key areas where eliminating information gaps and improving systems for sharing would help
| | | | |
| --- | --- | --- | --- |
| | Patient-level actions | Broader population health actions | |
| Case reporting | Understand avenues of disease transmission; determine treatment needs | Understand risks and impact of diseases on different communities; support measures to improve health equity | |
| Lab reporting | Provide lab result status; encourage individual steps, such as quarantine; conduct contact tracing to minimize disease spread | Monitor community spread and infection rates; increase testing; inform communitywide safety measures | |
| Syndromic surveillance | None | Highlight potential threats; launch early mitigation measures | |
| Immunization information systems | Monitor and update vaccination status | Monitor vaccine-preventable disease outbreaks; ensure equitable vaccine distribution for all communities | |
Case reporting
Case reports provide state and local health departments with detailed information about individual patients with conditions of public health importance, such as communicable diseases, sexually transmitted infections, or foodborne illnesses. These reports can help agencies design strategies to reduce a disease's spread and impact, including plans for increased testing or education campaigns. Individual case reports should include personally identifiable data, such as a patient's medications and contact information, as well as details such as travel history or pregnancy status that could be relevant.
Despite state data-sharing mandates for health care providers and organizations, CDC estimates that as few as 1 in 10 reportable cases are submitted to public health agencies; even when they are, the reports often lack key data and arrive in paper form. Leaders of federal agencies could increase and facilitate case reporting by requiring that EHR systems be able to automatically transmit reports to relevant health authorities.
Lab reporting
Lab reports, meanwhile, provide data to health departments on individuals who have tested positive for an illness. Here, providers will often send a test order to a laboratory, which then forwards the result to the appropriate health agencies. Officials can use this data to conduct contact tracing to slow a disease's spread, investigate how it is affecting different communities, and identify emerging illnesses. Unlike case reporting, which draws on information from a patient's medical record, lab reports typically include limited demographic data, the lab result, and related details.
As with case reporting, lab reports often lack critical data. For example, one study showed that patients' phone numbers can be missing half the time, which can make contact tracing difficult. Although that information is typically in patients' EHRs, providers may not send it to labs, which then cannot forward it to health agencies. In addition, some of this reporting is done on paper, which takes longer to enter into public health systems than data sent electronically. Federal rules could require providers to send labs all the information that health agencies need—such as phone numbers and race—and do so electronically, regardless of where the test occurs.
Syndromic surveillance
Unlike lab and case reporting, which include individually identifiable information, syndromic surveillance can signal health threats at a community level. Here, some emergency departments and urgent care centers send information without specific identifiers on patients' chief complaints—such as shortness of breath or vomiting—from their electronic record systems to public health authorities. This aggregated data can alert officials to threats—such as particularly bad flu seasons or tainted food—and help inform appropriate interventions. For example, such information could prompt officials to increase community sites for flu shots or contact grocery stores or restaurants that may have purchased contaminated food.
As of 2020, only 69% of emergency departments report to CDC, along with a smaller percentage of urgent care facilities and other providers, limiting the surveillance data available. Policies should encourage more providers to automatically send this data to health agencies to help understand any threats to their communities.
Immunization information systems
Immunization information systems, managed by states and local jurisdictions, help patients, providers, and health agencies track who has received a vaccine, monitor immunization rates, and investigate cases of vaccine-preventable diseases. Health care providers check these systems to see if patients need a vaccine and update the information after administering one. The data can help public health officials identify neighborhoods and populations with inadequate vaccine access and determine if vaccination rates for certain diseases are low.
However, system requirements vary. In some jurisdictions, their use is mandated only for children; in others, some providers, such as pharmacists, aren't required to use them. These gaps can make it harder to track vaccine distribution and should be closed. Federal requirements can help ensure that all systems can send and receive important vaccine data.
What government can do
To develop an effective health data infrastructure, public health officials need timely, complete, electronic data, which should be sent in formats that all systems can understand and accept so agencies can use it in these four areas.
To achieve this, the Office of the National Coordinator for Health Information Technology, the federal agency that oversees EHRs, can update its certification requirements for those systems to ensure that they can send complete data electronically to public health agencies for each of these uses. The Centers for Medicare & Medicaid Services can also require the use of those EHR functions through its payment policies for hospitals and providers, such as the Promoting Interoperability Programs, which determine reimbursement rates based on the use of health information technology.
The COVID-19 pandemic has highlighted the need for complete, accurate, and timely data to help public health agencies respond to emerging threats. Policymakers should make improved public health data exchange a priority to help the country prepare for future threats before the next crisis hits.
Ben Moscovitch is a director and Molly Murray is an officer with The Pew Charitable Trusts' health information technology initiative.