New Report Predicts How Climate Change and Illegal Fishing Could Threaten Global Ocean
Shifting fish populations, territorial disputes and conflicts among fishers likely to strain policymaking
New Report Predicts How Climate Change and Illegal Fishing Could Threaten Global Ocean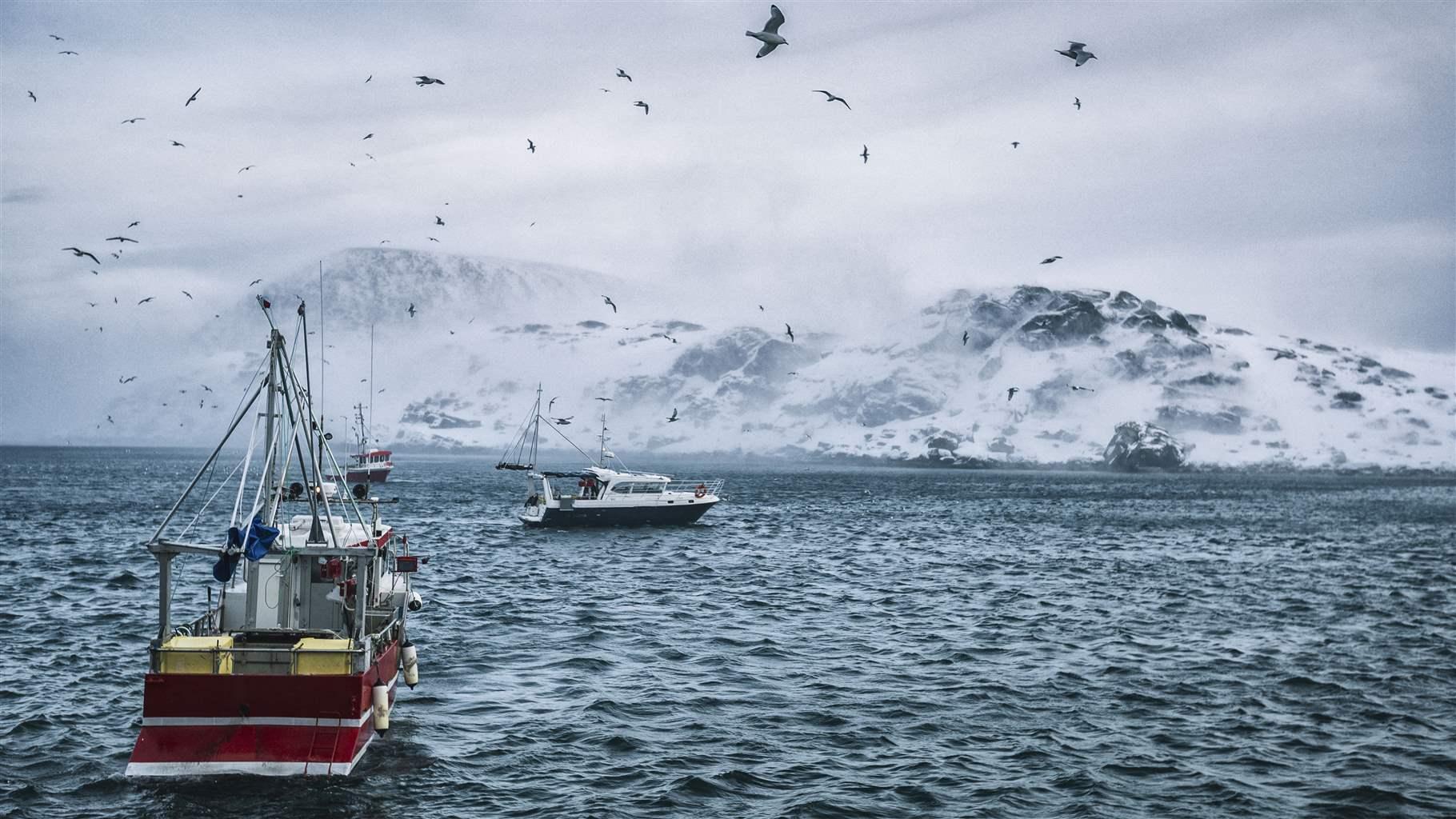 The global trade in fish is big business, worth upwards of $400 billion per year. Healthy fish populations are also a particularly strong contributor to nutrition and livelihoods in coastal communities from regions such as Africa, Asia and the Pacific Islands. Unfortunately, in areas around the world, this major source of revenue is increasingly threatened by climate change and illegal, unreported and unregulated (IUU) fishing.
To better understand how these threats could shape the future of fisheries globally, Pew commissioned the Royal United Services Institute (RUSI), an independent defense and security research think tank, to identify issues at the intersection of climate change and IUU fishing that will require concerted attention by governments, nongovernmental organizations and other partners in the next 10 years. This type of project, known as a horizon scan, is a collaborative research method used for surfacing threats and opportunities. In this first horizon scan of climate change and IUU fishing, RUSI and a group of external experts identified 20 emerging issues, under the following four themes, which could affect fisheries-related policymaking for decades to come.
Management and supply chains will struggle to keep up with shifting fish populations
Nearly half of the fish stocks that are shared among two or more countries are shifting their ranges due to climate change. However, most management structures, such as regional fisheries management organizations (RFMOs), are responsible for static geographies and the species that have historically called these places home. Because RFMOs and other decision-making bodies may have no precedent or mandate for managing stocks as they shift, gaps in governance of these populations could emerge. These gaps may emerge most dramatically in the Arctic and Antarctic, where climate change is causing rapid and dramatic changes to ecosystem boundaries.
These shifts, in combination with changing consumer demands, the extended range of vessels that transship catch, and new access to waters due to sea-ice melt, will create even more opportunities for IUU fishers.
Shifting fish stocks have other implications, including for artisanal and other small-scale fishers who may butt up against industrial fleets that are following target species into new locations. These encounters could be benign or even mutually beneficial, especially if the fleets are able to trade equitably with each other and identify new market opportunities, or they could lead to exploitative dynamics, wherein industrial vessels take advantage of their larger capacity and market access to dictate less advantageous conditions for coastal communities. The encounters could even devolve into violent conflict. The fish population shifts could also result in longer seafood supply chains—for example, if consumers expect access to certain species even after it has moved into less accessible waters—potentially raising the risk of laundering or other illegal activities.
Defining boundaries in the ocean is harder with climate change
Delineating boundaries in the ocean can be a politically fraught exercise, and climate change is likely to add complication. By treaty, a country's waters end and the high seas begin 200 nautical miles from shore. Rising sea levels, however, may shrink or entirely submerge low-lying islands, altering historically valid claims. This dynamic is likely to play out most contentiously in the South China Sea, where overlapping territorial claims are made by China; Taiwan, Province of China; Vietnam; the Philippines; Brunei; Indonesia and Malaysia. Each country seeks to lay claim to valuable resources in the water and beneath the seabed, and these governments often base their right to do so on their ownership of uninhabited, low-lying islands. These existing geopolitics, when combined with depleted fish stocks and significant overcapacity of fishing fleets, may spark violent conflict as water levels rise and territorial claims become murky.
In addition, inconsistent enforcement of territorial waters and marine protected areas within those waters could lead to more disputes and may even allow IUU fishing to thrive. This is likely to occur most often in locations, such as the high seas, with unclear or developing governance structures where it is unclear who is responsible for specific areas of the ocean.
Climate change could make fishers more likely to bend or break rules at sea
As climate change pushes fish further from their traditional habitats, fishers who had traditionally relied on those stocks may turn to IUU activities for revenue and food, and there could be a demonstratable increase in the amount, and sophistication, of fishing-related organized crime.
With an increase in risk-taking comes potential backsliding of safety and labor precautions. Legal and IUU operators alike could cut costs in the face of declining catch. When coupled with increases in extreme weather events, this backsliding could make life at sea much more dangerous.
Climate change could spur action to better fight IUU
The global fisheries management community is not prepared for a warming future. The current system is rife with gaps in governance and oversight, particularly related to international coordination and vessel identification and monitoring. Moreover, there is no systematic way to track and evaluate interventions against IUU fishing. Stronger efforts from civil society stakeholders and governments to increase the transparency of vessel ownership and access agreements for fishing across national borders could help fisheries managers better prepare for climate-related changes.
The horizon scan also pointed to the importance of weaving IUU fishing into other policy discussions, such as the global push to invest in climate adaptation. For example, upgrades to infrastructure at ports to improve climate resilience could either unintentionally increase market access for IUU actors—for example by making it easier to hide illegal fish by mixing it with legal catch—or could be an opportunity to support transparency and disrupt IUU activities.
The RUSI horizon scan on IUU and climate change is a seminal piece of work and could affect policymaking for years to come. While some of the highlighted issues may never materialize, RUSI has demonstrated how climate change will touch every aspect of ocean management—including legal and IUU fishing. It is now up to governments and international bodies to do the hard work of ensuring that climate change does not allow illegal activities to make sustainable fisheries even more difficult to achieve.
Kevin He is a principal associate with The Pew Charitable Trusts' conservation science work and Gina Fiore is an officer with Pew's international fisheries project.