With Microplastic Pollution Skyrocketing, the EU Takes Needed Action
Initial policies look promising, but more are needed to clean up lands, rivers, air, and ocean
With Microplastic Pollution Skyrocketing, the EU Takes Needed Action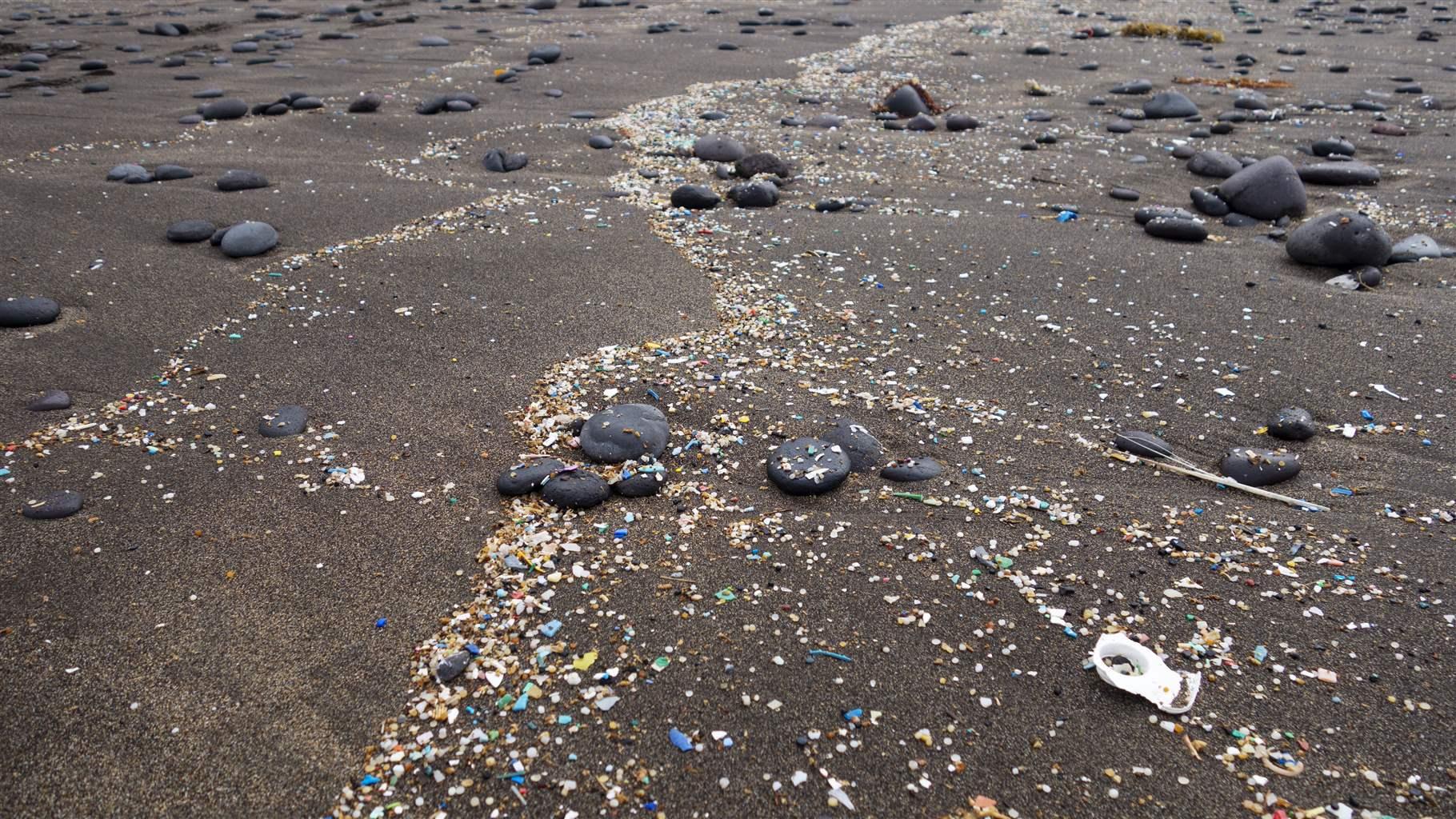 The world is awash in plastic, far too much of which is polluting the environment worldwide. And a lot of this pollution is unseen: Microplastics, which are less than 5 millimetres in length, are either used in production of everyday products or result from the breakdown of plastic items. Microplastics can leak into our air, soil, waterways and ocean, and they persist for a long time. They're also often accidentally ingested by organisms both large and small, which frequently harms wildlife. Experts estimate that 92% of the 5.25 trillion plastic particles on the global ocean surface are microplastics and that the number of pieces of microplastics in the Mediterranean Sea is similar to the number of plankton; as a result, animals that eat plankton are encountering huge volumes of microplastics and possibly mistaking them for food.
Where do microplastics come from?
The largest known sources of these tiny particles are paint, tyres, pellets, and textiles. Microplastics are used in paints as polymers. Around 1.9 million metric tons of plastic from paint end up in our oceans and rivers each year, with leakage occurring during application, removal, or wear and tear of painted surfaces. Tyres are the second largest source of microplastic pollution, contributing around 1 million metric tons to the environment each year, according to The Pew Charitable Trusts' 2020 report, Breaking the Plastic Wave. These particles are created when the synthetic and natural rubber in tyres break down into small particles through regular use. In fact, a single tyre can produce up to 35,000 microplastic particles during its lifespan. Plastic pellets, which are used to create nearly all plastic products, are the third largest source of microplastics, contributing 0.22 million metric tons to the environment per year. These small, spherical or cylindrical particles are often spilled during transport or manufacturing processes, entering the environment as a result. Textiles are the next largest contributor to microplastic pollution, with 0.04 million metric tons entering rivers and the ocean each year due to the release of microfibres when garments are manufactured, washed and worn. For example, a single wash of a garment can release over 1,900 fibres.
What is the European Union doing to tackle microplastic pollution?
Clearly, effective policy is urgently needed to stop the flow of millions of tons of microplastics into the environment each year. To that end, the EU has taken these actions:
In 2020, the European Commission adopted a broad economic plan that contained a commitment to "address the presence of microplastics in the environment," including by: restricting intentionally added microplastics, such as microbeads in personal care products; taking steps to reduce leakage of pellets into the environment; and developing labelling, standardisation, certification and regulatory measures on the unintentional release of microplastics.
In March 2022, the European Commission published an EU Strategy for Circular and Sustainable Textiles, announcing its intention to address the different life cycle stages at which synthetic fibres are shed into the environment.
In November 2022, the European Commission proposed measures to limit plastic pollution from vehicle tyres, with "non-exhaust" emission limits for tyres and brakes expected to be proposed by the end of 2024.
Next steps for the EU
The European Commission is expected to release a wider microplastics initiative later this year. This initiative is expected to include measures to reduce the emissions of microplastics from various sources, such as pellets, paint and textiles. If the proposal is ambitious enough, it could be a significant step towards tackling the issue of microplastic pollution.
While the EU has set a target to reduce microplastic emissions by at least 30% by 2030, it should aim to do even better. To support these efforts, Pew will be engaging with policymakers and stakeholders to conduct research and promote high-reaching measures to reduce microplastic emissions. By targeting all sources of microplastic pollution and progressively reducing microplastic emissions until they are close to zero, the EU can take a leading role in protecting the environment and the health of our planet.
Selene Álvarez Peña works on The Pew Charitable Trusts' preventing ocean plastics project.