Technology Can Help Make Marine Protections More Effective
Portal launched by Global Fishing Watch and Dona Bertarelli provides growing range of data on effect of human activities on ocean health
Technology Can Help Make Marine Protections More Effective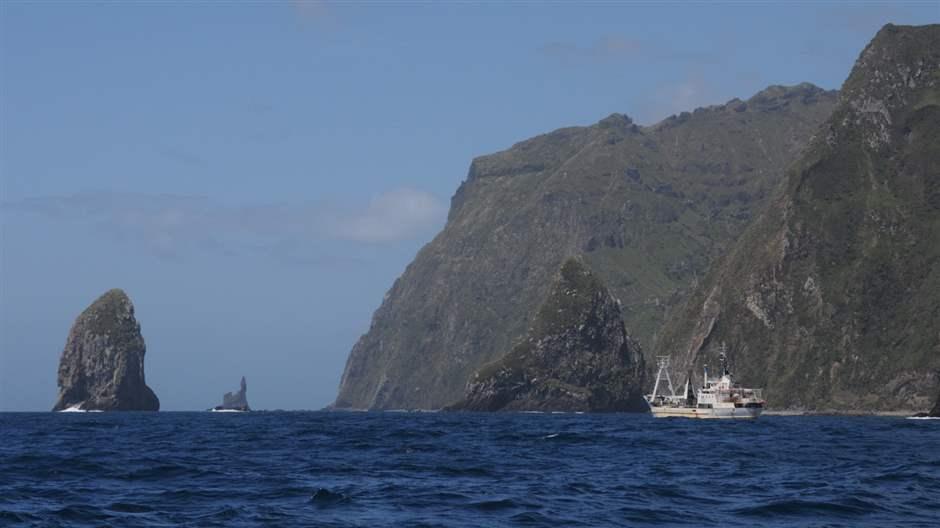 Editor's note: The photo caption was updated on Dec. 22, 2022, to correctly identify Tristan da Cunha as a U.K. overseas territory.
To realize the benefits of marine protections, managers of those safeguarded areas need information that supports effective monitoring, evaluation, and enforcement of those waters. But national governments and marine agencies often lack critical information about how human activities such as fishing affect biodiversity and ocean health. And those knowledge gaps can make protected areas ineffective. For example, a marine protected area (MPA) designed to avoid shark bycatch cannot meet this objective without data on shark movement and how fishing affects the species in the MPA.
To help bridge these information gaps, Dona Bertarelli, philanthropist, ocean advocate, and Patron of Nature for the International Union for Conservation of Nature, founded the Marine Manager online portal with Global Fishing Watch, an international nonprofit organization that aims to promote ocean sustainability by tracking and sharing data on vessel activity.
Launched in 2021, Global Fishing Watch Marine Manager harnesses dynamic data on ocean conditions and human activities and their impacts. The technology allows marine managers and researchers to combine numerous data sets to make informed decisions to manage and study the ocean better. Specifically, the portal gathers satellite data and overlays it on marine biodiversity, such as species distribution and migratory patterns; oceanographic conditions, including salinity and sea surface temperature; and human activity, such as movements of vessels involved in fishing, tourism, oil drilling, and shipping.
Global Fishing Watch has been piloting the marine manager portal with partners to learn more about MPA management and how data and tools can be applied to support effective conservation. The overarching objective of the tool is to provide data, for free, to help MPA managers, nongovernmental organizations, scientists, and others both see what is happening on the water and better use that data to establish and effectively manage MPAs and other effective area-based conservation measures. The system includes a private digital portal for marine managers and select partners and a public portal with information on participating MPAs and the surrounding waters.
The Pew Bertarelli Ocean Legacy Project provided financial support for the development, launch, and pilot phase of the marine manager tool. The inaugural partners using the portal have included long-term collaborators and management authorities responsible for the Galápagos Islands, one of the most biologically diverse MPAs in the world; the globally significant Ascension Island MPA, a protected area that has never had considerable fishing activity; and Tristan da Cunha, a remote archipelago in the South Atlantic Ocean that is home to the fourth-largest fully protected marine reserve on the planet.
So far, Tristan da Cunha has used Marine Manager to: evaluate compliance with shipping restrictions, monitor fishing activity, identify risks to the critically endangered Tristan Albatross from fishing activity in nearby high seas areas, and examine shifts in fishing activity driven by movement of tuna caused by fluctuations in ocean temperatures. As a result, the tool has helped Tristan's marine management team better understand the risks to species both within and beyond the islands' exclusive economic zone.
This month, Global Fishing Watch is adding important new features to the portal. For example, thanks to a collaboration between Global Fishing Watch and Google Earth Engine, Marine Manager users can now filter a range of new high-resolution environmental data sets, including daily global sea surface temperature, salinity, and chlorophyll-a concentrations. As an example, these data sets can help managers anticipate shifts in species movement, which in turn can often predict where fishing activity might rise and fall. Other new features of the portal will allow users to incorporate their own data into Marine Manager workspaces, further increasing transparency and understanding of what is happening in MPAs.
With growing political and scientific support for the effective protection of at least 30% of the ocean by 2030, an effort known as 30 by 30, tools such as the Global Fishing Watch Marine Manager can improve the design and management of MPAs and other ocean protections and help ensure a thriving, healthy ocean for generations to come.
Johnny Briggs works on the Pew Bertarelli Ocean Legacy Project.