New Technology Aims to Make Marine Protected Areas More Effective
Global Fishing Watch and Dona Bertarelli launch portal to provide data on effect of human activities on ocean health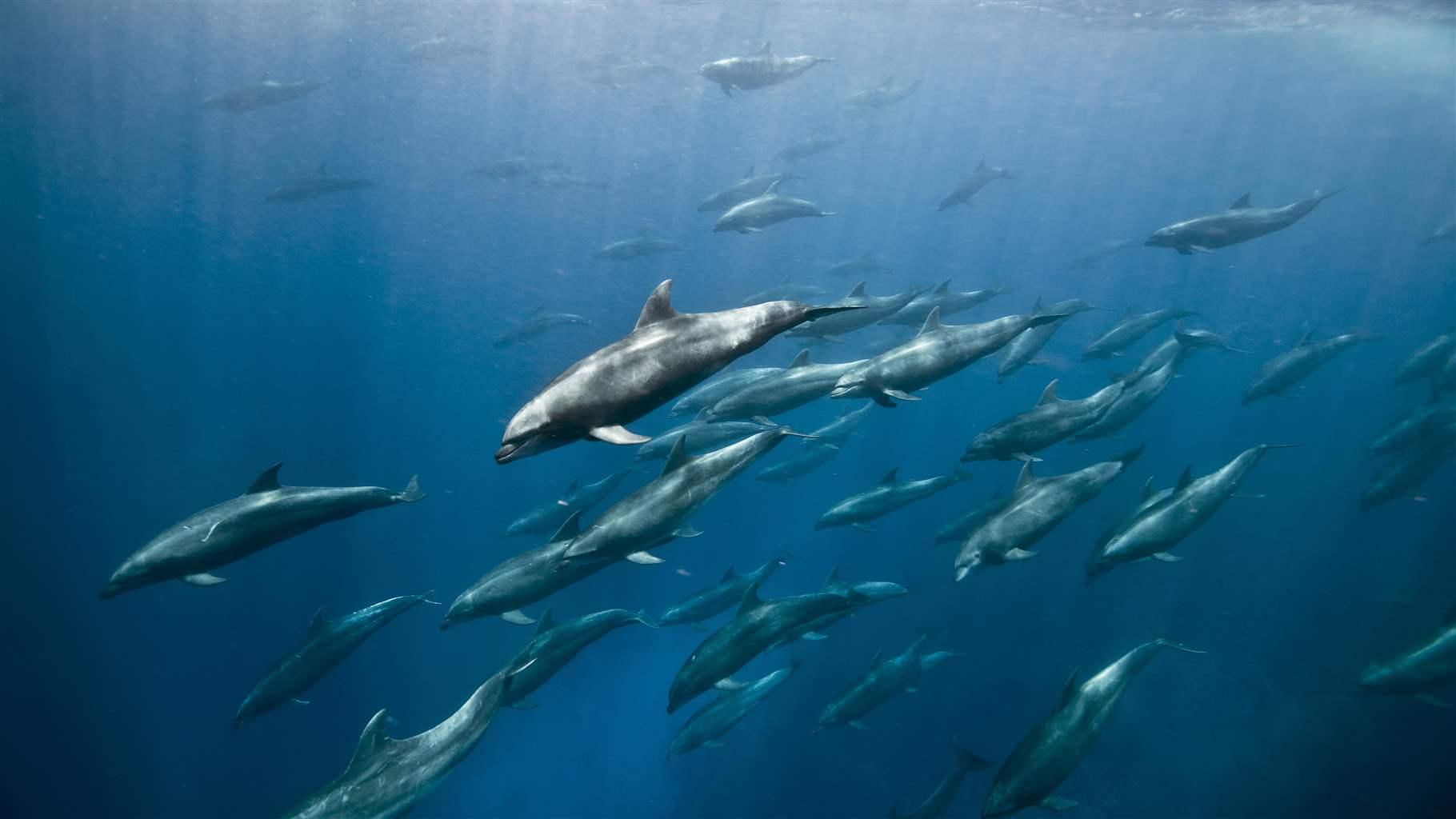 Effective marine protections provide key policy tools to safeguard biodiversity, enhance fisheries, build resilience against the effects of climate change, and sustain healthy coastal communities. However, realizing such benefits depends on the ability of people who manage marine spaces, including marine protected areas (MPAs), other effective area-based conservation measures (OECMs), and fisheries to evaluate and effectively manage protected waters.
National governments and marine agencies often lack critical information about how human activities, such as fishing, impact marine biology and ocean health, which can lead to ineffective protected areas. For example, an MPA designed to avoid shark bycatch cannot meet this objective without data on shark movement and how the species interacts with the fishing sector in the area.
Global Fishing Watch Marine Manager will provide a new portal that harnesses near real-time, dynamic data on ocean conditions and human activities and their impacts. The technology will allow marine managers and researchers to combine numerous datasets to make informed decisions to better manage the ocean. Specifically, it aims at achieving this goal by gathering and overlaying data on marine biology, such as species distribution and migratory patterns; oceanographic conditions, including salinity and sea surface temperature; and human activity, such as movements of vessels involved in fishing, tourism, oil drilling, and shipping.
Dona Bertarelli, special adviser for the blue economy to the United Nations Conference on Trade and Development and co-chair of the Bertarelli Foundation, has been working to advance marine conservation for more than a decade. She said she saw a clear need for robust and science-based management to fully realize the vital contribution of protected areas, and monitor the quality, efficiency, and impact of those protections long term.
With this goal in mind, Bertarelli founded Marine Manager with Global Fishing Watch, an international nonprofit organization that aims to promote ocean sustainability by tracking and sharing data on global fishing activity.
The initial Global Fishing Watch Marine Manager partners—who will be piloting the portal— include conservation managers for sites that work directly with the Pew Bertarelli Ocean Legacy Project, another project that Bertarelli supports. They include the iconic Galápagos Islands, which boast some of the most biologically diverse waters in the world; Ascension Island, housing globally important populations of turtles and seabirds; and Tristan da Cunha, which recently announced the establishment of the largest fully protected area in the Atlantic. Tristan da Cunha's use of the portal will be directly funded by Ocean Legacy. The other initial sites are in Guyana and the South Pacific island nation of Niue, and additional partners are expected to be added in the coming months.
The overarching objective of the tool is to provide freely available data that supports ocean stakeholders, including MPA managers, NGOs, and scientists to establish and effectively manage MPAs and OECMs. At no cost to users, the system includes a private portal for marine managers and selected partners, and a public portal with information on participating MPAs, accessible online.
There is growing political and scientific support to protect and conserve at least 30% of Earth's marine areas by 2030 to secure and maintain a healthy ocean. At present, governments have committed to protecting 7.74% of the global ocean. However, only a small proportion of this area is highly protected by law—the level needed to achieve maximum conservation benefits—and effectively managed on the water. New tools such as Global Fishing Watch Marine Manager—which bolster the effective design and management of ocean protections—are vital to ensuring that future marine protections achieve their intended benefits to ocean health.
Johnny Briggs is a senior officer working on the Pew Bertarelli Ocean Legacy Project's efforts in the U.K., based in London.