New Research Highlights Potential Role for Marine Protected Areas in Addressing Climate Change
Collaboration with Indigenous groups, local communities, and stakeholders in conservation planning is key
New Research Highlights Potential Role for Marine Protected Areas in Addressing Climate Change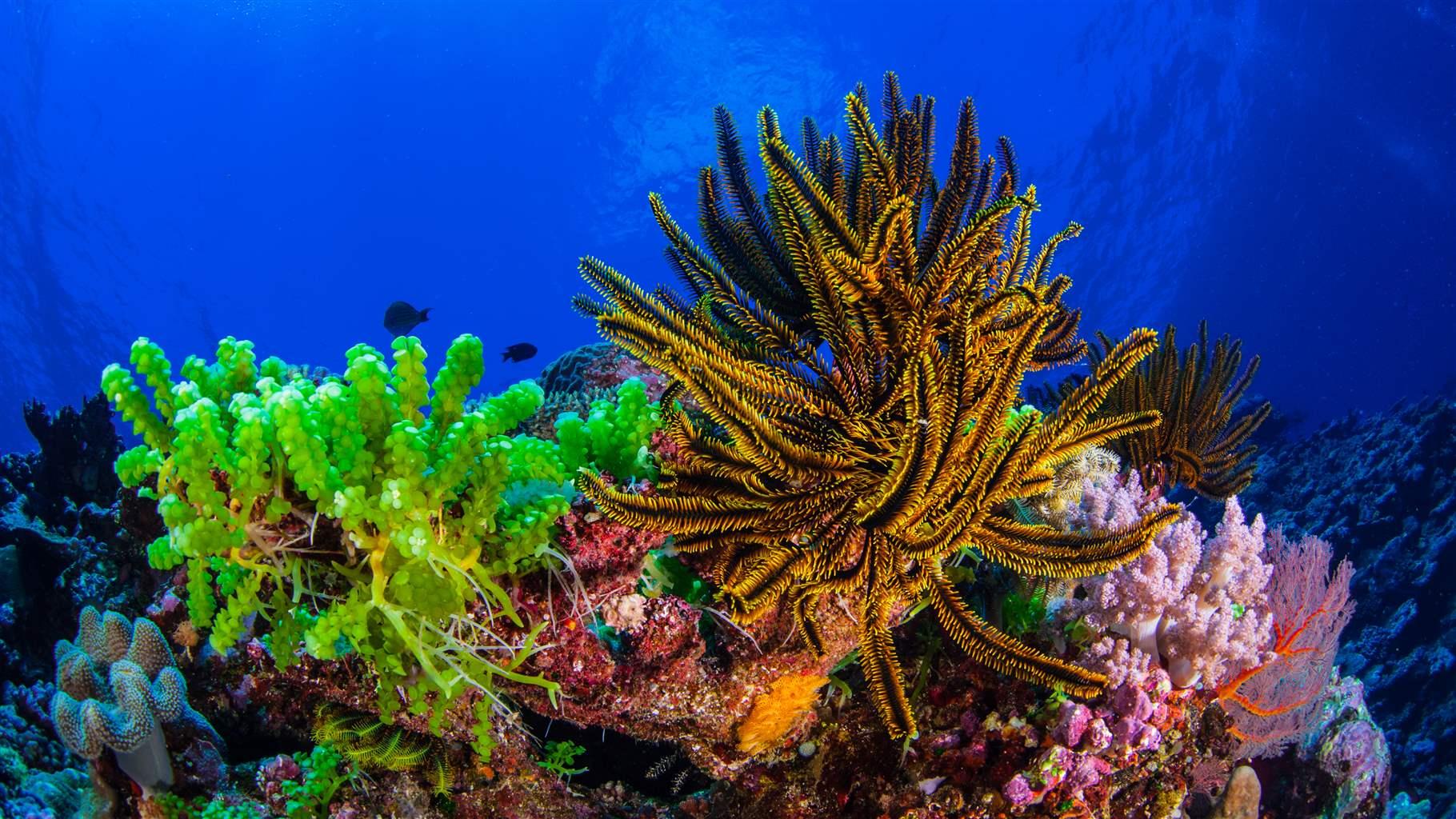 Note: This article was updated on Nov. 14, 2022, to correctly identify the biodiversity meeting in December.
A new paper published in One Earth analyzes the extent to which marine protected areas (MPAs), which are designed to protect biodiversity, could also offer potential ocean-based climate solutions.
Undertaking a systematic literature review of more than 22,000 publications, the authors found that protecting some marine systems, such as preserved or restored coastal wetlands like seagrass and mangroves, can provide significant carbon sequestration and shoreline protection. The mitigation benefits of coastal wetlands are permitted for inclusion within nationally determined contributions, the means by which countries report efforts to reduce emissions via the United Nations Framework Convention on Climate Change (UNFCCC).
The study also found that there could be carbon benefits associated with the protection of other healthy habitats and fish populations. Although untrawled sediments, macroalgae, and fish biomass can all store carbon, more research is required to calculate the additional carbon benefits that may accrue from protecting such species and habitats within MPAs. Without the ability to measure, manage, and monitor potential changes in carbon sequestration rates both inside and outside new MPAs, incorporation within national carbon accounting and trading schemes is not feasible for now.
In their analysis, the authors clearly indicate that the biological benefits of MPAs increase with the level of protection afforded to the marine ecosystem. For example, fully protected areas—those that restrict resource extraction and damaging industrial activities—increase biodiversity levels, reproductive output, and species richness, all of which support climate adaptation by maintaining ecological functions even after a climate stressor eliminates certain species. In addition, fully protected areas are significantly more likely to deliver positive ecological outcomes than areas with weaker protections.
Importantly, the paper highlights the need for consultation and partnership with Indigenous peoples, local communities, and other stakeholders from the outset of MPA planning to minimise user-rights disagreements, conflicts, and costs.
Policymakers have increasingly recognized that the synergies between biodiversity and climate frameworks can deliver better outcomes, with the concept of nature-based solutions—projects that manage, protect, and restore ecosystems—exemplifying that approach. These synergies include efforts to limit deforestation to avoid emissions, projects to sequester carbon through restoring wetlands, and improved land management initiatives for crops and grazing to reduce emissions and sequester carbon. Although these co-benefits are well studied on land, the impact that protecting marine ecosystems and biodiversity has on climate mitigation and adaptation is less understood—especially when moving farther from coastal habitats such as mangroves and into the open ocean.
The next UNFCCC will convene in Egypt on Sunday, Nov. 6, and will be followed in December by the U.N. Convention on Biological Diversity meeting (COP15) in Canada. These two convenings give policymakers the unprecedented opportunity to align their climate and biodiversity commitments on a global scale.
Should the UNFCCC and CBD meet their stated objectives—agreeing to tighten restrictions on greenhouse gas emissions and delivering a framework to protect biodiversity, which many hope will include a new global target to protect and conserve at least 30% of the land and ocean by 2030—it will be critical for policymakers to identify which conservation measures deliver equitable benefits to climate and nature.
More work is needed to calculate the climate benefits of protecting marine biodiversity, such as fish and macroalgae, and marine sediments, before these can be integrated into global climate frameworks. In the meantime, MPAs provide a critical tool to arrest the decline of marine biodiversity and build resilience against the impacts of climate change.
Johnny Briggs works on the Pew Bertarelli Ocean Legacy Project.