In San Juan Islands, Coalition Works to Reverse Eelgrass Declines
Protecting and restoring marine plant will benefit ecosystem, and orcas, salmon, and other wildlife
In San Juan Islands, Coalition Works to Reverse Eelgrass Declines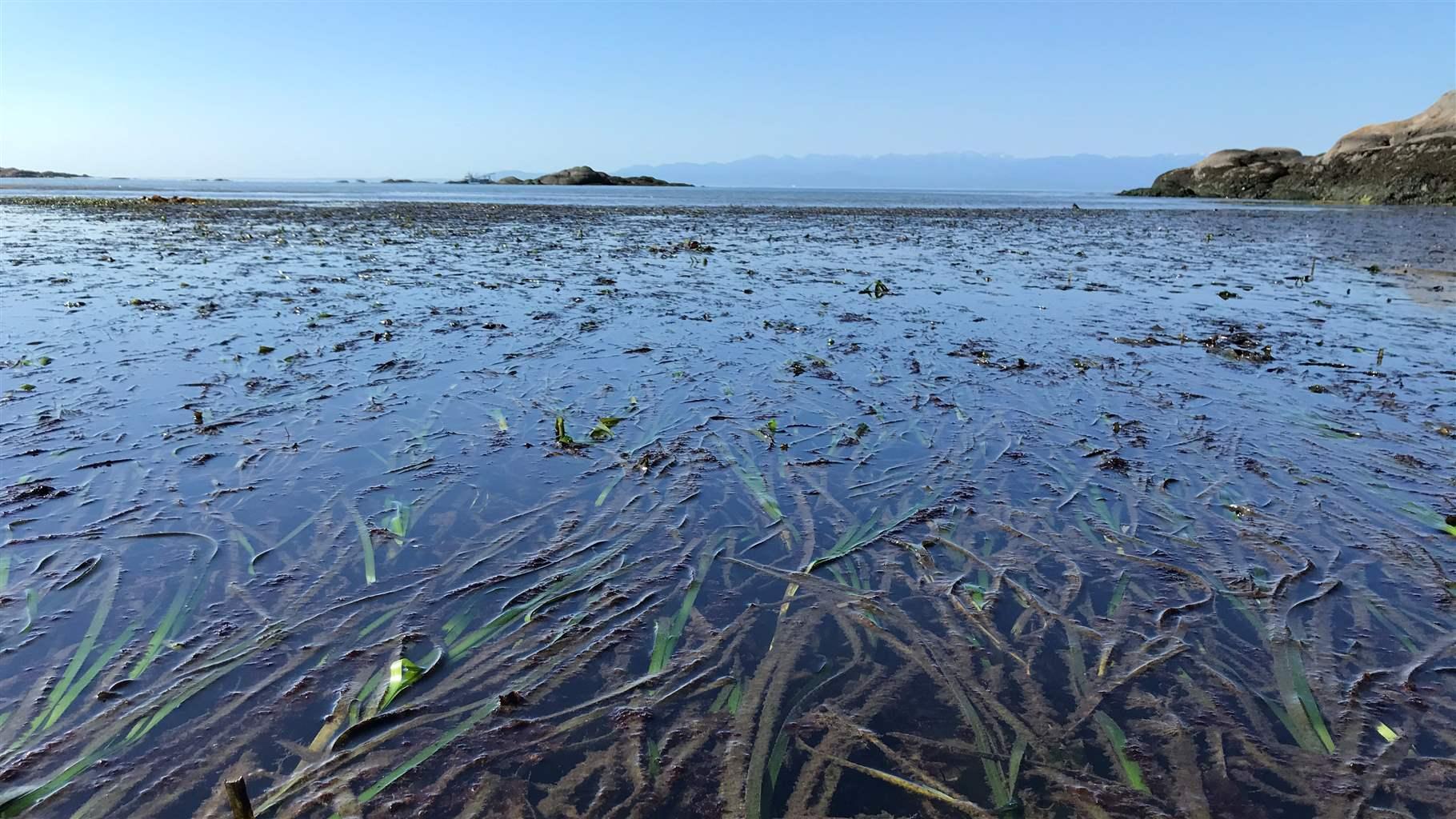 Editor's note: This article was updated on Aug. 2, 2022, to correct information about the amount of eelgrass loss around the San Juan Islands.
Eelgrass has been disappearing from the shores of Washington's San Juan Islands for more than 20 years—to the detriment of everything from forage fish to endangered Southern Resident killer whales. Now a coalition of scientists, Tribal representatives, conservationists, natural resource managers, and concerned citizens has joined forces to protect and restore thousands of acres of this important marine plant. Known as the Eelgrass Protection Initiative Consortium (EPIC), the group is working to reduce damage from boat anchors and propellers, monitoring the islands' seagrass meadows, and undertaking other efforts.
Eelgrass is a vital part of the Puget Sound marine ecosystem. It provides nursery habitat for herring, salmon, crab, and other species that support fishing communities, Tribal Nations, and a variety of wildlife from seabirds to marine mammals. Eelgrass filters and cleans the water, absorbs climate-warming carbon dioxide, and buffers pH levels, lessening the effects of ocean acidification.
However, eelgrass is susceptible to pollution, wastewater runoff, shoreline development such as docks and piers, and warming waters caused by climate change. The Washington Department of Natural Resources has documented a significant decline in eelgrass around the San Juan Islands just since 2000.
Prompted by that decline, a coalition of groups that included the San Juan County Marine Resources Committee, its umbrella organization—the Northwest Straits Commission—and the advocacy group Friends of the San Juans came together in 2021 to address the issue. They held four work sessions throughout the year that led to the formation of EPIC. Here, some members of the coalition share their views on how this collaboration can help make eelgrass recovery a success.
"The EPIC effort led by San Juan County created a much-needed forum for sharing eelgrass knowledge and forming partnerships that will yield tangible results. The Northwest Straits Commission relies on locally driven work like EPIC to inform collective regional action. We're working with the Marine Resources Committees (MRCs) to establish a broad network of voluntary no-anchor zones, and EPIC helped to identify a new potential site [for one of those zones] and established new partnerships."
– Dana Oster, marine program manager, Northwest Straits Commission
"The consortium created by EPIC provides an important way to manage eelgrass in a rapidly changing ocean. My team's detailed, decade-long survey of the health of eelgrass in the San Juan Islands has shown steep recent declines in the shallow waters and linkages with increased outbreak of disease and warming events like heat waves. EPIC connects us with management teams to develop new strategies to avert decline and manage for resilient meadows."
– Drew Harvell, senior research fellow at Friday Harbor Labs; professor emerita, ecology and evolutionary biology, Cornell University; fellow, Ecological Society of America
"The Washington State Department of Natural Resources, as the steward of state-owned aquatic lands, monitors eelgrass in greater Puget Sound. Over the last 20 years, our monitoring program has detected numerous eelgrass declines at sites throughout the San Juan Islands. The EPIC workshops have connected us to local stakeholders, and forged partnerships that will guide our monitoring program to better support local conservation and restoration efforts."
– Bart Christiaen, natural resource scientist, Washington State Department of Natural Resources
"Eelgrass plays such an important role in supporting marine food webs – from spawning habitat for herring and a place to eat and rest for migrating juvenile salmon, all the way up to the critically endangered Southern Resident killer whales. Collaborative efforts like EPIC that bring together researchers, policymakers, waterfront developers will be key to scaling up eelgrass protection and restoration efforts and supporting resilient human and natural communities here in the Pacific Northwest."
– Tina Whitman, science director, Friends of the San Juans
Brenda Campbell works on The Pew Charitable Trusts' conserving marine life in the United States project.