To Expand Reach of Opioid Use Disorder Treatment, States Can Use Telehealth
Policy changes would ensure that remote services continue post-pandemic
To Expand Reach of Opioid Use Disorder Treatment, States Can Use Telehealth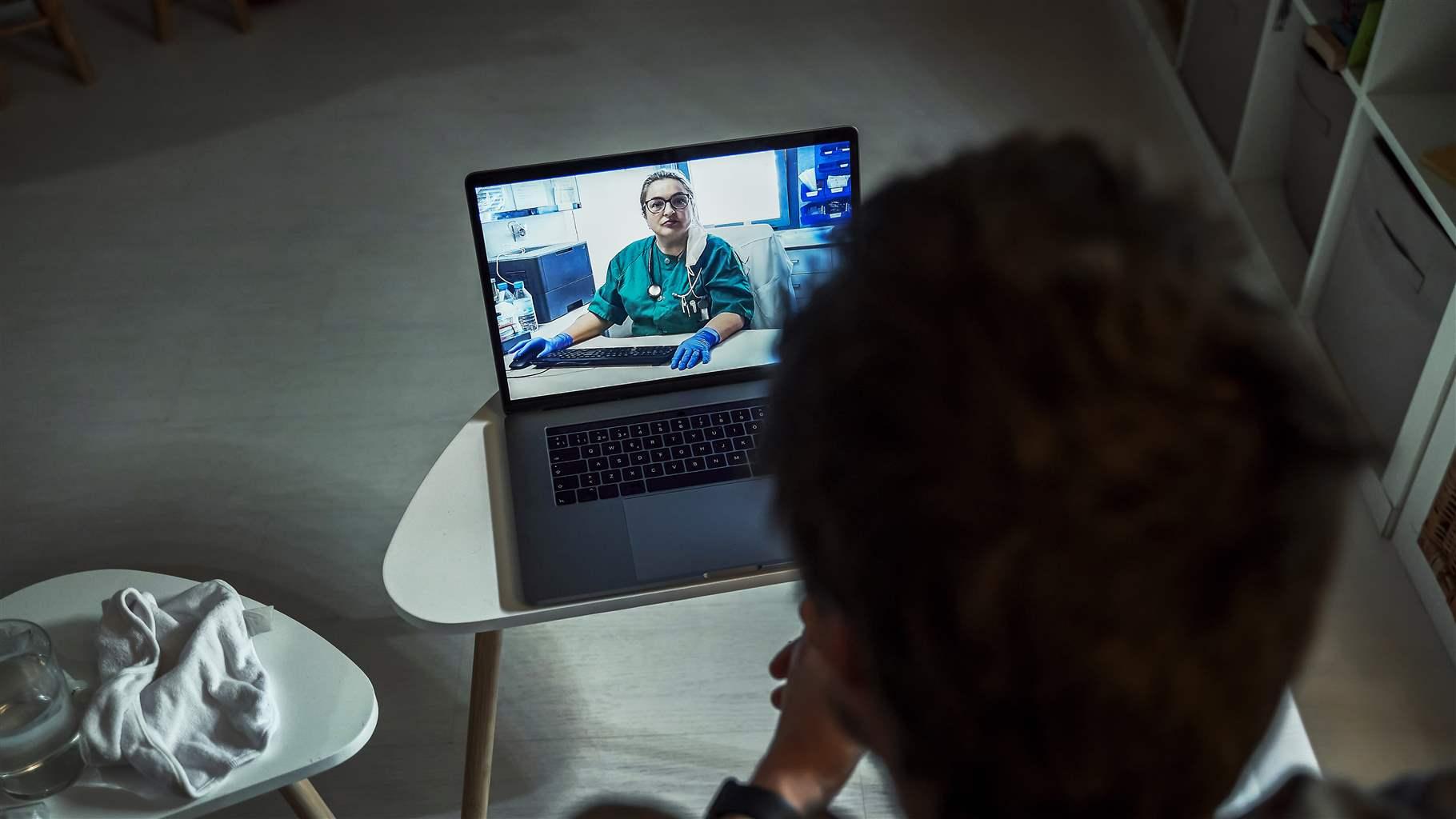 The COVID-19 pandemic, which resulted in guidance to social distance and stay at home, created an urgency for making health care services available virtually via telehealth. Such remote access was essential for patients with opioid use disorder (OUD), because many of them rely on uninterrupted treatment with one of three Food and Drug Administration-approved medications: buprenorphine, methadone, and naltrexone. Emerging research on telehealth demonstrates that patients receiving remote care have rates of retention in treatment, and abstinence from illicit opioids, at levels comparable to those who receive care in person. Clinicians who used telehealth during the pandemic reported that it increased access and convenience for their patients. Moreover, many programs that transitioned to telehealth for buprenorphine initiation have engaged historically underserved populations, such as people leaving incarceration (or confinement of an individual in prison or jail), clients of syringe services programs, and people experiencing homelessness.
The federal Substance Abuse and Mental Health Services Administration and Drug Enforcement Administration granted states flexibility to provide OUD services via telehealth during the pandemic, but states already have broad latitude to develop their own laws and regulations governing the use of telehealth. A newly published brief from The Pew Charitable Trusts describes the measures that Medicaid agencies and lawmakers can take to ensure that patients can continue to benefit from telehealth treatment for OUD after the pandemic.
Reimburse OUD treatment providers equally for in-person and telehealth services
Medicaid programs and private payers should ensure that OUD treatment services—including clinical assessments, buprenorphine prescription, medication management, and counseling—are reimbursable when delivered via telehealth. Furthermore, states should reimburse providers for these services at the same rates as if the services were provided in person—a concept known as payment parity. Maryland recently took this step through regulation; before this change, an evaluation of a buprenorphine telemedicine program found that patient outcomes related to retention in treatment and cessation of opioid use were comparable to those of in-person programs.
Additionally, Medicaid programs and private payers should reimburse all types of practitioners who provide OUD treatment services in person for providing these services via telehealth. Allowing midlevel providers, such as nurse practitioners and physician assistants, to treat patients via telehealth is particularly important considering that these professionals accounted for nearly half the increase in buprenorphine providers in 2017. (They also helped boost prescribing of the medicine among patients with Medicaid and individuals living in rural areas.) For example, Minnesota Medicaid allows a wide variety of providers—including physicians, nurse practitioners, physician assistants, and mental health professionals—to deliver via telehealth the same services they are authorized to provide in person.
Expand how and where patients can engage in telehealth services
During the federal COVID-19 emergency declaration, patients and providers have benefited from the flexibility to receive care by telephone versus the audiovisual technology (e.g., video) required pre-pandemic. But some state Medicaid programs have long allowed this flexibility for certain OUD treatment services. For example, audio service is currently permitted in Colorado for intake evaluations, medication management, and counseling, and it can help bridge gaps in access to care, particularly for individuals without access to broadband internet—a necessary resource to support audiovisual communications. Moreover, older individuals, as well as people with public insurance or self-pay status, may be less likely to have access to the technology required for audiovisual telehealth.
Additionally, Medicaid programs and private payers should permit patients to receive telehealth OUD treatment at a variety of locations, including the patient's home, as is already the case with Medicare. Observational studies have demonstrated that people who started a buprenorphine regimen at home have experienced similar rates of treatment retention and adverse events compared to patients who initiated their care in an office-based setting. Some states, such as Missouri and Washington, allow Medicaid recipients to meet with their provider via telehealth while at any location of their choosing, as long as that care meets the in-person standard.
Overcoming barriers to telehealth expansion
Even if states make the policy changes described above, they may experience several barriers to expanding the use of telehealth. Upfront investments in technological infrastructure, workforce training, and administrative planning can be significant, particularly for smaller health care providers. One way states can support these practices is by taking advantage of the technical assistance and other resources available through the National Consortium of Telehealth Resource Centers, a collaboration of 12 regional and two national telehealth resource centers administered by the nonprofit Center for Connected Health Policy.
States may also experience challenges related to inadequate broadband availability when seeking to expand telehealth. The Federal Communications Commission reports that 17% of rural and 21% of tribal land populations, respectively, lack access to broadband internet. To close this gap, state and local governments can draw on the $362 billion in funding recently made available through the American Rescue Plan Act.
Finally, with the rapid onset of telehealth utilization during the COVID-19 pandemic, states and providers may not have been prepared to collect and analyze data to evaluate what is working well and where improvements could be made to telehealth infrastructure. Moving forward, states should monitor how telehealth affects how patients experience care, as well as the extent to which it helps address geographic and racial disparities in access to services. States can share lessons learned with other states by developing a regional interstate partnership, similar to the one formed by the governors of Colorado, Nevada, Washington, and Oregon.
More than 71,000 people in the U.S. died from an opioid overdose in the past year, and about 1.6 million continue to struggle with OUD. During the pandemic, clinicians and researchers learned that telehealth-based OUD treatment is just as effective as in-person care. By permanently expanding access to these services post-pandemic, state regulators and lawmakers can support more of their constituents in recovery.

Sheri Doyle is a manager, Jenna Bluestein is a senior associate, and Victoria Yastishock is an associate with The Pew Charitable Trusts' substance use prevention and treatment initiative.