Emerging Marine Monitoring Technologies Enable More Effective Management of Protected Areas
New tools offer accessible, efficient opportunities to improve oversight of human activities—and ocean health worldwide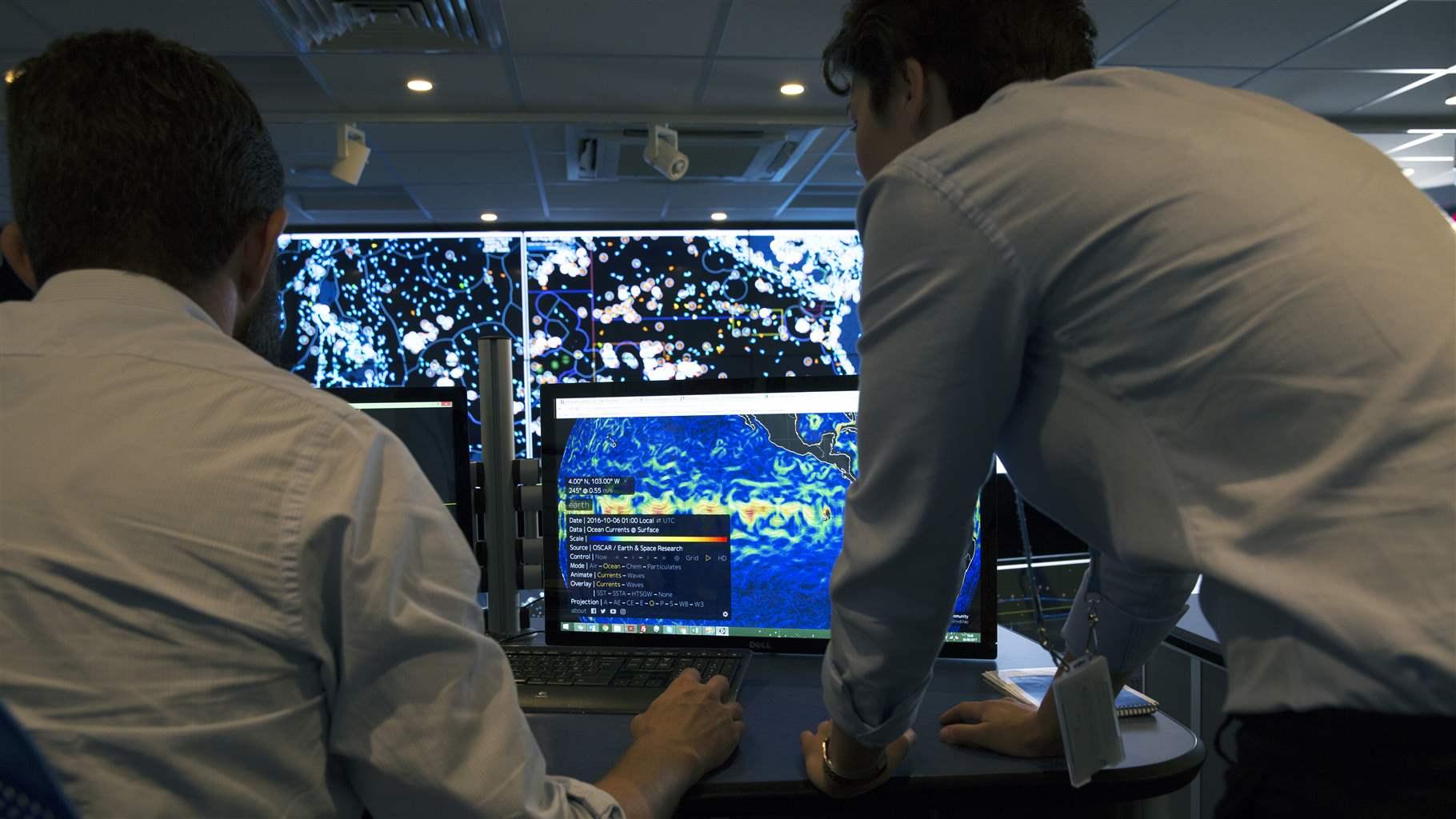 Creating large-scale marine protected areas (MPAs) can be a powerful way for governments to safeguard entire ecosystems. But the success of those MPAs in delivering conservation benefits depends on effective management. That includes monitoring—collecting and analyzing data—which is fundamental to understanding ongoing changes in ocean conditions and biodiversity, measuring the success of conservation strategies, and identifying paths to improve the management of protected areas.
For example, if a goal of an MPA is to increase the local population of apex predators by diminishing illegal, unreported, and unregulated (IUU) fishing, then an evaluation of whether protections are successful over time will require data on shark population dynamics, combined with information on how much illicit fishing is occurring in the MPA.
Governments and other ocean stakeholders can also share the information gained through monitoring—for example, by making fishing activity records publicly available, or through sharing animal tracking data—to help increase transparency and accountability in overall management and governance.
Fortunately, monitoring of oceanographic conditions, marine biology, and the presence and impact of human uses on the marine environment has progressed over the past three decades. In the 1990s, experts began using satellite remote sensing technologies to track changes in global oceanography—including sea surface temperature and productivity—in real time. Advancements in electronic tagging in the 2000s enabled scientists to track the distribution of marine animals, such as sharks and whales. Since the 2010s, scientists have also developed the technology to track and quantify fishing and other human activity across the global ocean, which has emerged as a major way to help detect IUU fishing.
Now, marine managers around the world can access and integrate these data streams to support informed and dynamic ocean management. At the cutting edge of this marine data revolution is the Global Fishing Watch Marine Manager, a new portal founded by Dona Bertarelli, special adviser for the blue economy for the United Nations Conference on Trade and Development and co-chair of the Bertarelli Foundation, and developed by the nonprofit Global Fishing Watch.
The technology leverages machine learning and harnesses near-real-time, open-source, dynamic and interactive data to evaluate ocean conditions, marine biology, and human activity, such as fishing. In doing so, it allows marine managers and researchers to combine numerous datasets to make informed decisions to better manage the ocean.
The portal, which is provided without cost to governments and marine management bodies, is being piloted in Guyana, the Mediterranean, the Black Sea, and several Pew Bertarelli Ocean Legacy sites such as Ascension Island, the Galápagos Islands, and Tristan da Cunha. The platform includes both a public-facing dashboard and private channels for marine reserve managers and stakeholders to share and analyze data.
Marine Manager complements a suite of other tools that can be used for monitoring and analyzing vessel activity within marine protected areas. Using satellites, remote sensors, and artificial intelligence, Ocean Mind, a U.K.-based nonprofit, successfully supported efforts to identify potential IUU fishing risk within the Pitcairn Island Marine Reserve over a five-year period. That project demonstrated how large, isolated, fully protected areas can be monitored remotely, in near real time, from space. Such work has led to the advancement of several other platforms working to combat IUU fishing, such as Vulcan Skylight and Vesseltracker.
Marine managers are also leveraging significant breakthroughs in monitoring of biodiversity and ocean life to improve stewardship of the seas. One example is the analysis of environmental DNA (eDNA), which offers an exciting new alternative to traditional wildlife survey methods by collecting and testing ocean water samples for DNA traces of organisms present in the area. That allows biologists to learn what species are there without having to locate and assess them individually. eDNA is the most efficient way to determine the presence of a wide array of marine life—including rare or difficult-to-find species—and can be used to broadly assess biodiversity in a rapid, repeatable, and relatively affordable manner.
With the support of the Pew Bertarelli Ocean Legacy Project, the managers of the Ascension Island Marine Protected Area are establishing an eDNA laboratory on the island to monitor the status of key species and the presence of dangerous invasive species that threaten biodiversity. If successful, Ascension Island's pilot eDNA program may serve as a case study in effective, low-cost monitoring that can be replicated in other remote MPAs.
These are just a few of the many new approaches and tools that are increasing the visibility of human activities on the water, and the movement of species below, in order to rapidly enhance the ability to understand and manage marine ecosystems. These and other technologies offer accessible, efficient, and effective opportunities to improve oversight of human activities—and help people better steward the global ocean.
Johnny Briggs works on the Pew Bertarelli Ocean Legacy Project.