11 Ways You Can Enjoy Salt Marshes Also Show Why They Need Protection
Coastal wetlands—ecologically and economically vital—are a paradise for birdwatchers, fishermen, and water lovers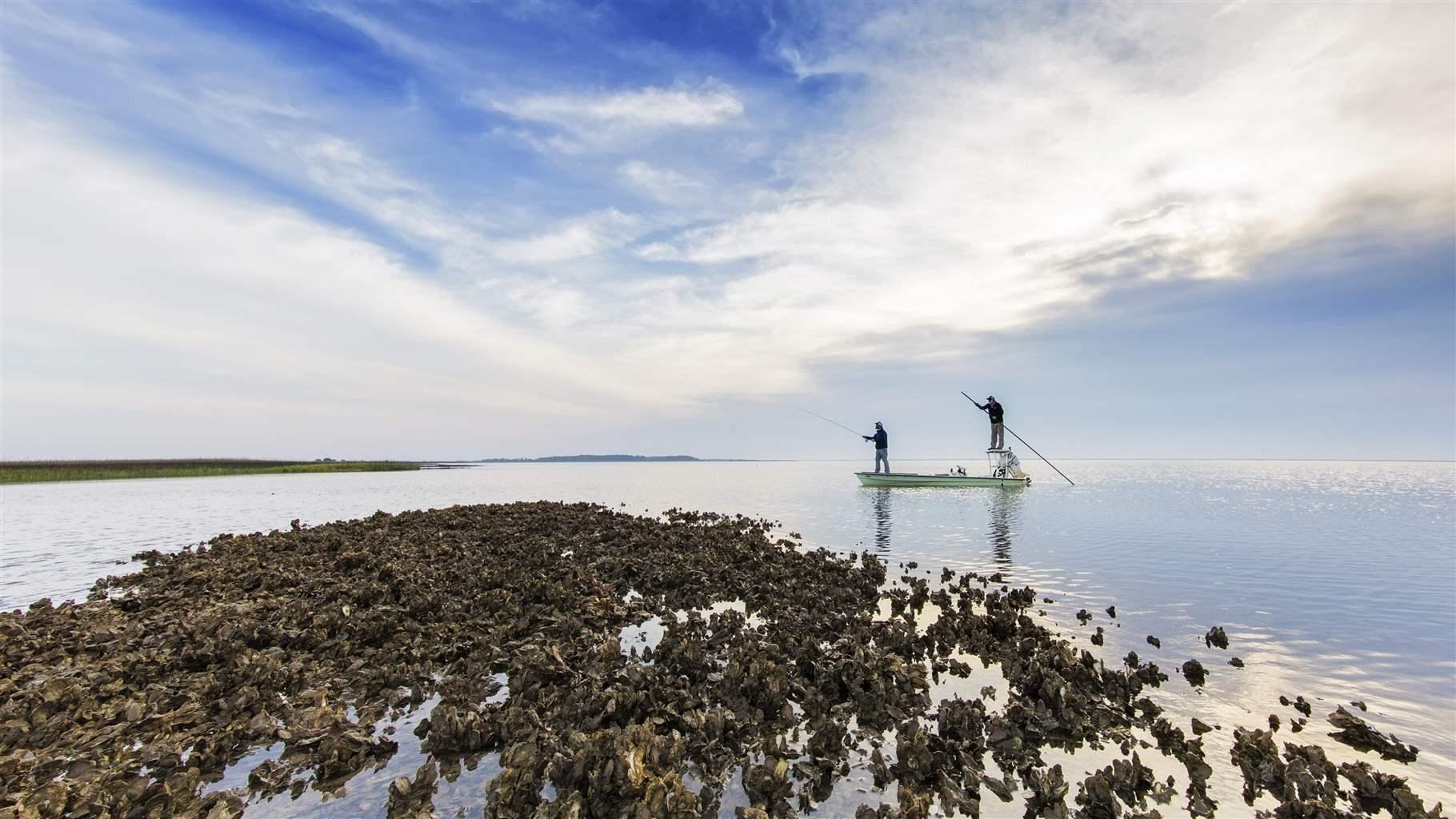 For millions of people around the U.S., fun on the coast means more than just a dip in the ocean.
Coastal salt marshes, which lie between the land and sea, are home to abundant wildlife that gives rise to activities ranging from fishing to photography. Many of these tidal wetlands also are home to cultural sites and state parks that offer hiking, kayaking, camping, and other outdoor recreation.
Salt marshes also help protect shorelines from flooding and storm surge, yet these versatile ecosystems are threatened by rising seas, polluted runoff, and poorly planned development.
To help counter those threats, government, military, and community leaders in the Southeast have launched the South Atlantic Salt Marsh Initiative, which aims to conserve about 1 million acres of marsh stretching from North Carolina to north Florida—an area about the size of Grand Canyon National Park and home to installations for every branch of the military.
The initiative is driven by the myriad reasons to protect salt marsh, from bolstering national security and economic strength to sustaining healthy wildlife habitat and outdoor recreation opportunities.
Here are 11 ways people can enjoy these captivating areas.
Spot wildlife. It takes a little luck but no special skills to catch a glimpse of the huge variety of life in salt marshes, which in the Southeast includes animals ranging from otters and rabbits to bottlenose dolphins and bald eagles. In fact, the birdwatching is particularly superb, with a dizzying array of species, from ospreys and belted kingfishers to great blue herons and the salt marsh sparrow, which is under review for listing under the federal Endangered Species Act. For some of the hottest birding locations, check out Huntington Beach State Park in South Carolina or Merritt Island National Wildlife Refuge, home to Florida's second-most-famous pink birds, roseate spoonbills.

Go oystering and crabbing. Jump in a boat or head into a marsh on foot to find abundant populations of shellfish, including blue crabs and oysters. Remember to observe any harvest guidelines.

Visit the Gullah Geechee Cultural Heritage Corridor, which stretches from North Carolina to north Florida and includes museums, gardens, trails, and other stops that teach the history of enslaved Africans who worked on plantations. And if you work up an appetite, stop at a Gullah/Geechee restaurant along the corridor for some traditional dishes such as shrimp and grits.

Take photos. Swaying spartina grasses with a watery backdrop are among the most scenic places in the Southeast.
Get on the water. Canoeing, kayaking, and paddle boarding are peaceful ways to explore the wending edges and inner passages of marshes.
Cast a line from shore, dock, or boat—on your own or with a guide—for some of the region's seafood staples, from redfish and spotted seatrout to flounder and sheepshead. Remember to comply with local fishing regulations.
Eat seafood from one of the thousands of markets and restaurants in the region, many of which offer saltmarsh views and fresh catch daily.
Hunt waterfowl. Salt marshes are popular with hunters seeking species of duck, including scaup, canvasback, redheads, widgeon, and mallards. Follow hunting regulations and guidelines.
Camp. Parks including Hunting Island State Park in South Carolina and Cumberland Island National Seashore in Georgia offer opportunities from RV areas to primitive campsites accessible only by boat.
Hike at a reserve. Guano Tolomato Matanzas National Estuarine Research Reserve in Florida, Sapelo Island National Estuarine Research Reserve in Georgia, North Carolina National Estuarine Research Reserve, and ACE Basin or North Inlet - Winyah Bay in South Carolina each encompass salt marsh and offer trails or boardwalks that grant visitors access to expansive vistas.
Become an early riser. There's nothing quite like sunrise over a salt marsh. But if you're an inveterate late sleeper, don't fret: There's nothing like a marsh sunset either.
Salt marshes are some of the most diverse and alluring ecosystems in the Southeast. Enjoying and protecting them can go hand in hand. For more information about salt marsh conservation, visit: How Southeast Stakeholders Are Safeguarding Salt Marshes | The Pew Charitable Trusts (pewtrusts.org)
Holly Binns and Joseph Gordon are project directors with The Pew Charitable Trusts' conserving marine life in the United States project.