Military and Government Leaders Recruit Nature to Protect Shoreline
Officials seek to conserve vast area of salt marsh as bulwark against storm surge, erosion, flooding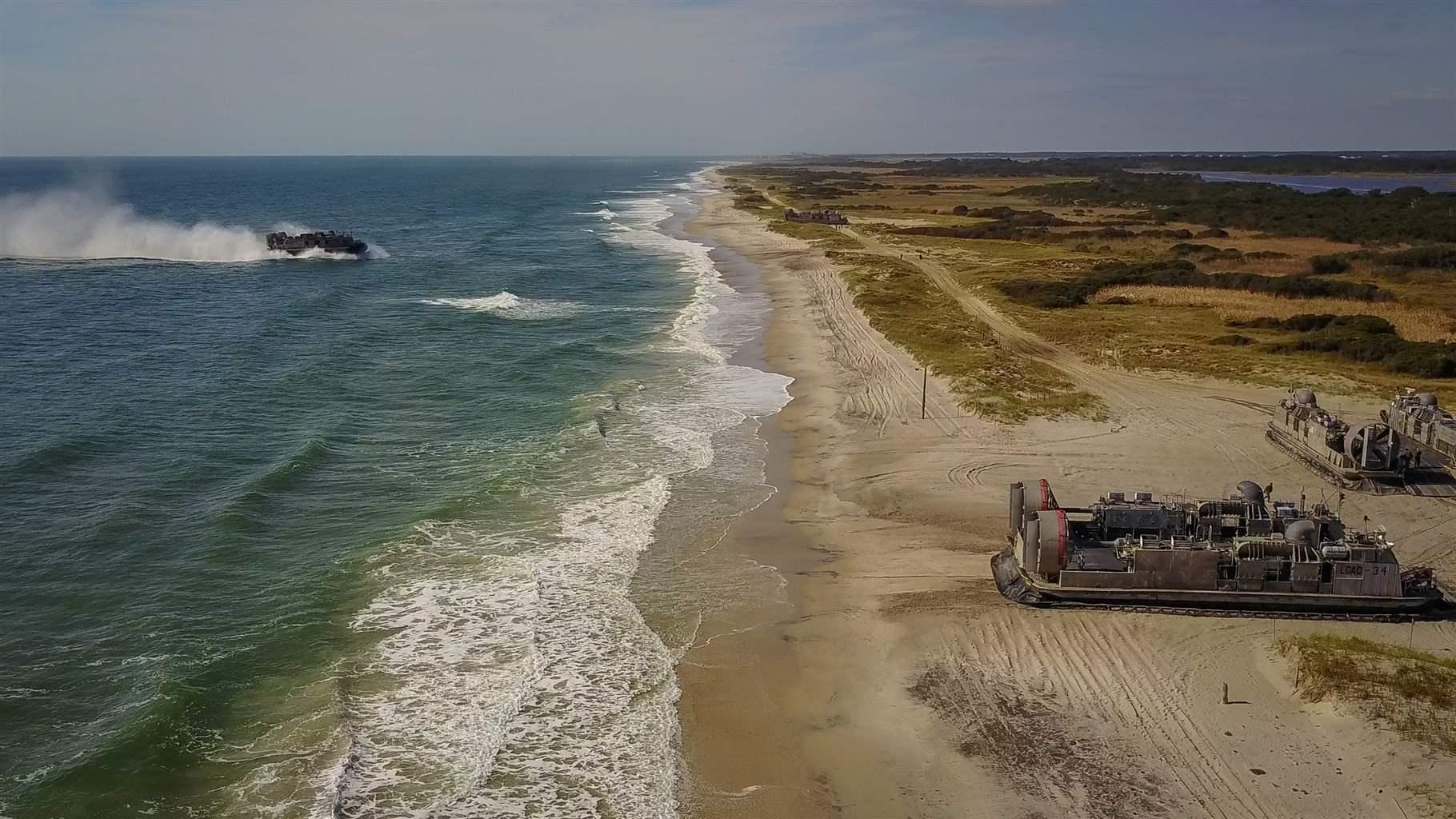 Along the U.S. Southeast coast, communities and military installations face a common enemy—floods, erosion, and rising seas. In response, military and government leaders are looking to fight nature with nature.
A group of regional government and military officials launched an initiative Tuesday aimed at conserving a 1 million-acre stretch of salt marsh—nearly the size of Grand Canyon National Park—from Northeast Florida to North Carolina. Salt marshes, which are sinewy channels of coastal grasslands, protect coastlines from flooding, erosion, and storm surge, filter upland runoff, and serve as vital habitat for fish, birds, and other animals.
The decision comes from the Southeast Regional Partnership for Planning and Sustainability, known as SERPPAS, which includes members of the U.S. Department of Defense and other federal agencies along with state environmental and natural resource officials from across the Southeast. The body agreed to begin crafting a long-range plan that would outline the steps needed to conserve the expanse of salt marsh.
Salt marsh provides Southeast communities and military installations an average of $695,000 per square mile annually in protective value from storm surge, flooding, and other problems, according to a 2020 study. About a dozen military bases and training grounds are located along or close to the Southeast coastline.
Tidal wetlands also can protect coastlines but are facing threats of their own, including rising seas, polluted runoff, and poorly planned development. The initiative focuses on salt marshes because they can adjust to rising water levels by migrating inland or to adjacent areas if that path isn't blocked by roads, buildings, or other structures. A salt marsh plan could help communities and the military better prepare for the future through coordinated, forward-thinking transportation and development, targeted restoration projects, and conservation of adjacent open lands.
SERPPAS is joining with The Pew Charitable Trusts, local officials, and fishing, hunting, birding, boating, and conservation organizations to build partnerships to protect salt marshes into the future. Interested parties will have an opportunity to work on the conservation plan by identifying actions that will help support national defense, conserve natural resources, and promote sustainable working lands, waters, and communities. Aside from protecting shorelines, salt marshes host species that are crucial to recreational and commercial fishing, hunting, birding, eco-tourism, and other activities that support coastal businesses and economies.
The conservation effort will be modeled after America's Longleaf Restoration Initiative, another SERPPAS project and a collaborative effort of multiple public and private sector partners to protect and restore native pine forests that were decimated by development and logging. That initiative focuses on weaving fragmented stands of longleaf pine to repair an ecological tapestry that benefits upland ecosystems, wildlife—including red-cockaded woodpeckers and gopher tortoises—military installations, and communities.
A decade into the initiative's 15-year plan, more than 1.3 million acres of new longleaf stands have been established, representing a 40 percent increase from a historic low of 3.2 million acres across the Southeast. The success stands as an example of bringing diverse stakeholder interests together to work on a common cause.
The new salt marsh initiative should provide a forward-looking, comprehensive plan to conserve and restore one of the last vast areas of this vital habitat in the United States. We hope that with all parties working together, this voluntary partnership can find solutions that will help the military, coastal communities, and economies for generations to come.
Holly Binns and Joseph Gordon are project directors with The Pew Charitable Trusts' conserving marine life in the United States project.