5 Ways the Infrastructure Bill Would Improve America's Flood Resilience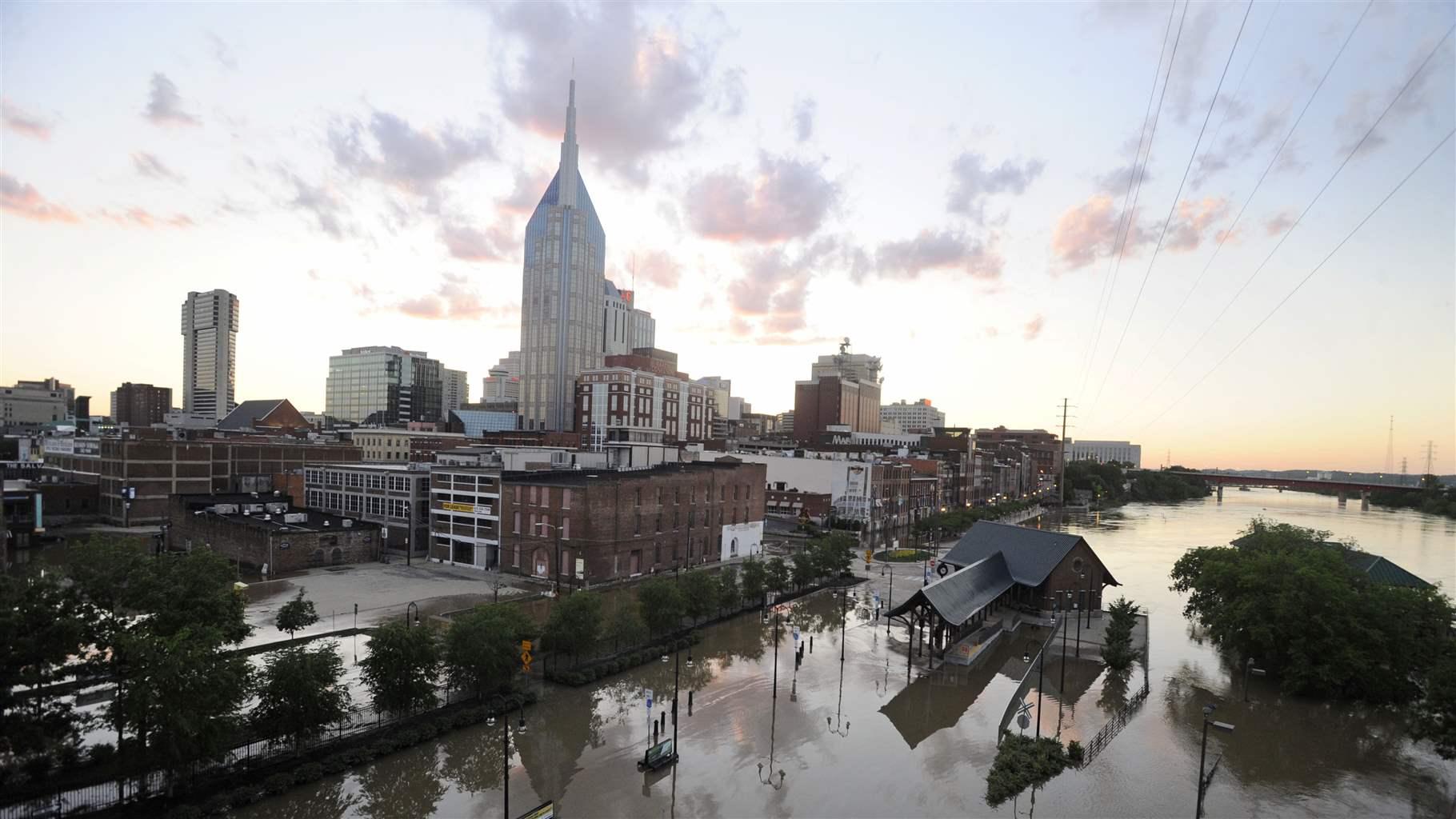 The $1 trillion-dollar infrastructure bill passed Aug. 10 by the Senate contains disaster and flood-resilience provisions of historic proportions. The once-in-a-generation investment would include billions of dollars in resilience measures that would help protect communities from flooding and other disasters at a time when people across the country, and around the world, are struggling to combat the increasing severity of deadly storms and rising seas. The bill's emphasis on getting communities flood-ready shows that, to Congress and the White House, resilience is no longer an afterthought but a national priority.

Here are five key ways the bill would help lower the risks and costs of flooding and other disasters across the U.S.:
Makes major new investments in pre-disaster mitigation
The Infrastructure Investment and Jobs Act includes significant boosts in funding for two key federal mitigation programs. One is an infusion of $1 billion into the Building Resilient Infrastructure and Communities Program (BRIC) of the Federal Emergency Management Agency (FEMA), which helps communities undertake comprehensive planning and projects to better withstand extreme weather before it strikes. In addition, FEMA's Flood Mitigation Assistance (FMA) program would receive $3.5 billion over five years, allowing the agency to more than triple grant awards it typically makes to help reduce the risk of repetitive flood damage to homes and businesses insured by the National Flood Insurance Program. The legislation also would improve the affordability of FMA grants by lowering the nonfederal amount of matching money required for some socially vulnerable and lower-income communities and individuals.
Creates a first-ever transportation resilience grant program
The bill would create the Promoting Resilient Operations for Transformative, Efficient, and Cost-saving Transportation (PROTECT) grant program, devoting $8.7 billion to support state and local assessments, planning, and projects that reduce the vulnerability of transportation assets to natural disasters. Grant recipients can receive financial incentives if resiliency improvement plans are developed and incorporated into long-term statewide or metropolitan transportation plans.
Incorporates disaster and flood-resilience considerations into existing transportation programs
State and local communities depend on national programs—such as the National Highway Performance Program, Surface Transportation Block Grant Program, and Federal Highway Administration Emergency Relief Program—for critical support for projects that preserve or improve the nation's highway system. Although safety, cost, and traffic congestion issues have long been the focus of transportation planners using these programs, the legislation makes it clear that resiliency and the threats of extreme weather must be considered as well.
Launches resilience research
This bill would not just pay for projects; it also would fund research aimed at improving understanding of the threats of extreme weather and the best means of making infrastructure resilient to future risks. This includes studying how well permeable pavements can combat flooding and developing best practices for incorporating resilience when repairing transportation assets such as roadways and bridges. And the legislation would authorize $500 million for 10 new regional Centers of Excellence for Resilience and Adaptation that would advance research focused on improving the climate resilience of surface transportation and other transportation-related infrastructure. The regional centers would work not only with state transportation agencies but also with communities; their efforts would be overseen by a national Center of Excellence.
Puts nature to work
Natural solutions—such as preserving or restoring wetlands and rivers or replacing impervious surfaces with green space—are sometimes overlooked when considering ways to address flood risk. The bill would add natural infrastructure to the menu of approaches supported by several existing and new federal programs to mitigate the risk of recurring damage to transportation systems. The bill also would provide a significant funding increase for programs such as BRIC and FMA that can support buying out flood-prone properties and replacing them with green space to reduce the costly cycle of flood damage and repair.
Climate impacts such as rising seas, heavier downpours, and stronger storms are a reality that must be met with urgent action across the country. The resilience measures included in the bipartisan bill can make significant strides toward better preparing communities and infrastructure for these threats by weaving disaster mitigation into the foundation of new and existing federal programs. It is critical that these provisions are maintained as the bill is taken up by the House of Representatives to ensure that communities nationwide—and the roads, bridges, and other essential infrastructure they depend on daily—are flood-ready.
Forbes Tompkins is a manager with The Pew Charitable Trusts' flood-prepared communities initiative.