Missouri Initiative Combines Treatment for Opioid Use Disorder and Prenatal Care
St. Louis-based program evaluation seeks to establish best practices for pregnant people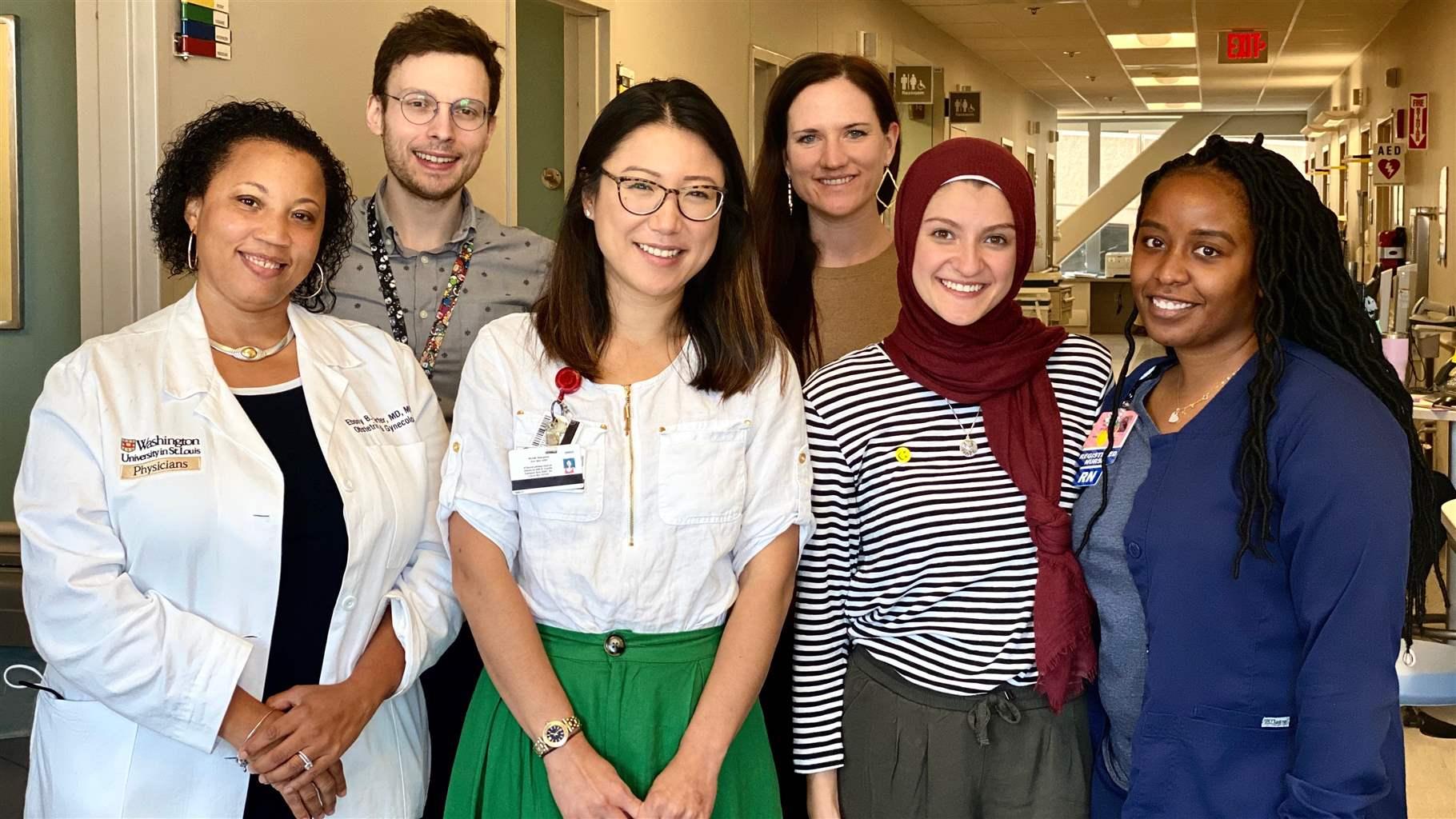 State and local leaders can better invest in evidence-based programs to combat opioid use disorder (OUD) when they understand how to most effectively prevent overdose deaths, provide treatment, and ensure that communities have the resources they need. Amid an ongoing national opioid overdose crisis made worse by the COVID-19 pandemic, many community initiatives are working to limit overdoses and save lives.
The substance use prevention and treatment initiative of The Pew Charitable Trusts is supporting six such initiatives over the next two years in a partnership focused on helping them evaluate their programs and encouraging broader adoption of successful, innovative models.
This profile is part of a series.
Addressing disparities in prenatal OUD care
In 2018, a multidisciplinary team of obstetric and mental health providers at the Washington University Medical Center and Barnes-Jewish Hospital established the Clinic for Acceptance, Recovery, and Empowerment (CARE) in Pregnancy program. The clinic serves the St. Louis metropolitan region and a large catchment population of rural Missouri and southern Illinois.
CARE predominantly serves urban patients, the majority of whom are supported by Medicaid (more than 90%) and have a dual diagnosis of at least one concurrent non-substance-bound mental health illness (more than 95%) and substance use disorder. The clinic is one of two in St. Louis that provide OUD treatment simultaneously with prenatal care. It is the only one that also provides on-site behavioral therapy and psychiatry specialist support to pregnant persons and individuals who gave birth within the past three years.
But researchers have identified provider inexperience in treating pregnant patients with OUD as a critical barrier to treatment. Individuals often lose access to treatment once they become pregnant because fewer than half of buprenorphine providers—of whom there is already a shortage nationwide—are willing to prescribe treatment for this population. Buprenorphine is one of the three drugs approved by the Food and Drug Administration for treatment of OUD.
Additionally, poverty and racial disparities in obstetrical care in St. Louis are among the highest in the country. These social determinants of health result in a highly vulnerable population: The area has some of the highest rates of maternal morbidity and mortality in the United States, with drug overdose being one of the key causes. The multidisciplinary team that designed CARE specifically sought to address the need for comprehensive OUD care during the prenatal stage, as well as to confront health inequities and disparities that pregnant patients experience.
The program ensures that high-risk patients are seen by obstetricians trained to provide both specialized prenatal and routine care. During the initial intake appointment, patients are formally diagnosed with OUD and work with the doctors to make shared decisions on management of the disease. For those who agree, CARE providers prescribe buprenorphine. Patients are offered continuous support from a licensed therapist and a nurse navigator via telephone.
The program takes a trauma-informed approach to care, which recognizes that a participating individual may have a history of trauma and emphasizes the roles of trust, safety, and empowerment during treatment. Patients are specifically told that relapses are not criteria for discontinuation of care, and the Group CARE program offers patients the opportunity to gather in sessions co-facilitated by an obstetrical nurse practitioner and a behavioral health therapist. Studies show that group prenatal care has reduced morbidity in high-risk pregnancies and in certain populations such as African American individuals.
Evaluating patient and program level outcomes
The CARE in Pregnancy program will be evaluated in partnership with the Brown School Evaluation Center at Washington University in St. Louis, a leader in the public health, social work, and policy sectors. The partners will design and implement an evaluation plan to assess the program's effectiveness—both on individual patient and broader programmatic levels. The evaluation will focus on buprenorphine induction methods and retention and adherence to treatment, particularly pre- and post-initiation of Group CARE, and among African American patients. Analyzing these outcomes will provide insight into best practices for eliminating racial disparities in OUD treatment and supporting pregnant people seeking addiction care.
To minimize barriers to treatment and maximize the number of providers who are willing to prescribe, providers and other stakeholders need data to determine the most effective and efficient ways to deliver buprenorphine treatment during pregnancy. Gathering information on Group CARE and African American patients' access, engagement, and continued treatment through the program can inform potential improvements in its structure to help identify and lower the barriers that exist for communities of color. A mixed-method approach using qualitative and quantitative data will be used to determine the benefits, barriers, satisfaction, and areas of improvement for the individual and Group CARE programs.
The evaluation project will run through 2022. Dissemination of results will follow.
For more on this initiative please contact Leslie Paulson, [email protected].
Beth Connolly is the project director and Leslie Paulson is an officer with The Pew Charitable Trusts' substance use prevention and treatment initiative.