Eelgrass Study Shows Location Matters More Than Method in Restoration Efforts
New research could influence conservation of marine plant that supports wildlife and protects coastline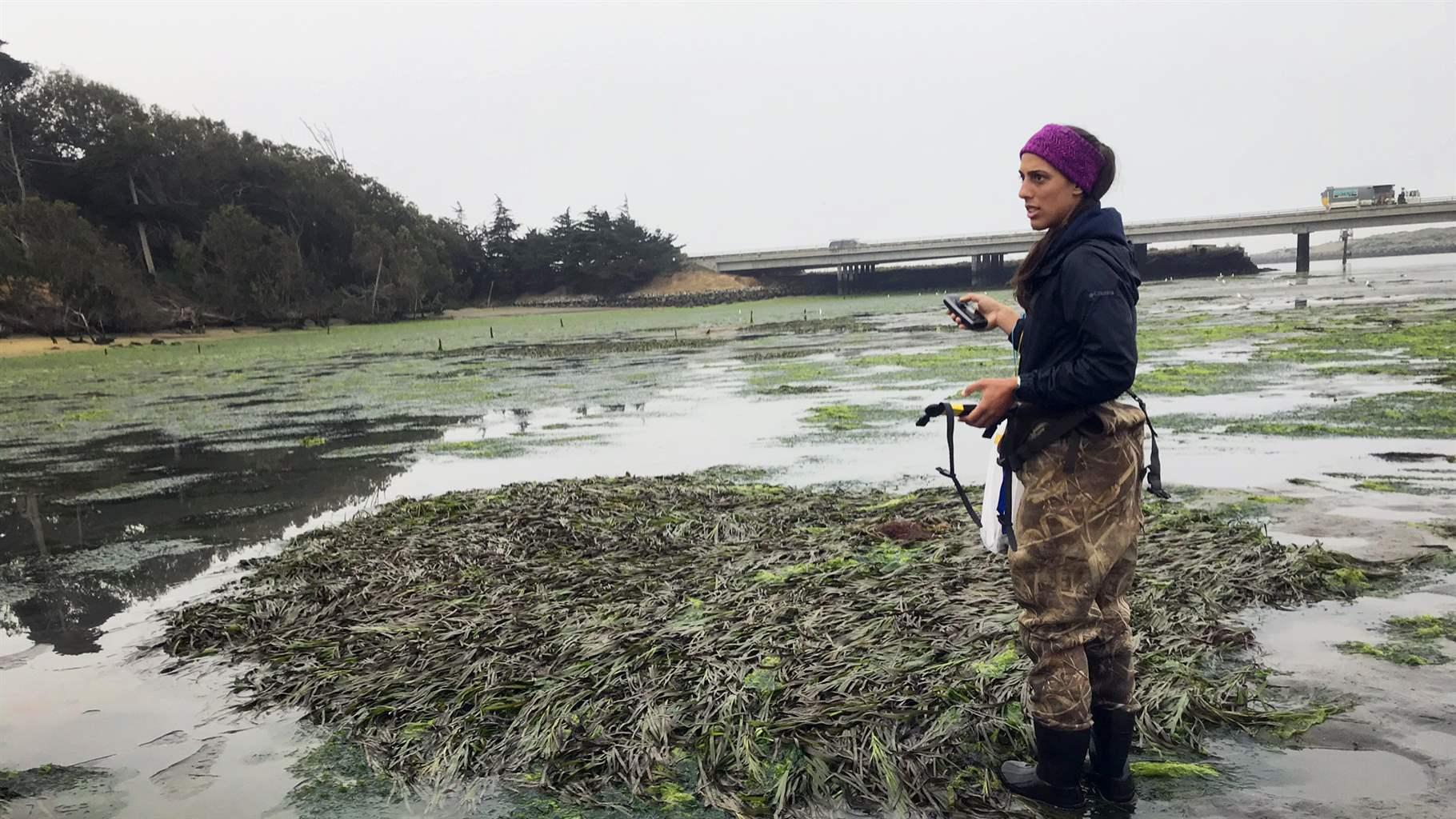 Eelgrass, a vital marine plant that cleans the water, absorbs carbon, produces oxygen, acts as nursery habitat, and protects the coastline, faces a suite of threats. Now a new report commissioned by The Pew Charitable Trusts shows eelgrass restoration efforts are far more influenced by environmental conditions than by the methods used in those efforts.
The report, released June 1 by the Pacific Marine and Estuarine Fish Habitat Partnership (PMEP), showed that transplanting methods "are not as important to project success as ensuring that site conditions are conducive to eelgrass," said Kathryn M. Beheshti of the University of California, Santa Cruz, who co-wrote the study with Melissa Ward of San Diego State University.
This versatile seagrass, which is found in estuaries, bays, and other shallow nearshore areas, is disappearing due to increasing coastal development and rapidly changing ocean conditions. Approximately 30% of the world's seagrass has vanished since the 1870s. In California's Morro Bay, there's a 90% decline in eelgrass since 2007.
The new report, titled "Eelgrass Restoration on the U.S. West Coast: A Comprehensive Assessment of Restoration Techniques and Their Outcomes," provides important information for scientists and decision-makers working to conserve and restore eelgrass.
PMEP developed the research to synthesize best practices for eelgrass restoration and protection in California, Oegon, and Washington. The report identifies environmental, policy, and regulatory conditions that provide the best chances for re-establishing seagrass and should serve as an important resource to guide conservation of coastal habitats that provide essential ecosystem services to both nature and coastal communities.
After analyzing 51 eelgrass restoration projects from San Diego Bay, California, to Puget Sound, Washington, and interviewing 22 leaders in the field, the researchers found that of the 30 projects that observed loss or failure of restored eelgrass, only seven cited the applied restoration method as one of the potential reasons for lack of success.
"The West Coast has a long history of mixed success with eelgrass restoration," Ward said. "Our research shows that assessing environmental factors for each potential restoration site is critical to deciding where it makes the most sense to re-establish eelgrass. While the importance of site evaluation has been noted in the past, this report demonstrates how many restoration projects have been successful, and the relative role environmental and methodological factors may play in this mixed success."
The report includes four case studies of successful replanting efforts and documents the reasons some projects fell short. It also provides seven recommendations for achieving better results in future restoration and mitigation projects. "We believe future eelgrass restoration work will benefit from increased monitoring, additional scientific studies, and a more uniform approach to eelgrass transplanting, monitoring, and data reporting," Ward said.
PMEP has created a webpage companion to the report that includes a summary of key findings around restoration methods and monitoring for success, the case studies, and a searchable database of all the restoration projects analyzed in the report.
Steve Marx leads efforts to protect ecologically important coastal and nearshore marine habitat as part of The Pew Charitable Trusts' conserving marine life in the United States project.