New Collaboration Aims to Help States Prepare for, Adapt to Natural Disasters
State Resilience Partnership to aid local leaders contending with flooding and other hazards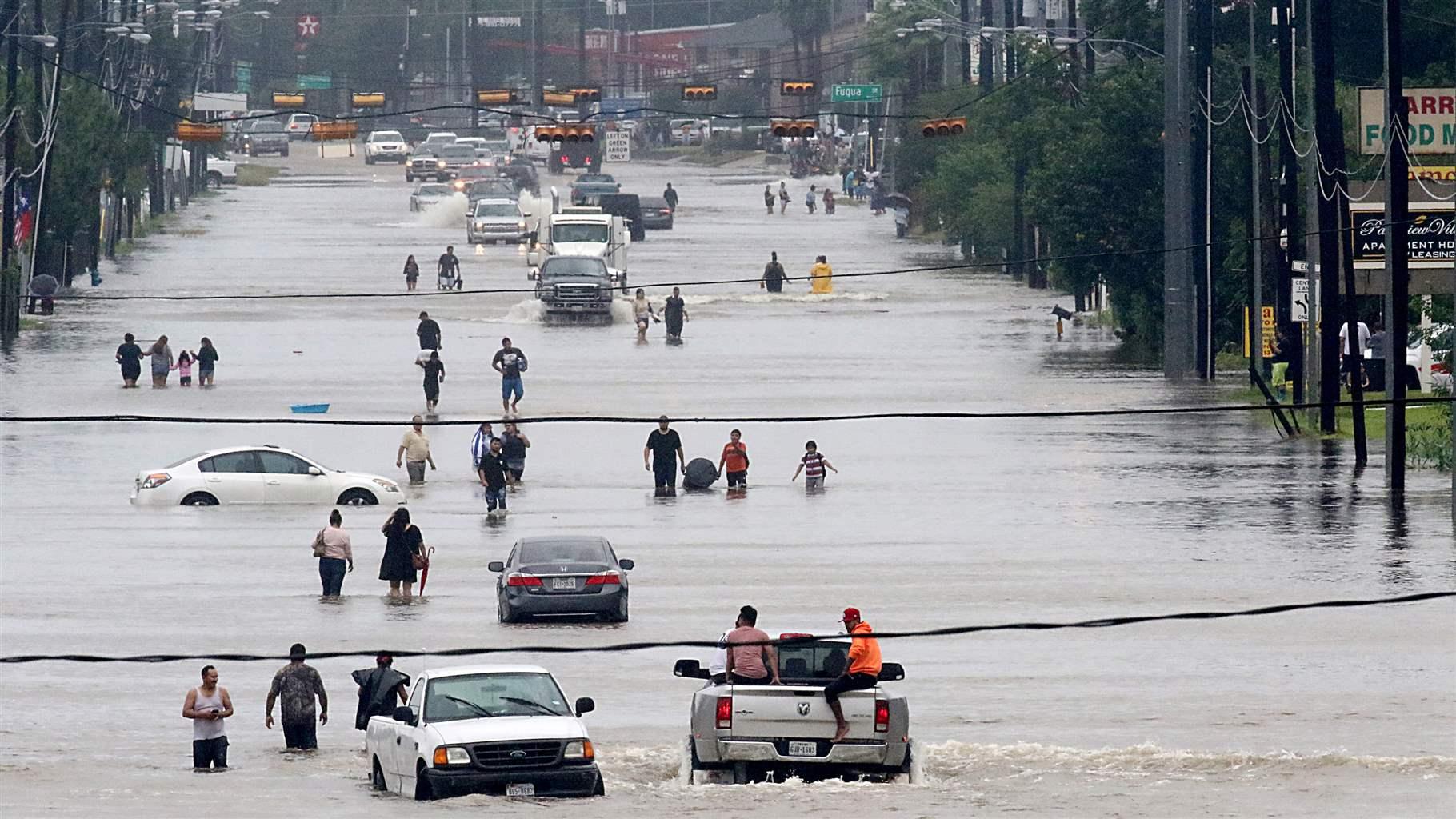 With each passing year, hurricanes, floods, wildfires, and other disasters are becoming more intense and more frequent, requiring state and local leaders to respond with greater urgency. These leaders are investing time and resources to reduce the catastrophic impact of these events on their communities while building long-term resilience through planning, policy, and projects. The Pew Charitable Trusts and the American Flood Coalition (AFC) have taken the lead in creating a new partnership to assist in this effort: the State Resilience Partnership.
The partnership will pool resources and expertise from a range of leading organizations to evaluate and promote best practices and approaches in resilience planning and project development. In addition to Pew and AFC, the other founding members of the partnership are the Alliance for National & Community Resilience, Center for Disaster Philanthropy, Coastal States Organization, Enterprise Community Partners, International Code Council, Iowa Flood Center, SBP, The Nature Conservancy, The Water Institute of the Gulf, Tulane Institute on Water Resources Law and Policy, Urban Institute, Urban Land Institute, and Virginia Coastal Policy Center.
Mathew Sanders, senior manager of Pew's flood-prepared communities project, and Melissa Roberts, AFC's founder and executive director, recently sat down to answer questions about the partnership. Their responses have been edited for clarity and length.
Q: What is important to know about the State Resilience Partnership?
Roberts: The State Resilience Partnership is the first and largest nongovernmental effort to support state-level resilience to natural disasters. Because the partnership convenes such a broad range of stakeholders—environmental groups, academic institutions, research entities, businesses, and local leaders—it can ground its recommendations in deep experience across wide areas of expertise. We know state and local leaders are eager to learn more about evidence-based best practices that the partnership can highlight—and to learn from one another.

Sanders: Prior to joining Pew, I was a state resilience planner in Louisiana. When I first got heavily involved in state resilience planning in 2014, there really was no readily available information to follow in developing plans at the state level—and that gap largely still exists today. So, the partnership can become a one-stop shop for resilience planners. And that includes noncoastal states that are often overlooked in this sort planning. Flooding—and, more broadly, natural hazard resilience—is a 50-state issue.
Q: Last year's hurricane season brought a record 30 named storms, including 13 hurricanes, to communities along the Atlantic coast. As these storms increase in frequency and intensity, how are states responding? And why is their role so important?
Sanders: Flooding is the costliest and most common natural hazard in the United States, and flooding events are happening with increasing intensity and frequency. In response, states have taken on a leadership role, and you are starting to see more states across the country lean in and develop strategies and approaches to address flooding as well as other natural hazard risks. In fact, 10 have launched resilience efforts in just the last two years.
Roberts: We've seen remarkable state leadership in so many places, like Texas, where $2 billion was spent on disaster recovery post-Hurricane Harvey, and North Carolina, where Governor Roy Cooper (D) recommended $1.5 billion for Hurricane Florence recovery and resilience efforts. And most recently in Florida, where the legislature just passed a landmark, bipartisan bill to address flooding that provided sweeping action and investment, including over $100 million in local grants in the first year of the plan and the creation of a state flood research center.
Q: What makes the State Resilience Partnership different from other efforts to reduce disaster risk?
Roberts: States play a critical role in assessing and responding to current and future disaster risks. That's why we're taking a holistic approach, because large-scale disasters don't just impact one area; they affect everything from housing and transportation to public health and natural resources. The partnership will collectively tackle different aspects of this problem and develop solutions that are multidisciplinary. By working together, we can create better solutions that are responsive to the urgent needs and concerns of state leaders. And at AFC and Pew, along with our partners, we are uniquely positioned for this work because we can bring together the decision-makers, enable them to cut across traditionally siloed work and hear about these needs and concerns directly.
Q: So, what's first for the State Resilience Partnership?
Sanders: Over the next two years, Pew and the American Flood Coalition have committed to invest in an initial slate of research that will provide direct assistance to state leaders and resilience planners. Our first research effort, focused specifically on state flood planning, is led by the Urban Institute and will be released later this year. We hope this research will help states develop answers to their most problematic and salient questions, like: Whose job is it to break the cycle of disaster and recovery, how can we pay for resilience-building solutions, and how do we analyze and respond to current and future disaster risk?
And to follow the partnership as it develops research over time, we encourage everybody to follow us on Twitter at @StateResilience and to visit us on the web at www.stateresilience.org