Huge Conservation Bill Would Protect Nearly 2 Million Acres in Nevada
Measure preserves Desert National Wildlife Refuge and funds sustainable development and affordable housing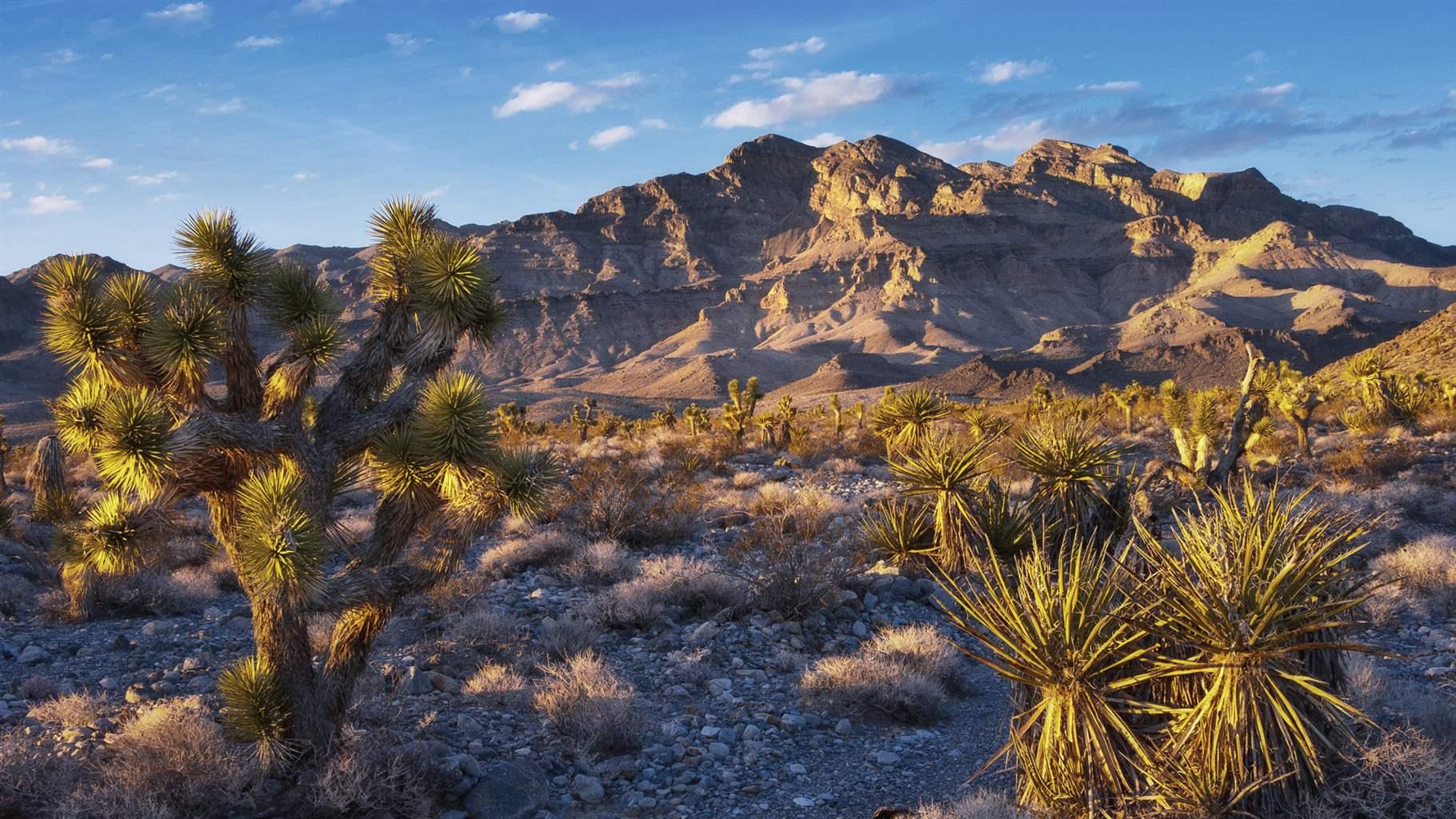 The Desert National Wildlife Refuge, north of Las Vegas, is the largest wildlife refuge in the lower 48 states, with a classic Mojave Desert landscape featuring an abundance of Joshua trees, which grow only in the Mojave. Now the refuge, which was established in 1936 by Franklin D. Roosevelt as the Desert Game Range to protect the native desert bighorn sheep and their habitat, could gain permanent protection under the Southern Nevada Economic Development and Conservation Act—the largest conservation bill introduced in the state's history. The act would safeguard nearly 2 million acres of critical wildlife habitat and cultural sites in total, including hundreds of thousands of acres outside the refuge that are important for people and nature throughout Clark County. Among other things, this would help ensure that the region's rapidly growing population has nearby access to the outdoors.
In the 1940s, the U.S. Air Force gained access to the western half of the refuge for use as a training ground. The legislation—which was introduced in Congress by Senator Catherine Cortez Masto and Representative Dina Titus and cosponsored by Senator Jacky Rosen, Representatives Steven Horsford and Susie Lee (all Democrats), and Republican Representative Mark Amodei—would permanently protect 1.3 million acres of this critical landscape as wilderness, making it off limits for future military expansion.
In addition, the bill would safeguard more than 330,000 acres of land in Clark County as wilderness and establish more than 350,000 acres of Special Management Areas to protect, conserve, and enhance the habitat of at-risk species, including the Mojave Desert tortoise. What's more, Southern Nevada's crown jewel—Red Rock Canyon National Conservation Area—would be expanded by more than 50,000 acres.
This legislation would conserve lands that people love to explore at a time when there is unprecedented interest in the outdoors. From March 1 to April 30, 2020, public lands in Clark County saw a 400% increase in visitors, according to a study commissioned by the county. Outdoor recreation is also critical to Nevadans' livelihoods, contributing more than $5 billion to the state's economy in 2019, according to the U.S. Bureau of Economic Analysis.
Currently, more than 60% of Clark County is protected public land. The Southern Nevada Economic Development and Conservation Act would increase that amount to 70% and, among other things, advance the Biden administration's goal of protecting 30% of our country's lands and waters by 2030.
The bill also encourages sustainable development by allowing Clark County to use funds from the Southern Nevada Public Land Management Act account—which was established in 1998—for climate change initiatives and sustainable growth. This provision ensures that any new development would be balanced with both land conservation and climate sustainability projects. And the bill makes a real investment not just in economic growth but also in affordable housing, a critical need in the Las Vegas metropolitan area. The legislation improves on an earlier proposal by requiring that any new growth and development in Clark County must strictly comply with the Endangered Species Act's requirements. This change is a huge win for the protection of the Mojave Desert tortoise and other species that call the desert their home.
The Pew Charitable Trusts is joining with the Nevada congressional delegation, Clark County, the state of Nevada, conservationists, businesses, outdoor enthusiasts, affordable housing advocates, and the Moapa Band of Paiutes to protect the Desert National Wildlife Refuge and to support passage of this bill.
John Seebach leads Pew's efforts on wilderness protection and national forest planning.