Galápagos Residents Express Strong Support for Expanding Marine Reserve
Respondents to poll cite benefits to local community and wildlife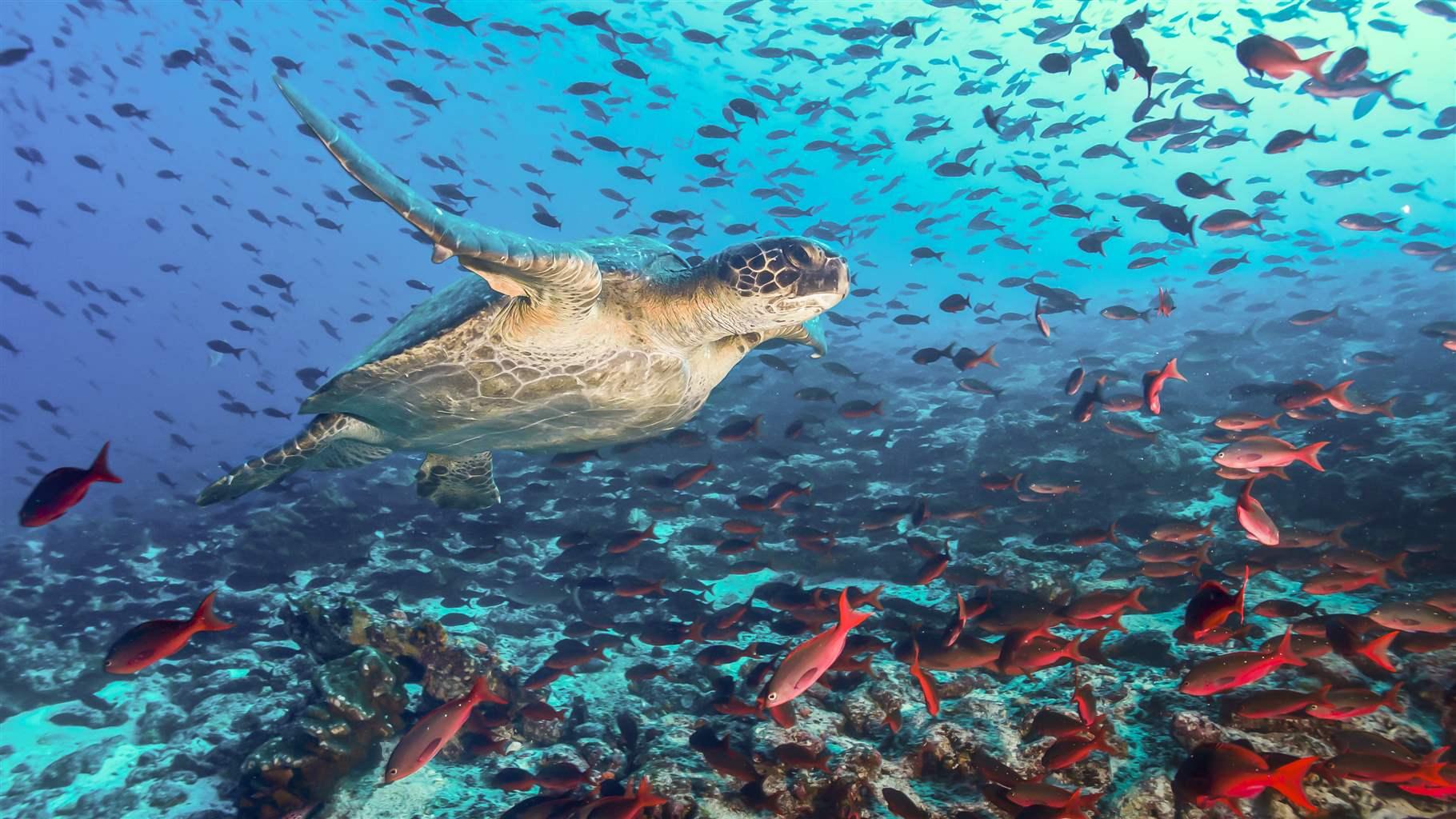 Known as the "living laboratory of evolution," the Galápagos Islands provide a critical refuge for migratory species and host some of the world's highest levels of endemism—species found nowhere else on the planet. Declared in 1998 and covering 133,000 square kilometers (51,352 square miles), the existing Galápagos Marine Reserve (GMR) prohibits extractive activities in certain areas while allowing artisanal fishing in others. Although the reserve has helped to protect habitats for certain species, including hammerhead sharks and green sea turtles, the dual pressures of climate change and overfishing threaten to degrade this biodiverse ecosystem.
A poll, commissioned by the Pew Bertarelli Ocean Legacy Project and conducted by Factoria Ambiental, a Galapagonian polling institute, shows that the local community supports increased protections for this fragile ecosystem. The poll, conducted in November and December of 2020 of 611 people from the Galápagos islands of Santa Cruz, San Cristóbal, and Isabela, found that 72% of Galapagonians favor expanding the size of the current marine reserve, citing as their primary reasons the opportunity to improve conservation of marine resources and to reduce or counteract illegal fishing inside the current reserve. Only 8% of respondents opposed expanding the protected area, pointing to concerns over the lack of monitoring and enforcement of the existing protected area and the reduced ability of fishermen to operate. The remaining 20% of those polled expressed uncertainty about expanding the size of the reserve, listing the ability to correctly monitor and enforce a larger marine reserve as their main concern.
Significantly, the poll also found that nearly 9 in 10 respondents (87%) believe that expanded marine protections would benefit the local community. Sixty-two percent of these respondents called increased protections for marine species a potential benefit and 52% said that expanded protections would produce more abundant fishing resources to the local community—a phenomenon known as the spillover effect, which occurs when species inside protected areas can grow and reproduce safely during key portions of their life cycle, in turn increasing the volume of adult fish that swim into adjacent unprotected fishing grounds. Other respondents listed tourism, increased economic opportunities, and improvement to environmental services as potential benefits of a larger marine reserve.
This survey not only reinforces community support for expanding the existing reserve to protect biologically and commercially significant species in the region, but also underscores the importance of establishing sufficient monitoring and enforcement. The development of comprehensive management and protection strategies would help to address local concerns about expansion while helping to ensure that protected areas achieve their intended conservation benefits.
The Pew Bertarelli Ocean Legacy Project supports the establishment and expansion of large-scale marine protected areas and is working with the government, local community, and other partners in the Galápagos Islands to safeguard one of the world's most iconic marine ecosystems.
Ashleigh Cirilla is a senior manager and Luis Villanueva is an officer with the Pew Bertarelli Ocean Legacy Project.