Bills Seek to Conserve Public Lands and Rivers Across California
Measures would improve access, safeguard water, and boost economies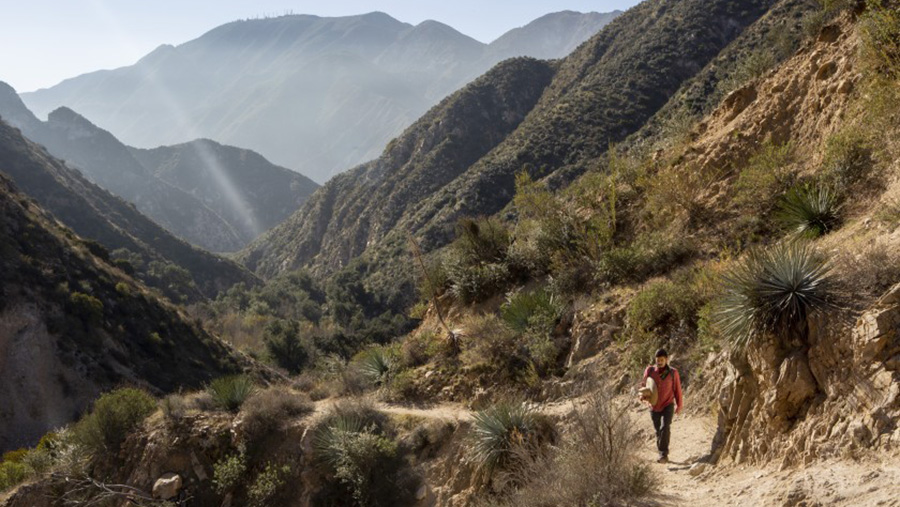 Editor's note: This article was updated May 7 to include the introduction of a Senate version of legislation described in the piece.
Based on anecdotal reports from around the U.S., more people have been getting outside to hunt, fish, hike, cycle, boat, and more during the COVID-19 pandemic than in recent memory. But despite this trend, one long-standing and unfortunate aspect of outdoor recreation remains: Not all people have equitable access to trails, parks, rivers, and other public lands and waters. That may change in California because of four bills that would help safeguard mountains, forests, and rivers in the state and improve opportunities for people to experience these resources.
For more than a decade, communities have worked to secure and protect public access to more than 1 million acres of land and over 500 miles of river in the San Gabriel and Santa Monica mountains north of Los Angeles, the Los Padres National Forest and Carrizo Plain National Monument along California's Central Coast, and key forests and watersheds in northwestern California. And over that span, responding to broad public support for the safeguards, members of California's congressional delegation—Representatives Salud Carbajal, Judy Chu, Jared Huffman, and Adam Schiff, all Democrats—each introduced legislation to conserve these places. Each representative reintroduced his or her bill this year, and on Feb. 26, all passed the House of Representatives as part of the Protecting America's Wilderness and Public Lands Act.
On April 29, Senators Alex Padilla (D) and Dianne Feinstein (D) introduced the Protecting Unique and Beautiful Landscapes by Investing in California (PUBLIC) Lands Act, which includes the measures to protect the San Gabriel Mountains, Central Coast, and northwestern California.
A growing number of experts say that spending time outdoors is vital for public wellness. However, access to protected lands and rivers remains limited for many urban residents, including those in many of California's economically disadvantaged areas and communities of color. In fact, the densely developed Los Angeles area has fewer parks per square mile than most other U.S. cities. As Rep. Chu noted last year, "Having such beautiful rivers, forests, and mountain trails [in the San Gabriel Mountains] so close to the density of Los Angeles is a true gift, especially for the millions who have little to no access to parks or any green space."
Here's a summary of the four bills.
The San Gabriel Mountains Foothills and Rivers Protection Act would increase the size of the existing San Gabriel Mountains National Monument, which is within a 90-minute drive for the 15 million residents of the Los Angeles area. The act would also create a new national recreation area and designate additional wilderness and wild and scenic rivers. As a result, the legislation would protect critical drinking water sources and provide more equitable access to public lands and rivers for local communities.
The Santa Monica Mountains National Recreation Area, about 15 miles northwest of Los Angeles, encompasses one of the world's largest Mediterranean-type ecosystems characterized by mild, wet winters and warm, dry summers. The Rim of the Valley Corridor Preservation Act would expand the existing area to better protect open space for local communities and maintain a vital wildlife corridor for mountain lions, bobcats, deer, and many other species.
The Central Coast Heritage Protection Act would safeguard wilderness, other public lands, and wild rivers in the Los Padres National Forest and Carrizo Plain National Monument. The bill would conserve the headwaters of rivers that provide drinking water for hundreds of thousands of people in local communities, improve public access by designating the new Condor National Recreation Trail, and protect areas important to the Indigenous Chumash culture.
Northwest California's old-growth redwood forests and icy cold mountain streams are world-renowned for their botanical and biological diversity. These natural treasures attract visitors from around the world and are essential to the region's economic and cultural well-being. The Northwest California Wilderness, Recreation, and Working Forests Act would designate wilderness, protect wild and scenic rivers, establish new trails, and increase recreation opportunities and access in this area, most of which is in Northern California's Trinity County. The bill would also direct the management of more than 700,000 acres of forests to reduce wildfire risks and increase community safety.
Protected public lands and waters create jobs and business opportunities in recreation, tourism, and local service industries. According to the Bureau of Economic Analysis, California's outdoor recreation economy generated $57.4 billion in added value (GDP) and 578,480 jobs annually, prior to the COVID-19 pandemic.
The Senate should pass these protections into law to conserve these remarkable places and support an important economic engine for the local and state economies.
The Pew Charitable Trusts has long supported the conservation of California's public lands and waters. We look forward to helping to protect these areas for future generations.
John Seebach is a project director and Jackie Feinberg is a principal associate with The Pew Charitable Trusts' U.S. public lands and rivers conservation project.