Pacific Fisheries Managers Must Improve Sustainability and Stem Illegal Fishing
Annual meeting is ideal time to advance science-based oversight of tuna and marlins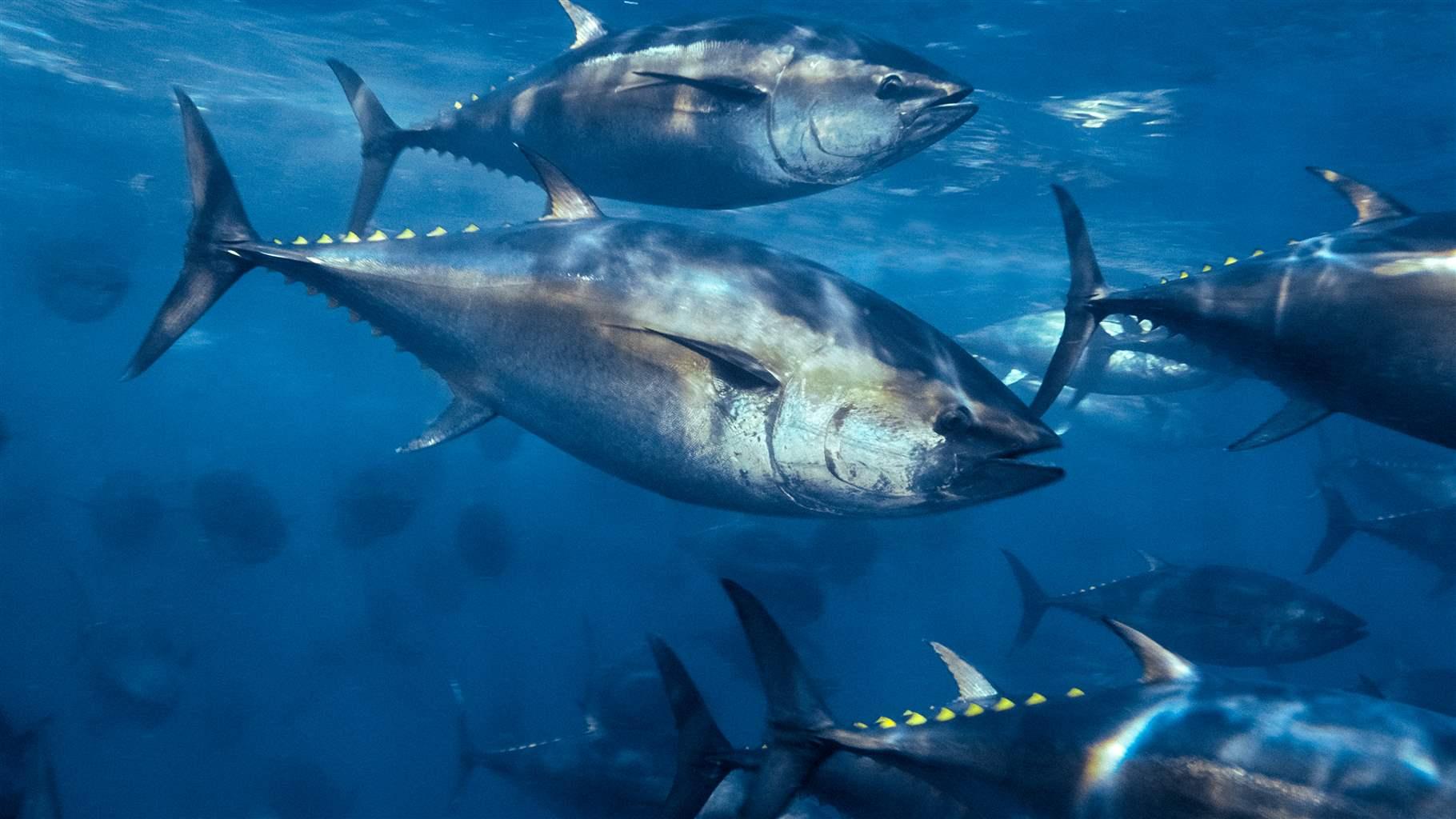 The COVID-19 pandemic has complicated fisheries management around the world, including in the roughly 20% of the ocean managed by the Western and Central Pacific Fisheries Commission (WCPFC). Meetings of the Commission that are normally held in person have been moved online, making it difficult for negotiators to connect. And independent fishery observers have been temporarily removed from vessels due to concerns over health risks.
Still, fishing for valuable tuna species continues, and the supply chain effects of the pandemic have underscored the importance of maintaining healthy and resilient fisheries that are equipped to handle unexpected shocks to the management system. When the WCPFC meets virtually for its annual meeting Dec. 9-15, its focus should be on advancing and adopting measures to ensure that the fisheries are sustainably managed—per the best available science—and that rules are enforced, even in difficult times.
Modernize management through science-based harvest strategies
In 2014, the WCPFC committed to transition its management approach from short-term quotas to a long-term methodology called harvest strategies. This science-based, precautionary approach is designed to meet a set of agreed objectives for management of a fishery, such as preventing overfishing, by automating catch limits that have the best chance of meeting those objectives. That transition is not yet complete, so this year the WCPFC should focus on taking the important next steps to develop harvest strategies while ensuring that healthy stocks don't deteriorate and that unhealthy stocks are at least put on the path to recovery. Those steps should include:
Renewing the current management measure for tropical tunas, and ensuring that managers follow the scientific advice to maintain populations of bigeye and yellowfin tunas at their 2012-15 levels until harvest strategies are adopted.
Resisting pressure to raise the quota of Pacific bluefin tuna, which is depleted to just 4.5% of its historical level, and instead prioritizing the development of management strategy evaluation (MSE), the core modeling component of harvest strategies, to ensure that the WCPFC can more effectively work to rebuild this valuable fishery in the near future.
Committing to rebuild the depleted north Pacific striped marlin to 20% of its unfished spawning biomass—a target the Commission already agreed to—by 2034 and agreeing to test management options for this species using MSE.
Following the advice of the WCPFC Scientific Committee by agreeing to create a science management dialogue working group, which would accelerate the Commission's development and adoption of harvest strategies by providing a forum for scientists, managers, and stakeholders to build capacity and exchange information.
Improve oversight of fishing activity at sea
The WCPFC should also use this meeting to improve oversight of transshipment, the practice of moving catch from a fishing vessel to a carrier vessel that brings fish to port. Transshipment often occurs far out at sea, away from the eyes of authorities, and offers an opportunity for illegal, unregulated, and unreported (IUU) fishing and other violations to occur. The number of annual at-sea transshipments reported within WCPFC waters increased by 166%—from 554 transfers to 1,472—from 2014 to 2019.
Although transshipment has become a key step in the seafood supply chain, a 2019 Pew study and a separate Pew and Global Fishing Watch study the same year highlighted that the WCPFC's management and reporting rules are insufficient for detecting and monitoring all transshipments and may, in fact, contribute to the annual transfer of an estimated $142 million worth of IUU catch in the region. Compounding this issue is poor observer coverage of the longline fleet, which accounts for most of the vessels that transship at sea; and, as noted above, that coverage has slipped further because of COVID-19 restrictions. This year, the WCPFC can close loopholes that allow IUU activity and improve oversight of transshipment by:
Ensuring sufficient funding and capacity for its transshipment working group, which is tasked with recommending improvements to management.
Mandating that reports from observers on carrier vessels be sent to the Commission secretariat.
Developing data-sharing arrangements on transshipment activities with other regional fishery management organizations to deter IUU fishing and ensure that transshipment activity can be monitored and verified.
Increasing the percentage of longline fishing activities that are required to have onboard observers to provide more and better data for science and compliance, and prevent the region from becoming a conduit for IUU catch.
Requiring its electronic monitoring (EM) working group to finalize recommendations for minimum standards for EM by next year's annual meeting. EM has been shown to be a cost-effective way to increase observer coverage, improve data collection, and fill gaps when having human observers onboard is not feasible.
Despite the challenges of a global pandemic and a virtual annual meeting, the WCPFC has many opportunities to achieve progress this year. Commission members must remain committed to coordination and compromise, and support the development of solutions that will enable more effective management and stronger oversight in the coming years.
Glen Holmes works on The Pew Charitable Trusts' international fisheries project.