Pew Joins Projects to Boost U.S. Military Base Resiliency Through Conservation
Defense Department funds oyster reef and shoreline restoration in Virginia and North Carolina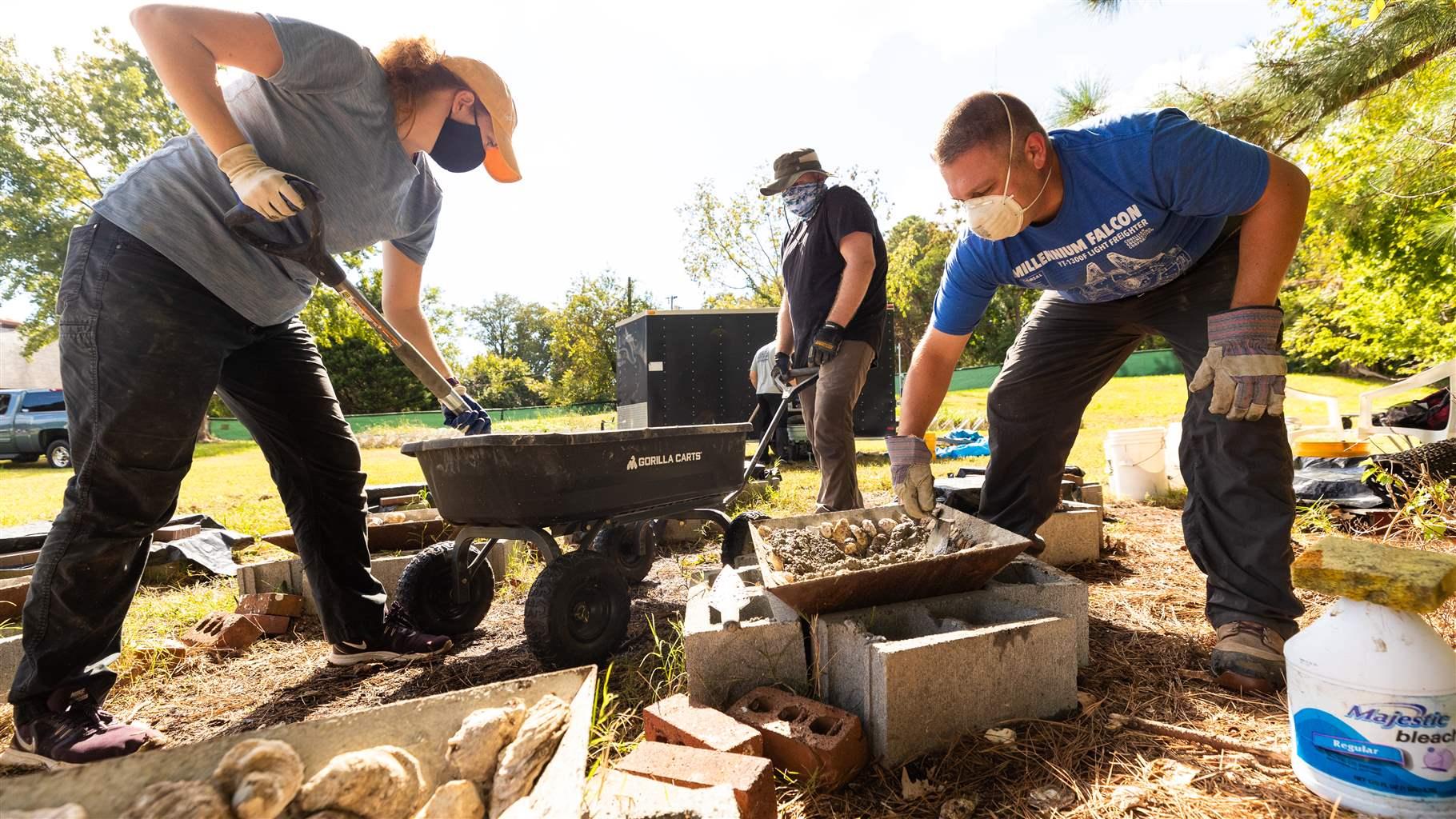 Coastal military installations in the U.S. face serious threats from unconventional adversaries—sea level rise, coastal erosion, and more frequent and powerful storms—that can limit training and functionality, and compromise troop safety. In response, the U.S. Department of Defense's Readiness and Environmental Protection Integration (REPI) Program in 2012 established its annual REPI Challenge, which in October announced it will award $17 million in 2020 to fund projects that protect and restore lands and habitats on and around installations in seven states.
As part of the 2020 REPI Challenge Awards, The Pew Charitable Trusts partnered with two coastal military installations, leading academic institutions, and coastal restoration experts on proposals for Marine Corps Air Station Cherry Point in Havelock, North Carolina, and Naval Weapons Station Yorktown, on the York River in York County, Virginia. In both places, sea-level rise and coastal erosion threaten the bases and their ability to fulfill their mission. The winning proposals for these projects are funded at a combined total of $2 million.
In Virginia, restoring oysters will boost installation resiliency
The Yorktown project in the Hampton Roads region of Virginia will support conservation and restoration within the country's largest estuary, the Chesapeake Bay. It will create about 900 feet of living shoreline and restore 3.45 acres of U.S. Navy land along the York River. This project also will install natural and artificial oyster reefs and complement ongoing restoration efforts underway in the area by federal and state agencies.
Oysters are filter feeders, constantly cleaning the water and providing a healthier environment; their reef structure creates habitat for marine life, helping support valuable fisheries and jobs, and protects the coast from storms and tides.
The installation, which supports the U.S. Navy's Atlantic Fleet and Joint Commands by providing management, research, training, and storage services, is bounded by a degraded ring of shoreline and wetlands, which has led to the loss of land and estuarine habitat. The project will incorporate hybrid living shorelines that integrate artificial oyster reefs and seagrass beds that will both break down wave energy and provide a physical barrier to would-be attacks, such as a terrorism strike, over the water. The project will also stimulate salt marsh recovery and create shallow-water habitats vital to fish and shellfish production. The work also will support Virginia's efforts to rebuild reefs in the York River under the Chesapeake Bay Watershed Agreement, a landmark accord that establishes goals and outcomes for the restoration of the bay.
Joining Pew and Naval Weapons Station Yorktown on this project are the Virginia Institute of Marine Science, Christopher Newport University, the National Park Service, the National Oceanic and Atmospheric Administration, The Nature Conservancy, and the Virginia Marine Resources Commission.
North Carolina project to protect and restore shoreline
The project at Marine Corps Air Station Cherry Point will construct about 2,100 linear feet of living shoreline—which are protected, stabilized coastal edges created with natural materials such as salt marsh and oyster reefs—along the Neuse River to augment a larger hurricane recovery project already underway along the river shore. It will be one of the largest shoreline protection projects on the U.S. East Coast. In addition to better protecting the base, the extension will support ecosystem health and could improve water quality for surrounding communities in the long term.
The installation is home to the 2nd Marine Aircraft Wing and supports aircraft landing practice, unmanned aerial systems, and other important training for the U.S. Marine Corps.
The project's lead partner is the North Carolina Sentinel Landscape Committee, a collaboration among farmers, foresters, conservationists, and military installations. Other partners include the U.S. Marine Corps, North Carolina State University, the state's Farm Bureau, the Department of Agriculture and Consumer Services, and the Department of Environmental Quality. Pew is partnering with Duke University and the North Carolina Coastal Federation to conduct research and help implement this precedent-setting living shoreline.
Models for future work at military installations
This year's REPI Challenge Awards demonstrate the value of taking a collaborative, ecosystem-based approach to supporting military readiness at nearshore military installations. As REPI continues its work across the nation, Pew supports leveraging these types of solutions—and the lessons we'll learn on these projects—to improve the resiliency of additional U.S. coastal military installations, while helping to conserve important coastal habitats and marine life.
Leda Cunningham and Zack Greenberg work on The Pew Charitable Trusts' campaign to conserve marine life on the U.S. East Coast.