Resolution to Define Industrial Fishing Closes Loophole in Marine Protections
New guidance clarifies, and limits, the vessels allowed to fish in marine protected areas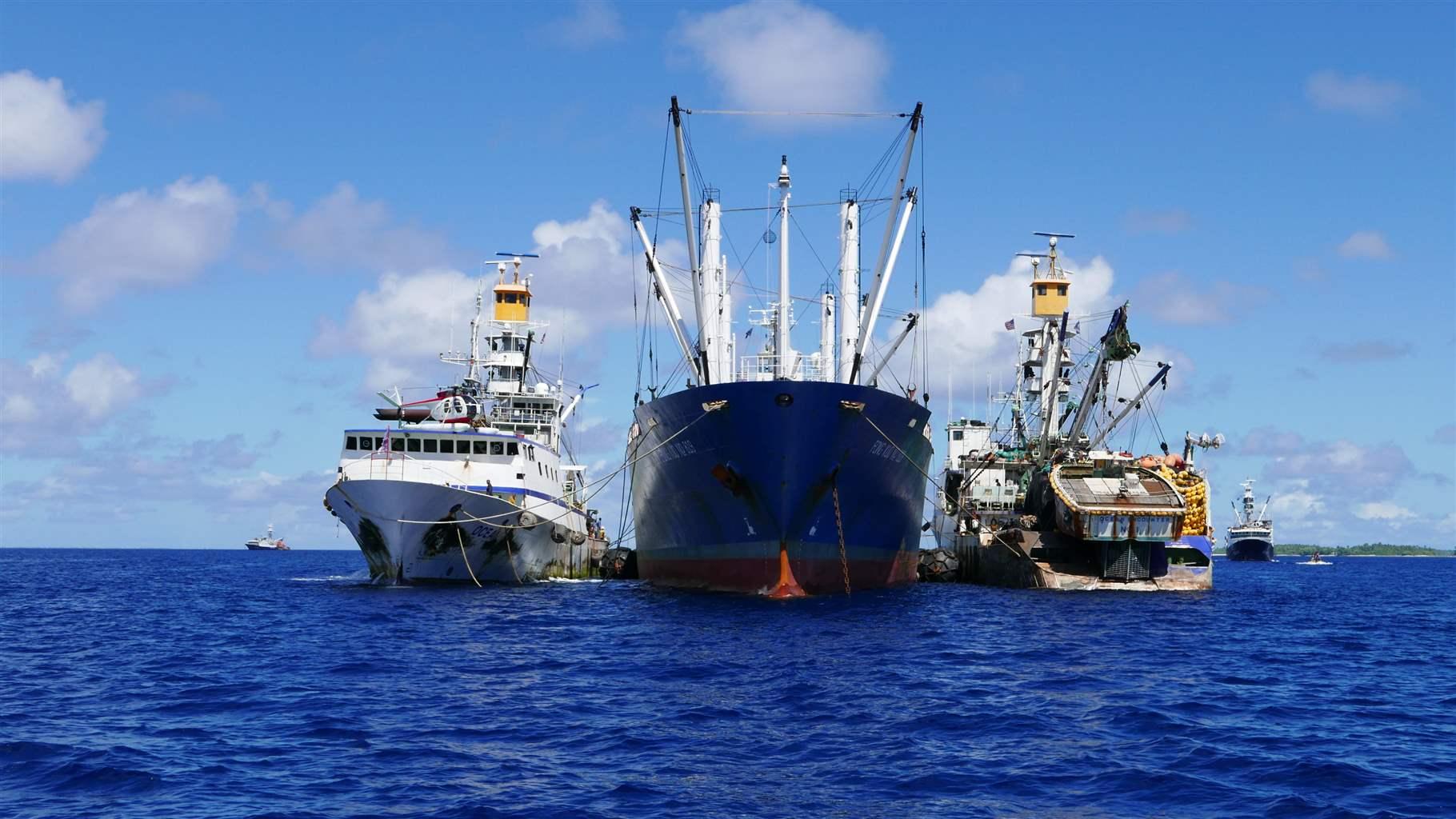 As climate change, pollution, overfishing, and extraction continue to degrade ocean health, the need to protect valuable ocean resources has never been more important. Marine protected areas (MPAs), which exempt portions of the ocean from fishing, extraction, and other activities, are a critical tool governments use to preserve and replenish ocean ecosystems. But until recently what qualified as allowable fishing in these areas was somewhat open to interpretation, undermining the efficacy of these protected areas.
Today, the International Union for Conservation of Nature (IUCN) is helping to rectify this issue by adopting a new resolution to define the term "industrial fishing" in the context of MPAs in order to close a loophole that allowed for unsustainable fishing activity within protected waters.
According to the IUCN's MPA guidelines, "any industrial activities and infrastructural developments (e.g., mining, industrial fishing, oil and gas extraction) are not compatible with MPAs and should be excluded from such areas." However, the IUCN does permit "long-term sustainable" fishing in some MPAs, and until now the difference between acceptable "long-term sustainable" fishing and prohibited "industrial fishing" was subjective.
In the absence of clear guidelines, some countries have sanctioned and profited from large fishing fleets operating within areas they are calling MPAs, resulting in the removal of thousands of tons of catch per year. This has led experts to question whether certain protected areas are delivering their stated conservation objectives.
To counter this problem, The Pew Charitable Trusts coordinated an effort to define industrial fishing in the context of MPAs. Working with several organizations, Pew reviewed existing definitions, sought expert advice at IUCN workshops, and ultimately submitted a motion defining industrial fishing to the IUCN World Conservation Congress. The new resolution classifies all commercial trawlers, purse seine vessels, and large longliners as industrial vessels, as well as any large, profit-oriented vessels over 12 meters long and 6 meters wide. It exempts sustainable resource use by Indigenous people, low-impact scientific research fishing, and sustainable commercial fishing that doesn't otherwise classify as industrial.
The resolution passed overwhelmingly, with 80% of member states and government agencies and 96% of nongovernmental and Indigenous peoples organizations voting to approve the definition. It was adopted alongside a series of ocean conservation measures to reduce the impact of fisheries on marine biodiversity; stop the global flow of plastics into the oceans; and enhance the use of nature-based solutions to mitigate the effects of climate change. These measures will define the general policy of IUCN over the next few years and provide a key opportunity to direct the world toward solving some of our greatest sustainability challenges.
The resolution's sponsors hope this definition will provide nations with the information they need to determine which forms of fishing activity are compatible with MPAs and designate ones that deliver positive biological outcomes. The resolution also supports the ability of governments to accurately report how much of their waters are truly protected to international databases such as the World Database on Protected Areas. As the international community works toward an agreement to protect at least 30% of the global ocean by 2030, such clarity and accuracy of reporting is crucial.
Over the past several years, the Pew Bertarelli Ocean Legacy Project has been working closely with local communities to designate protected areas, such as those around Palau and the Pitcairn Islands, that offer the high levels of protection needed to safeguard marine ecosystems and the people that rely on them. This new resolution underscores the importance of designing and implementing effective MPAs that help boost ocean biodiversity, fisheries, and the economies that depend on them.
Johnny Briggs works on The Pew Bertarelli Ocean Legacy Project's efforts in the U.K., based in London.