Pandemic-Driven Declines in Tourism Take Toll on Many States' Revenues
Hawaii, Nevada, and Florida predict significant budget hit after leisure and hospitality job losses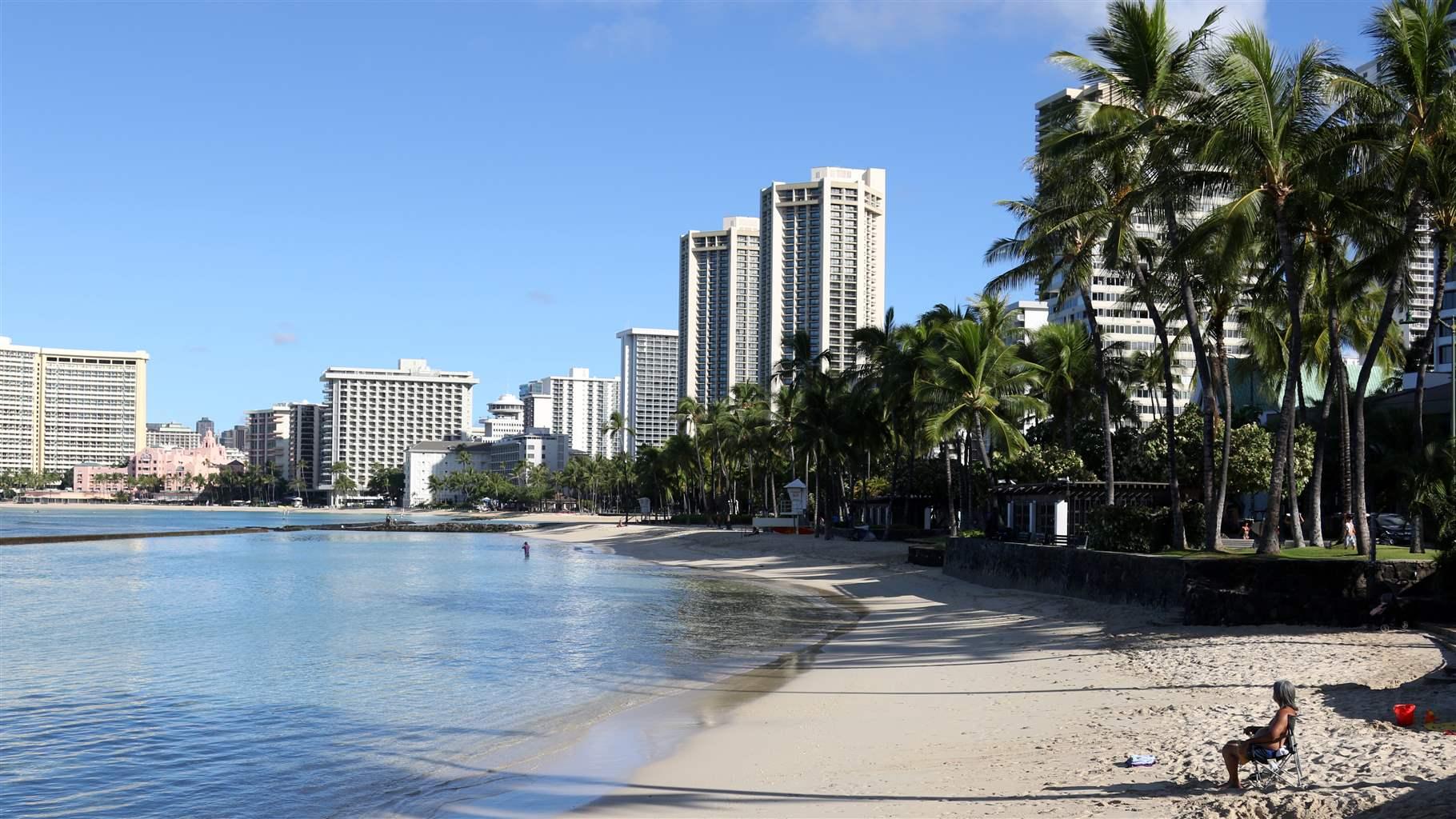 Hawaii's economy thrives on tourism and all the dollars spent at hotels, restaurants, and attractions throughout the state. So when the COVID-19 pandemic forced business closures and grounded air travel in March, the islands sustained a major economic blow. Leisure and hospitality workers suffered massive layoffs, and the latest data covering August shows that state employment in the industry remained less than half of what it had been in February.
Nationally, leisure and hospitality jobs have endured by far the largest losses of any major industry. A review of U.S. Department of Labor jobs data for August, however, shows vast differences in how the industry has held up across states. Seven had incurred sharp reductions of a third or more from February's pre-pandemic employment totals. A few others, meanwhile, had largely recovered from an initial wave of layoffs and were down less than 10%. For areas that lean heavily on tourism and hospitality, how the industry recovers matters not only for regional economies, but also for the vital tax dollars generated to fund state and local government budgets.
Leisure and hospitality employment dropped by more than 7.5 million jobs nationwide immediately following the business closures and travel restrictions issued in March. About half of the lost jobs, including temporary layoffs, have since been recovered in the industry, defined to include restaurants, drinking establishments, lodging, attractions, and related venues. Still, September job estimates remained down about 23% from February, three times the private sector's total rate of decline.
The industry supports at least some jobs everywhere, but the resulting revenues are especially critical for tourism-dependent states. Leisure and hospitality workers accounted for a quarter of Nevada's and nearly 20% of Hawaii's labor force last year, for example.
The hit to Hawaii's budget has been severe: The state's latest revenue forecast shows an estimated 19.6% general fund tax revenue loss this year on top of a 9.7% decline in fiscal year 2020 from pre-pandemic projections. In fact, when estimated revenues for both years are compared to fiscal 2019, the cumulative decline in percentage terms is greater than any other nonenergy state, according to a Pew analysis of revenue forecasts.
No major source of tax revenue has gone unscathed. The most recent Hawaii Department of Taxation data shows that taxes on transient accommodations and rental vehicles had nearly vanished as of June, and excise taxes assessed on businesses were down about 16% over the year. Although these revenue streams sustained especially sharp declines, income taxes and other sources weren't spared, either.
The state's revenue losses aren't surprising given the absence of tourists. The first week of October, the number of passengers flying to Hawaii was still down more than 90% from a year ago. Hotels and resorts have sustained severe losses as fewer travelers are checking in. Some remain open, albeit with limited capacity, but others have shut down entirely. In March, Governor David Ige (D) issued a mandatory 14-day quarantine for all arriving travelers that remains in effect. On Oct. 15, the state will implement a new pre-travel testing program that can exempt those testing negative for COVID-19 from the quarantine. Policymakers hope that could lead some tourists to opt not to cancel their plans.
Nevada also experienced a dramatic tourism slowdown. Like Hawaii, the state relies heavily on the industry to fund its budget: The hotel and casino industry generates about 38% of general fund revenue, according to figures published by the Nevada Resort Association.
In March, Governor Steve Sisolak (D) ordered nonessential businesses to close, shuttering casinos and cutting off a key revenue stream. Gaming revenues essentially disappeared as sales tax collections, which typically make up more than half of the state's tax revenue, also plummeted. Casinos later reopened with restrictions in early June. Unlike Hawaii, Nevada has since recovered about two-thirds of the leisure and hospitality jobs it lost between February and April.
Still, the state's gaming revenue remained down 22% over the year in August. More broadly, recent sales tax collections were down 18% in May and 4% in June.
Florida similarly expects to face sharper revenue reductions than most states, but its forecast shows smaller losses than Hawaii or Nevada's projections. Sales taxes, which account for the bulk of the state's revenues, are estimated to dip just 2% over the year in fiscal 2021.
The state's economy is a long way from recovering, however, as leisure and hospitality employment remained 21% below February totals as of August. The pandemic canceled many spring break plans. Walt Disney World, which recently announced massive layoffs, and other major tourist destinations remained closed for months. In all, the number of visitors in the second quarter was down a staggering 61% from a year ago, according to Florida's tourism bureau.
Tourism-Dependent States Project Significant Pandemic-Related Revenue Losses
The three most reliant on leisure and hospitality jobs expect major declines from prior forecasts
| State | Leisure and hospitality share of total employment (2019) | FY 2020 estimated revenue change from pre-COVID forecast | FY 2021 estimated revenue change from pre-COVID forecast |
| --- | --- | --- | --- |
| Nevada | 25.1% | -8.3% | -18.2% |
| Hawaii | 19.3% | -9.7% | -19.6% |
| Florida | 14.0% | -5.7% | -10.0% |
Source: Nevada Governor's Finance Office, Budget Division representing FY 2020 actual totals and FY 2021 estimates as of July; Hawaii Council on Revenues forecasts published March 11 and Sept. 9; Florida Revenue Estimating Conference estimates published Jan. 15 and Aug. 14.
In sharp contrast, some areas of the country rely little on the industry for tax revenue. Leisure and hospitality employees last year made up the smallest shares of the workforce in Iowa and Nebraska, two states projecting among the least disruption to their budgets from the pandemic, according to a Pew review of state revenue forecasts. Nebraska Economic Forecasting Advisory Board members said the state's economy was holding up better than elsewhere, in part because it relies less on hospitality services.
Hawaii (-53%), New York (-42%), and Vermont (-42%) have sustained the largest percentage losses in leisure and hospitality jobs from pre-pandemic totals in February, while industry employment is down only 6% in Indiana and Mississippi. But these jobs are more important to some states' economies than others. The losses are most critical to Hawaii's economy, where the sector accounts for nearly 1 in 5 jobs. The industry accounts for between 9% and 12% of total employment in nearly all other states.
Of course, many factors dictate states' revenue losses. Government-mandated closures because of the coronavirus have shuttered many businesses. Other industries, such as energy and oil production, are also struggling. States' varying tax structures further explain why some are projecting larger losses as certain revenue streams tend to be more volatile, particularly during a recession.
Going forward, how well the leisure and hospitality sector rebounds carries major implications for state budgets. So far, industry job growth has followed uneven trajectories across states. California, Hawaii, and New Mexico all posted flat numbers or slight industry job losses in recent months despite leisure and hospitality employment remaining down more than a quarter from February. Other states have experienced stronger recoveries. Some segments of the industry, too, face larger deficits. About 40% of U.S. hotel jobs (excluding casinos) and half of performing arts and sports positions have been eliminated temporarily or permanently since February, compared with 19% for restaurants and other eateries.
In the coming months, much of the industry's fate—and that of several states' budgets—will depend largely on the course of the pandemic.
Source: Pew calculations of U.S. Bureau of Labor Statistics data, accessed Sept. 18, 2020
Copyright © 1996-2023 The Pew Charitable Trusts. All rights reserved.
Barb Rosewicz is a project director and Mike Maciag is an officer with The Pew Charitable Trusts' state fiscal health initiative.