Study Shows Few Clinicians Prescribe Buprenorphine to Patients With Opioid Use Disorder
Bipartisan legislation would reduce barriers to treatment nationwide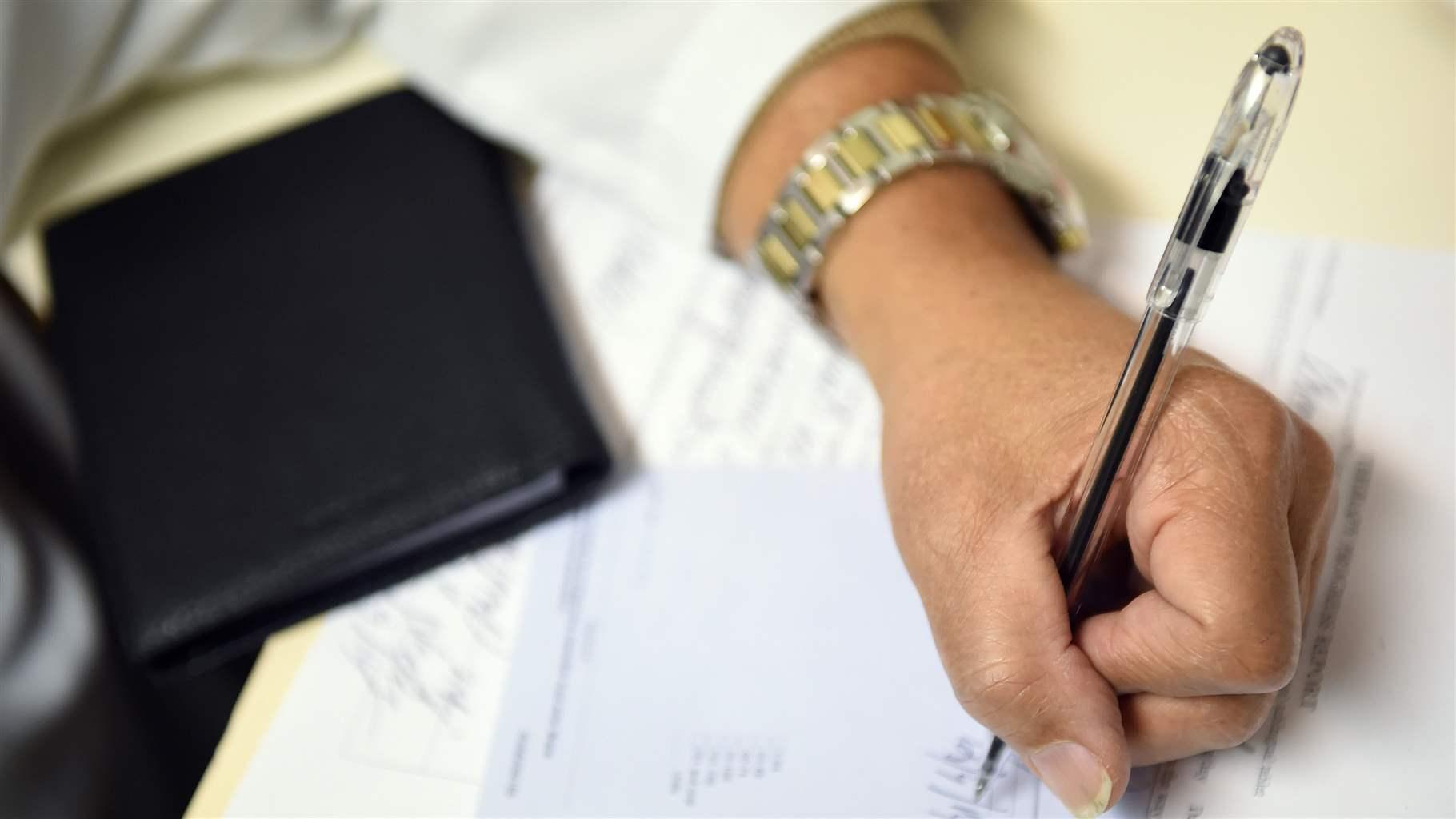 Research published Aug. 24 in JAMA Network Open helps to explain the vast treatment gap for people with opioid use disorder (OUD), attributing it in part to the small number of clinicians prescribing buprenorphine, a Food and Drug Administration (FDA)-approved medication that has been proved effective. More than 2 million Americans have OUD, but only about 26% receive any kind of treatment.
The study, conducted by Pew in collaboration with Deerfield Management Co. and the Rand Corp., used national data to examine how many clinicians actively prescribe buprenorphine. From April 2017 to January 2019, only half of clinicians who had met stringent federal requirements and were therefore eligible to prescribe buprenorphine for OUD did so. And those who prescribed the drug did so for far fewer patients than allowed under federal regulations.
The limited use of this medication highlights the need for federal legislation to make it easier for clinicians to prescribe buprenorphine for people with OUD. Currently, clinicians must adhere to training and licensing rules that are not required for any other prescription drug. Congress should pass the Mainstreaming Addiction Treatment Act (MAT Act), which has bipartisan support, as soon as possible.
Federal regulations prevent clinicians from treating patients with buprenorphine for OUD until they complete training approved by the federal Substance Abuse and Mental Health Services Administration and obtain a license—known as the "X" waiver—from the Drug Enforcement Administration (DEA). Health care providers, including doctors, nurse practitioners, and physician assistants, who complete the training are then allowed to treat only a certain number of patients.
The regulations allow eligible clinicians to treat up to a specific number of patients—30, 100, or 275—concurrently. The DEA then subjects waivered prescribers to random inspections of office records to ensure compliance with regulations.
The newly published study shows that out of nearly 56,000 eligible prescribers nationwide, just under 51% wrote at least one prescription for buprenorphine in the 22-month period studied. And those health care providers who did prescribe the drug treated far fewer patients with it than the maximum numbers allowed. For example, clinicians approved to treat up to 30 patients with buprenorphine treated only 11.3% of their allotment, while clinicians allowed to treat 100 or 275 patients treated only 23.9% and 36.9%, respectively.
Meanwhile, OUD continues to take a heavy toll. The Centers for Disease Control and Prevention estimates that a record-high number of drug overdose deaths occurred in 2019—more than 70,000 lives lost, primarily because of opioids. In 2020, the COVID-19 pandemic may make matters worse: Studies show that in times of emergency, receiving treatment for recovery from substance use disorders can prove difficult.
To combat the overdose crisis, people with OUD need better access to evidence-based treatments, which in too many places remain scarce. Buprenorphine has been proved to treat OUD, reduce overdose deaths, and curb illicit opioid use. In addition, federal regulations permit clinicians to prescribe it in community-based settings, such as primary care offices. But this new study indicates that more needs to be done to encourage both patients and providers to partake in this treatment.
The MAT Act would eliminate the training and licensure requirements that clinicians must meet to treat patients with buprenorphine for OUD, as well as the patient limits associated with prescribing. Removing these limitations would allow any clinician licensed to prescribe controlled substances to treat any number of patients with OUD with this medication.
The X waiver has contributed to stigma by incorrectly implying that OUD should be treated differently from other health conditions and that buprenorphine is more risky than other medications. These assumptions can prevent people from seeking treatment, and clinicians from providing it. Eliminating the requirements would help dispel these myths.
Policymakers and providers have additional work to do to expand access to evidence-based treatments for addiction, including ensuring that reimbursement for buprenorphine treatment is adequate, and that providers have appropriate clinical support to manage patients with OUD. But passing the MAT Act would represent an important step in helping to destigmatize OUD treatment, expand the pool of potential prescribers, and encourage existing prescribers to take on more patients, all of which would help to increase access to lifesaving care.
Alex Duncan is a senior officer and Ian Reynolds is a manager with Pew's substance use prevention and treatment initiative.