Effective Community-Based Initiatives Are Needed to Curb the Opioid Crisis
Lessons from local level can inform efforts to prevent overdose deaths and expand treatment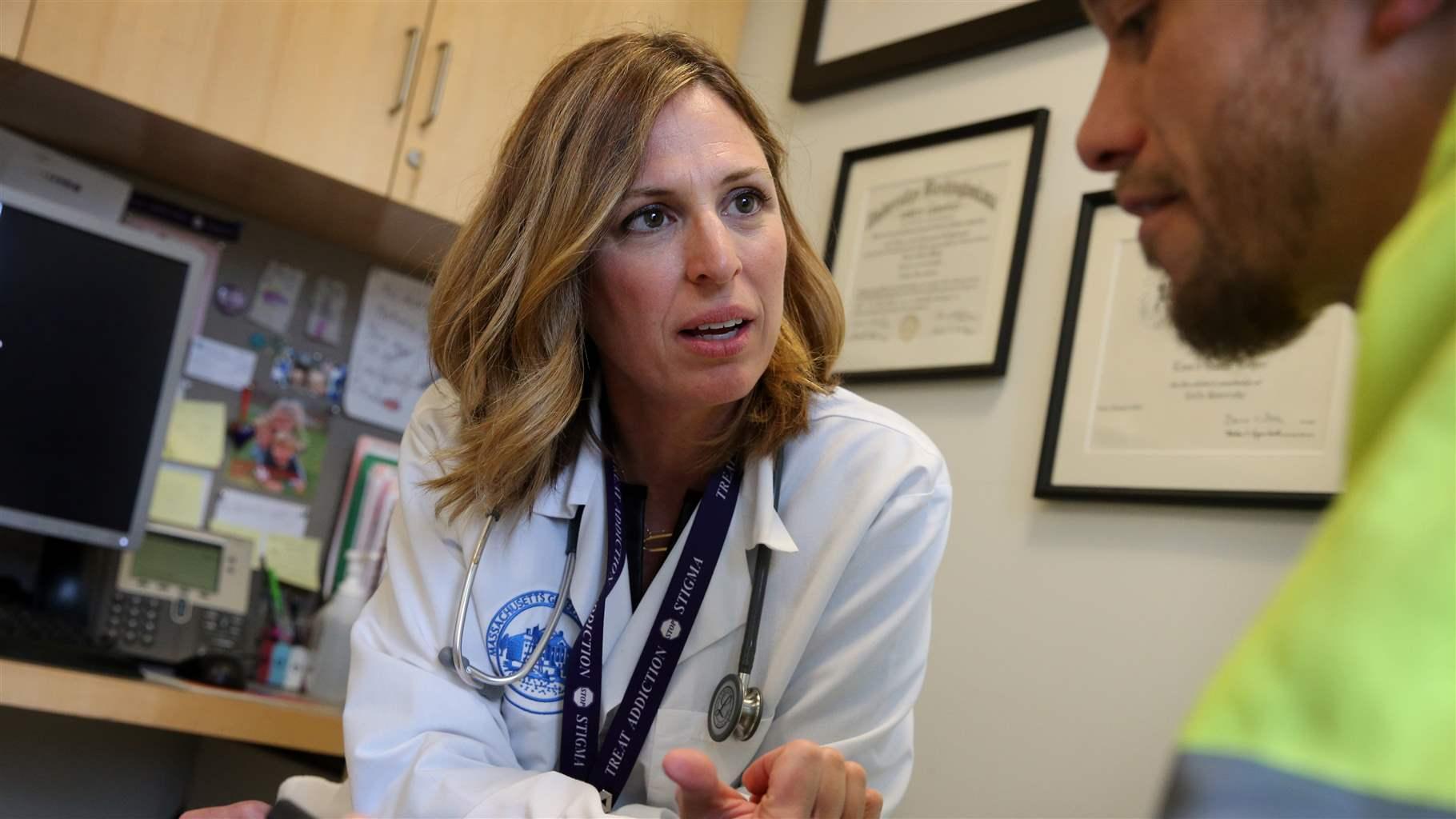 Editor's note: This article was updated on July 16, 2020, to reflect that the University of North Carolina at Chapel Hill is part of the interdisciplinary collaboration with University of North Carolina Health Sciences at the Mountain Area Health Education Center.
The national numbers surrounding opioid-related overdose deaths and harms are staggering: Approximately 130 people die each day from overdoses, an estimated 2 million Americans have opioid use disorder (OUD), and only about 10 percent of those who need treatment receive any sort of care.
This reality is felt acutely at the community level, where families and friends witness loved ones suffering from or succumbing to the devastation associated with OUD. Community resources—including emergency medical services, law enforcement, and health care providers—are under immense strain to respond, a problem that is often exacerbated in rural areas with lower tax bases and fewer resources.
In response, communities have launched initiatives to combat overdose deaths, increase access to treatment, and ultimately save lives. But many communities don't know about effective approaches that other jurisdictions have used to address the opioid crisis, or they may lack the resources to implement new efforts.
Understanding the most effective ways to prevent overdose deaths and provide treatment, while ensuring that communities have the resources to implement such strategies, is critical to curbing this devastation. Gaining insight and knowledge on what works can encourage state and local leaders to invest in evidence-based programs.
That's why Pew's substance use prevention and treatment initiative will provide support over the next two years to six community-research collaboratives committed to combating this crisis. These collaboratives will evaluate their local programs and disseminate the findings, with the goal of encouraging the adoption of successful, innovative models nationwide.
The organizations leading the collaboratives are:
Washington University, Barnes-Jewish Hospital in St. Louis
A multidisciplinary team of obstetric and mental health providers at Washington University Medical Center and Barnes-Jewish Hospital runs the Clinic for Acceptance, Recovery, and Empowerment in Pregnancy (CARE), an outpatient program serving patients from urban St. Louis and those referred from rural Missouri and southern Illinois. CARE is one of two local clinics providing OUD treatment in conjunction with prenatal care, and the only clinic that offers both behavioral therapy and psychiatric services to pregnant and postpartum women. The Brown School Evaluation Center will support CARE staff in conducting evaluation activities.
Capital Recovery Center in Olympia, Washington
The Capital Recovery Center (CRC)—a peer-run community mental health agency in Olympia, Washington—opened the Olympia Bupe Clinic in January 2019. This walk-in facility offers same-day prescriptions for buprenorphine, one of three Food and Drug Administration-approved medications for OUD, in conjunction with peer recovery support services to individuals in need. The clinic is overseen by a nurse care manager and certified peer counselors who serve as care navigators; medication is delivered directly to patients each night by a contracted pharmacy. CRC staff will partner with the University of Washington's Alcohol and Drug Abuse Institute to complete the evaluation.
Rio Arriba County, New Mexico
The Rio Arriba County Health and Human Services Department, tasked with overseeing the local response to the opioid crisis, is the first health department in the nation to use a specific outcomes-based chronic disease management model to address OUD. The Pathways Care Coordination delivery model—developed for the federal Agency for Healthcare Research and Quality—takes a comprehensive approach, integrating treatment with services that address housing and employment issues, identifying pathways to recovery for patients, and documenting the steps needed to achieve success. i2i Institute, a local consulting firm, will work with the county to study how to strengthen the quality of community-based work across multiple sectors.
Mountain Area Health Education Center in North Carolina
Since 2014, Mountain Area Health Education Center (MAHEC) has run Project CARA: Care that Advocates Respect/Resilience/Recovery for All, a comprehensive perinatal substance use disorder treatment program in a largely rural area of western North Carolina. Project CARA seeks to remove obstacles to care delivery and improve health and social outcomes for women and their babies. Staff and researchers with University of North Carolina Health Sciences at MAHEC—an interdisciplinary collaboration that also includes the University of North Carolina at Chapel Hill and regional community partners—will support Project CARA's evaluation.
REACH Medical in Ithaca, New York
REACH Medical PLLC and the REACH Project Inc. is an independent practice offering low-threshold health care (which makes minimal demands on patients) to people who use drugs and others. It provides integrated medical services, including buprenorphine treatment for OUD, comprehensive primary care, behavioral health services, and hepatitis C and HIV testing and treatment. Leaders aim to continually optimize the care delivery model for people who use drugs and other stigmatized populations. REACH will partner with Weill Cornell Medicine to conduct the program evaluation.
University of Minnesota Extension
The University of Minnesota Extension and College of Pharmacy are working together to assess outcomes and processes in three strategic projects aimed at reducing and preventing opioid use across rural Midwestern and Northern Plains tribal communities. The collaborative evaluation, together with the Center for American Indian Health's Great Lakes Hub at the Johns Hopkins Bloomberg School of Public Health, will highlight best practices and resources for implementing community-driven opioid initiatives in rural American Indian communities.
Beth Connolly is the project director and Leslie Paulson is an officer with Pew's substance use prevention and treatment initiative.