Q&A: Lawmaker Expects Virginia Flood Program Will Spur Statewide Mitigation Measures
State Senator Lynwood Lewis discusses preparing for floods in the commonwealth—and how new funding will help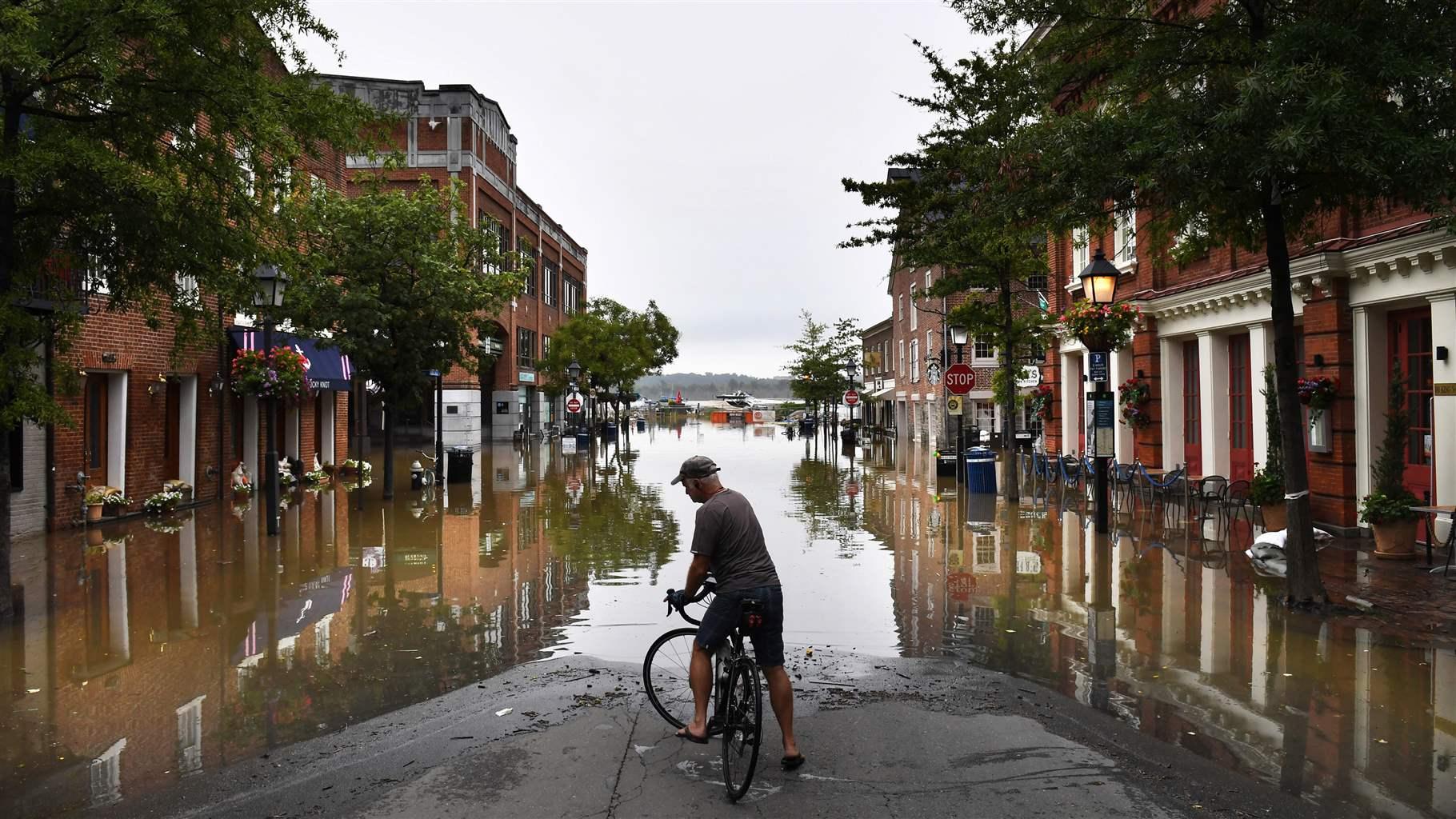 State Senator Lynwood Lewis, the current co-chair of the Joint Subcommittee on Coastal Flooding, was born and raised in Accomack County and is well aware of how sea level rise and more frequent and intense storms affect his district and the commonwealth. Norfolk and Virginia Beach in particular experience chronic flooding that disrupts people's daily lives, puts homes and businesses at risk, and threatens the region's economy. Sea levels in both areas are rising more rapidly than the global average, and they are among the most at-risk localities for flooding in the country.
Unlike downtown Norfolk and other urban centers that experience regular tidal flooding, the rural coastal counties that Sen. Lewis represents face unique challenges. These include threats to already-struggling rural infrastructure, such as low-lying access roads that, if flooded, can prevent residents from reaching their homes or businesses—even if those structures aren't affected. Recurrent coastal flooding also poses a major threat to farmers, farmland, and agriculture, including wheat, corn, soybean, potato, tomato, and green bean crops—all grown in abundance in Virginia.
In 2016, Sen. Lewis—a longtime champion of making the commonwealth more resilient to floods—sponsored a bipartisan measure that created Virginia's first flood preparedness program. This year, he sponsored successful legislation that provides first-time funding for the program along with statutory changes to improve its effectiveness. The legislation, which goes into effect on July 1, creates a revenue stream to address flooding, resiliency needs, and coastal adaptation and directs an estimated $45 million annually to the Virginia Community Flood Preparedness Fund, which gives priority to nature-based projects—such as restoring wetlands and installing living shorelines—to reduce flood risk.
Pew connected with Sen. Lewis to discuss the need to capitalize and update the program.
This interview has been edited for clarity and length.
Q: Why has addressing flooding been a priority for you at the General Assembly?
A: We've seen the devastation that flooding can have in the region, and it's getting worse. Heavy rains, coastal storms, and wind-blown tides regularly flood our streets, homes, and businesses. I know many residents who are fearful every time it rains, and their anxiety is understandable because they see water creeping up to their doorstep multiple times a month.
More than 10,000 homes in Norfolk and Virginia Beach are at risk from repeated tidal flooding, and that number is expected to increase because Hampton Roads faces the highest rates of sea level rise on the East Coast. And when it floods, the economy isn't spared, either: The region could face an additional $100 million in damage annually if we don't take any steps to minimize our vulnerabilities. So it's no surprise that flooding is a big concern here.
Polling shows that 87% of registered voters in the area believe storm and flood preparedness is an important issue, and that's something my colleagues—on both sides of the aisle—and I have sought to address in Richmond.
Q: As the co-chair of the General Assembly's Joint Subcommittee on Coastal Flooding, you have a unique perspective on Virginia floods. Why does the state need to respond to this problem?
A: During my time in the General Assembly, I've heard tragic stories from legislators and residents from every corner of the commonwealth about the devastation caused by flooding. The Virginia Department of Emergency Management has told us that flooding is the top hazard for all localities in the state. As state officials, we have a responsibility to address these vulnerabilities and help communities prepare for floods before they happen.
When flooding does occur, the state must use its resources to help communities respond and recover. It's the right thing to do, but with flooding becoming more frequent and costly, it can be a big hit to the state budget. We know from research that society can, on average, save $6 for every $1 invested in projects that reduce risk before a disaster strikes. But state investments in pre-disaster mitigation programs like the Virginia Community Flood Preparedness Fund can lower future recovery costs and ultimately save taxpayer dollars.
Q: What will new funding and changes to the Virginia Community Flood Preparedness Fund mean for communities across the commonwealth?
A: In 2016, I sponsored the predecessor to this bill, but the program wasn't funded, forcing localities to continue to use their limited resources to mitigate flooding. I'm thrilled that my colleagues and I were able to secure an estimated $45 million in annual funding for the program, which will give communities a reliable pot of money to carry out projects that will reduce the risk of flood damage.
The new law clarifies that the program is accessible to all localities that experience repeated flooding. We also made sure that the state gives top priority to mitigation projects that help entire neighborhoods or multiple properties at once, such as restoring a flood plain or creating parks that can capture stormwater. Individual properties could still be eligible, but the state will first look for opportunities to reduce flood risk for larger numbers of people and businesses.
Lastly, it was important to emphasize projects that use nature to retain or deter floodwaters. Research has shown that nature-based strategies are more resilient to storm damage, require less maintenance, improve water quality, and enhance our natural resources. These include living shorelines that blunt waves and reduce erosion, restoring wetlands that absorb floodwaters—like Norfolk's Myrtle Park—or converting flood-prone areas to green space to move people from harm's way and buffer neighboring property.
Q: What are the next steps for the Virginia Community Flood Preparedness Fund?
A: Now that it's been funded and the changes enacted, state agencies will begin to craft guidelines for the program, including how localities can apply for funding. Given the need, I expect a great deal of interest from communities around the state. The true sign of success will be when we see projects underway and working to stop the cycle of flood damage and recovery. For me, that's the end goal, to help ensure the commonwealth continues to be a place where families and businesses can thrive.
Yaron Miller is an officer with The Pew Charitable Trusts flood-prepared communities initiative.