Rapid Growth in Food Deliveries Means Regulators Must Clarify Safety Responsibilities
Coordinated government approach needed to respond to changing consumer habits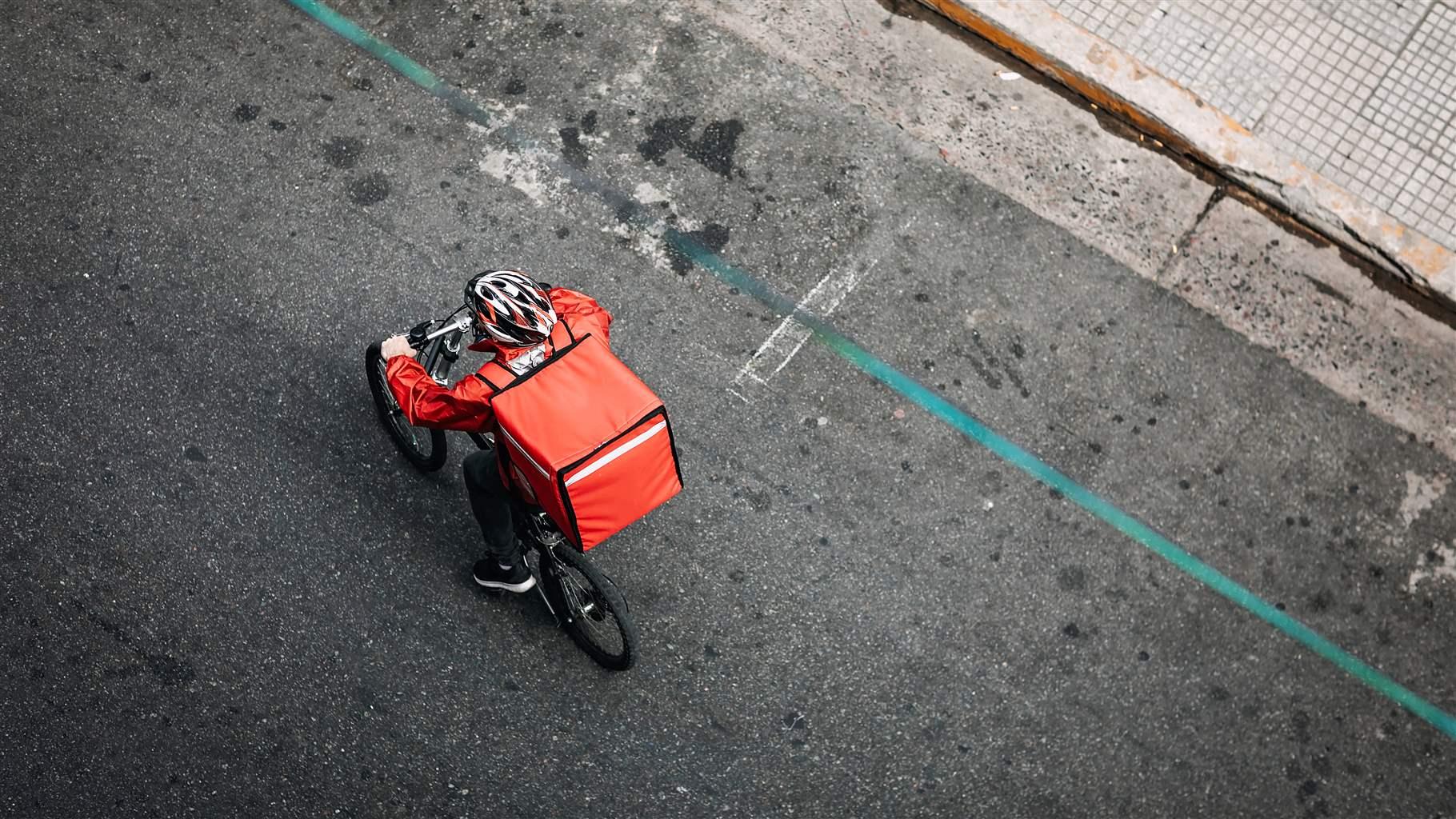 Editor's note: This article was updated on July 1, 2020, to clarify the focus of a 2017 study of online food vendors.
Even before the COVID-19 pandemic, food delivery and e-commerce services were rapidly increasing in popularity. Concerns about virus exposure risks have accelerated this trend; deliveries from restaurants and grocery stores—many facilitated by third-party companies such as DoorDash, GrubHub, or Instacart—have soared, and companies that ship meal kits to consumers have reported rising sales.
Although there is currently no evidence that the disease associated with the novel coronavirus is transmitted through food, the risks posed by other pathogens can be exacerbated if things go wrong during delivery. Federal and state regulators need to address the risks posed to consumers by these shifts in delivery methods, including problems that can occur when food is not kept at the correct temperature and the potential of contamination during transit.
The Food and Drug Administration and other government agencies have identified the risks, but without more concerted effort—including coordination with state and local regulators—oversight will lag behind in a rapidly changing market.

"When we first started talking about [food delivery], we were anticipating that 20% of groceries would be ordered online by 2023," Frank Yiannas, deputy commission for food policy and response at FDA, said recently. "That benchmark may have been blown out of the water by consumers sheltering in place."
The safety risks of direct-to-consumer food deliveries
In many cases, services that deliver food to customers involve entities that have not traditionally been focused on or trained in food safety, such as shipping companies or delivery drivers. Without appropriate precautions, this can cause problems.

Food must be kept at the proper temperature to minimize opportunities for bacteria to multiply; failure to do so is a leading factor in foodborne illness outbreaks. Food also can be contaminated during transport if not packaged properly. A 2017 study of U.S. online food vendors offering direct delivery of raw meat, poultry, game, and seafood products to consumers found that nearly half of the food items arrived with a surface temperature above the recommended maximum of 40 degrees Fahrenheit. The researchers from Tennessee State University and Rutgers, the State University of New Jersey, also found that the packages often lacked proper packing materials to keep products in place next to coolants, such as gel packs or dry ice.

Among other critical questions are who takes responsibility for issues that occur at various points in the delivery process—such as if food is left outside a house for a prolonged period—or what the delivery service's role is when products must be recalled.
Who is responsible is often unclear
Unfortunately, unclear or fragmented oversight among state, local, and federal agencies, as well as questions about contractual agreements between businesses, can make it difficult to determine who is responsible for food safety at different points. The "last mile" portion of the process—actual delivery to a consumer's home—presents its own oversight challenges.

State and local health authorities oversee food safety in restaurants and grocery stores, and most of their regulations are based on FDA's Food Code. Although the code does not specifically address deliveries, if a restaurant or grocery employee delivers food, then its safety remains that company's responsibility.

The extent to which third-party delivery services may be subject to state or local food safety regulations varies. In a handful of jurisdictions, including Texas, there have been efforts—with limited success—to ensure that these third-party services are subject to food safety regulations. Business-to-business contracts with restaurants or grocery stores may require adherence to food safety provisions, but individual businesses ultimately decide whether to include such provisions. Today, it is not clear how many do.
Updating the regulatory system
To ensure delivered food remains safe, regulators must address the fragmented oversight system and make clear who is responsible for overseeing different types of services. FDA has recognized that new types of food delivery, such as meal kits, represent a complex and emerging oversight area where questions still need to be resolved.

Recognizing the importance of this issue, FDA last year outlined priority issues it plans to address. The agency, the private sector, and states and localities will all have roles to play. Among other objectives, FDA highlighted the need to:
Clarify who is liable for food safety issues that can arise at different stages of the delivery process.
Provide guidance to industry on how to use technology to address food safety challenges. For instance, data recording devices can detect if food has been kept at the wrong temperature and alert companies or consumers. Such devices also can provide clues about when and why any potentially hazardous temperature changes may have occurred during delivery.
Revise regulatory frameworks to clarify who is responsible for oversight over all parts of the delivery process.
What businesses can do to protect customers
The Centers for Disease Control and Prevention has developed guidance for consumers to limit safety risks from food delivery, but more action is needed from businesses and regulators.
Until the regulatory system is updated, grocery stores and restaurants can take—and in some cases are already taking—their own steps to protect consumers. For example, they should:
Require delivery companies to follow strong food safety practices and assume responsibility for their partners' actions; this includes ensuring that partners follow through on commitments to food safety and have systems in place to track deliveries if problems arise.
Use packaging that protects against contamination and ensure delivery companies maintain temperature control during transport, such as with ice packs or insulation; this is especially important if products are transported over long distances or during hot weather.
Double down on best practices—such as exemplary employee hand hygiene and storing foods at the right temperature—to prevent contamination before food leaves the restaurant or grocery store, and potentially change food recipes or presentations so they fare better in the delivery process.
Let consumers schedule deliveries for times when someone is home so food won't sit outside, and track consumer complaints to detect and rectify problems quickly.
Inspect products and packaging for signs of damage or contamination before shipping.
Americans will likely rely heavily on direct deliveries of food for the foreseeable future. Food safety regulators have to ensure there are appropriate rules and frameworks in place to keep that food safe from start to finish.
Karin Hoelzer, a veterinarian, works on The Pew Charitable Trusts' safe food project and leads Pew's work on antibiotic use in animal agriculture.