Coronavirus Testing Delays in the United States: What Happened?
Physician and public health expert Joshua M. Sharfstein explains the slow start in testing for COVID-19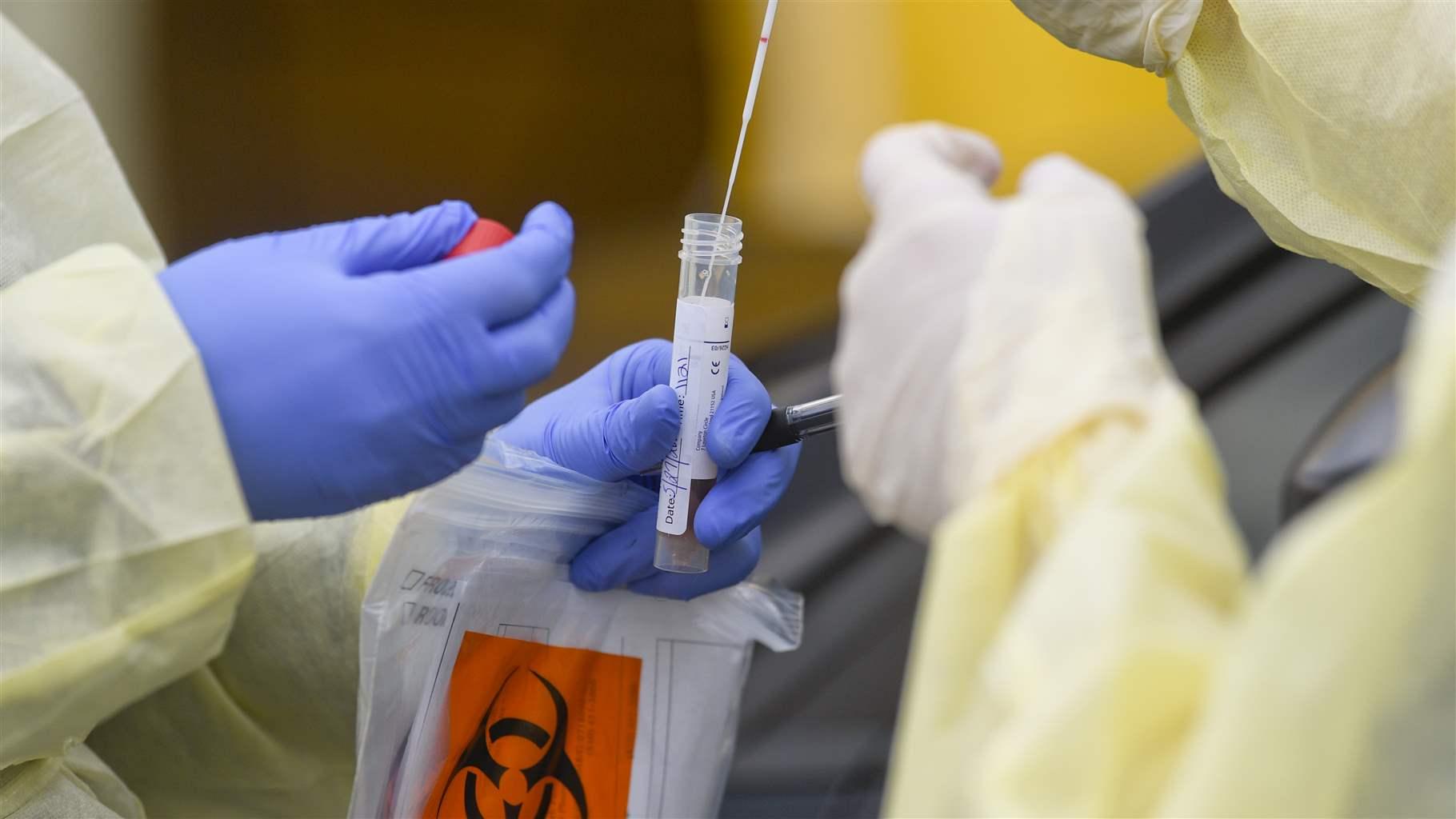 Testing for the novel coronavirus in the United States has not kept pace with the enormous demand despite national efforts to ramp up capacity. Increased testing is critical to control the spread of the virus and eventually to enable a return to normal daily life. But from the early stages of the outbreak in the U.S., a number of obstacles—including delays in the development of test kits, critical supply shortages, and unclear guidelines on whom to test—have contributed to ongoing testing shortfalls.
Joshua M. Sharfstein, M.D., the vice dean for public health practice and community engagement at Johns Hopkins Bloomberg School of Public Health, has served as secretary of the Maryland Department of Health and Mental Hygiene, principal deputy commissioner of the Food and Drug Administration, and commissioner of health for the city of Baltimore. The Pew Charitable Trusts asked him to explain the timeline for how testing was developed and the guidelines for how testing should be prioritized moving forward.
Q: In the first few weeks of the coronavirus epidemic, the Centers for Disease Control and Prevention (CDC) developed a test to detect the virus, but it had problems. What happened?
A: The first test to detect the presence of the 2019 novel coronavirus was developed by CDC under an emergency use authorization (EUA) granted by FDA on Feb. 4, 2020, the same day that the Department of Health and Human Services declared a public health emergency. EUAs are temporary authorizations that permit the use of unapproved medical products—or unapproved uses of approved medical products—in order to respond to a national public health emergency. At first, only CDC was granted an EUA, which meant its test was the only one that could be used to diagnose COVID-19. It began sending initial tests to each state during the first week of February, in roughly equal batches per state.
However, the state labs had trouble getting CDC's test to work, likely due to contamination of one of the reagents, which are chemicals used as part of the testing procedure. This meant that patient samples had to be sent to CDC's Atlanta headquarters for analysis, adding several days to the time it took to get results back. By Feb. 10, CDC had notified FDA about the problems associated with the test but still hadn't fixed the problem. By Feb. 24, state laboratories contacted FDA, wanting to develop their own tests. But developing those tests took still more time.
In addition, testing was initially limited to only those who had recently traveled to China or had close exposure to someone with the virus, neglecting the emerging community transmission that was simultaneously occurring throughout the country. We needed tests in these areas, but those states didn't have enough tests available during the beginning stages of the outbreak.
Q: Why couldn't other labs and hospitals develop their own tests in response to the coronavirus?
A: During an emergency, FDA has flexibility regarding the requirements it sets for product developers. In this case, FDA initially required labs to submit the tests to the agency for authorization before they could be used on patients. However, given the problems in CDC's lab, this process did not sufficiently boost testing capacity in the early weeks. So on Feb. 29, FDA issued updated guidelines on how labs can perform basic validation for these tests. The agency also said that labs could begin testing patients without FDA authorization as long as they submitted their applications within 15 days of when they began testing. Since that time, the agency has granted authorization to more than 40 tests.
Q: How have these actions affected testing capacity?
A: With the updated guidelines allowing for more tests to be developed, capacity has expanded. However, many labs have reported major supply shortages, both for the reagents that are used to run the tests and key equipment such as swabs. So while the goal of testing everyone with symptoms of COVID-19 remains a top priority, testing capacity is still inadequate in many parts of the country.
Q: Who should be getting tests while supplies are limited?
A: CDC updated its guidelines on March 24, stating that hospitalized patients and health care workers showing virus symptoms should have the highest priority. This will help to maintain the health system infrastructure and lessen the possibility of patients and health care workers getting infected while inside the hospital.
The next priority is those who are at the highest risk of complications from infection, including the elderly with symptoms, those in long-term nursing care facilities with symptoms, those with underlying conditions who show symptoms, and first responders with symptoms.
After them, the next priority is individuals living in areas with increasing numbers of hospital cases who should be tested to help slow community spread. Testing should still be targeted to health care workers and first responders, critical infrastructure workers (such as grocery store employees) with symptoms, individuals with mild symptoms and who live in communities with a large number of coronavirus hospitalizations, and, finally, individuals who show symptoms but do not meet any of the above categories.