New Hurricane Season Should Prompt Congress to Fix Old Flood Policy
Pending bills offer hope for modernizing the heavily indebted federal insurance program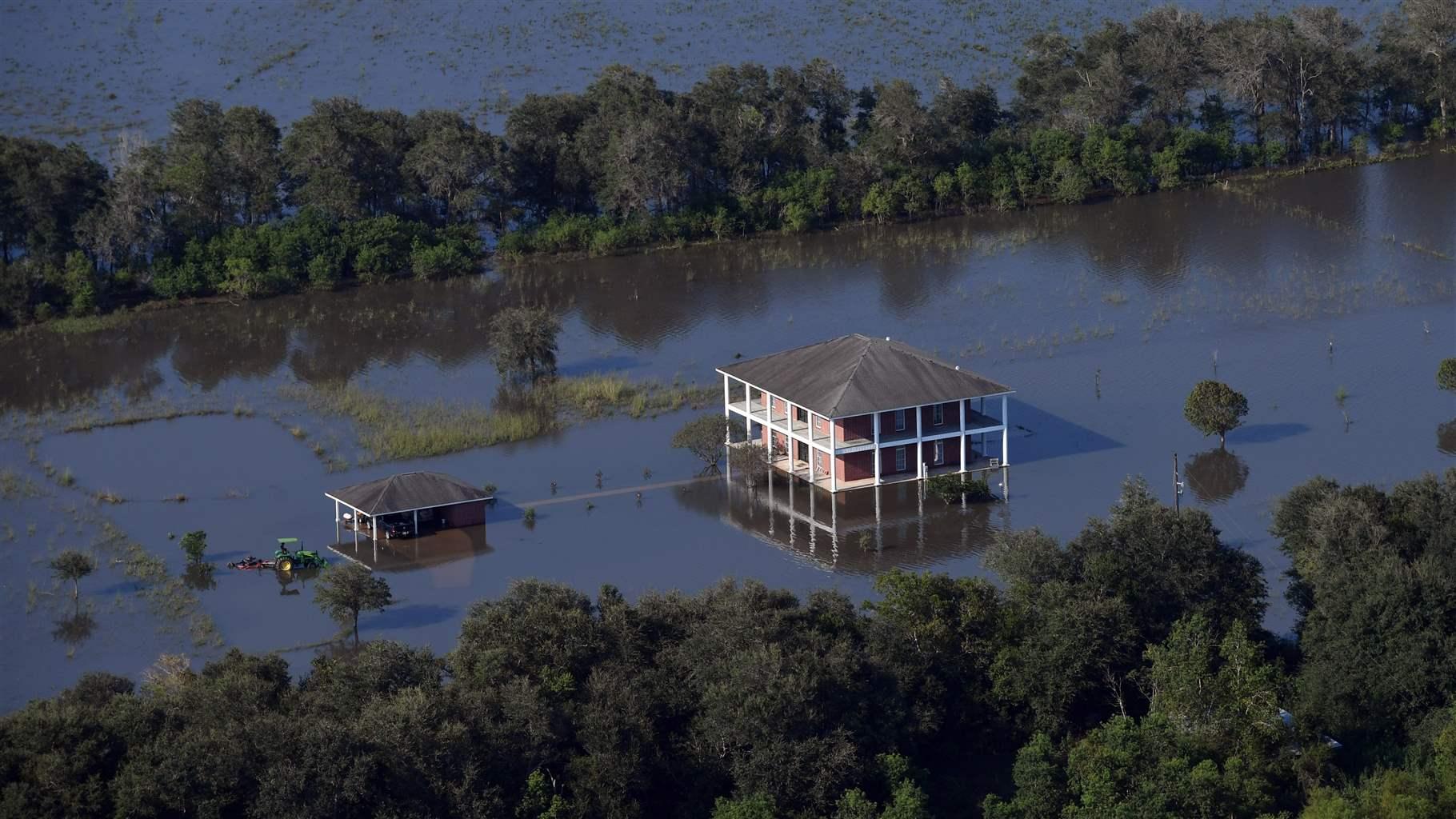 As another hurricane season begins, Congress should act quickly to fix the heavily indebted National Flood Insurance Program, which covers 5 million Americans in 22,000 communities.
The storms and floods of 2017 left a major imprint not only on millions of Americans but also on the National Flood Insurance Program (NFIP). From spring floods in Missouri and the Mississippi river basin to hurricanes that battered the southeastern coasts, multiple disasters last year led to nearly $9 billion in claim payments to more than 95,000 NFIP policyholders. That's an average of over $90,000 per policyholder, and it put a strain on an already heavily indebted program.
In fact, even before the brutal flooding of 2017, the NFIP was falling short on two of its fundamental goals: to reduce federal spending on disasters and improve local flood-plain management. The troubled but necessary program has had to borrow heavily from the Treasury to pay claims, particularly since Hurricane Katrina, and enters the 2018 hurricane season more than $20.5 billion in the red—even after Congress recently forgave $16 billion of NFIP's debt.
The NFIP is an annual staple on the Government Accountability Office's list of high-risk agencies and programs because of problems long in the making. Although these won't be resolved quickly, Congress can jump-start important improvements by reforming and modernizing the NFIP before it expires July 31, and before another round of storms batters U.S. communities.
Specifically, Congress should:
Dramatically increase investment in pre-flood mitigation, because paying a modest amount upfront can save a lot later. A recent report by the experts at the National Institute of Building Sciences found that every dollar spent on flood mitigation can return $6 in savings. A pending bill—the State Flood Mitigation Revolving Fund Act (S. 1507)—would help accomplish this through federal-state partnerships aimed specifically at investments in flood mitigation.
Protect at-risk families and lower future NFIP losses with priority attention and funding to areas that have been repeatedly flooded. A small fraction of the structures insured by the NFIP account for a large portion of its losses, and these problem buildings are often in areas at high risk of flooding again. The Repeatedly Flooded Communities Preparation Act (S. 1445) would call on localities with large numbers of such facilities to double down on efforts to address areas of recurrent flooding and help residents to elevate or relocate where necessary.
Help the public better understand flood risk by enhancing disclosure to potential property buyers and renters and by making information on the geography of flood losses more publicly accessible. For most Americans, decisions about where to live have serious financial consequences, and no one wants to find out too late that their dream home is likely to endanger their family and finances. Informed about the flood history of various properties, individuals will be able to make smart location decisions. A section of the National Flood Insurance Program Reauthorization Act of 2017, introduced by the Senate Banking Committee, calls for these changes.
These reforms would help communities improve management of flood-prone areas, equip policyholders with more information to protect themselves, and ultimately lower the public danger and property damage caused by flooding.
The NFIP was created in 1968. Although technologies have advanced and our understanding of flood risk has grown since then, the 50-year-old program has not kept pace. It is past time for Congress to modernize the NFIP, and, with a new hurricane season upon us, it is critical that it do so quickly.
Laura Lightbody directs Pew's flood-prepared communities initiative.