Program Helps Keep Memorials Standing Where American Soldiers Fell
Park Service, concrete industry, and military members join to repair war monuments and other sites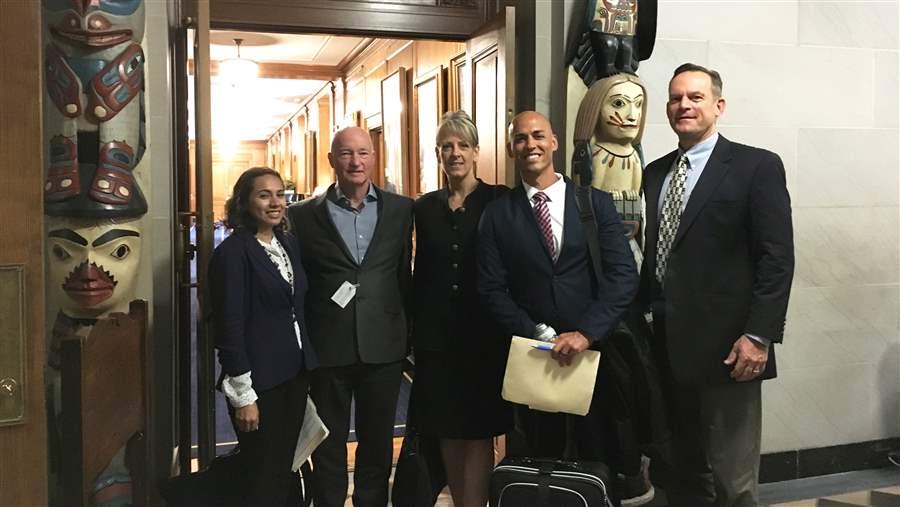 Representatives from the Concrete Preservation Institute, which has partnered with the National Park Service to make repairs at the agency's sites, gather after a May 23 meeting with Department of the Interior officials in Washington.
The Pew Charitable Trusts
The World War II Valor in the Pacific National Monument in Honolulu gives people from around the world a chance to revisit a day that changed America forever. In 2017 alone, the National Park Service (NPS) site drew more than 1.9 million visitors, many of whom came to honor the U.S. military veterans who died in the Dec. 7, 1941, surprise attack on Pearl Harbor, which pulled the U.S. into World War II.
Those visitors no doubt arrive expecting the monument—which pays tribute to 2,403 lost American lives, along with 1,178 wounded—to be in top shape, but that isn't the case. This site needs almost $12 million in repairs, including concrete in many spots that is crumbling, eaten away by salt water and time.
For some veterans and active-duty service members, restoring the site is their mission. And they have an ally in that quest: The nonprofit Concrete Preservation Institute (CPI) has partnered with NPS, the Department of Defense, and industry sponsors to provide three 12-week job skills courses each year for active-duty military and veterans—skills that can be used to repair our nation's aging infrastructure, including NPS sites. The students, who receive training and certifications to help them start new careers as they prepare to make the transition out of the military, are learning the craft at the World War II Valor in the Pacific National Monument and at Alcatraz Island, the infamous prison, which is part of NPS' Golden Gate National Recreation Area in California. CPI also helps to place graduates with the institute's industry partners, which are eager for skilled employees in this important sector.
With the National Park System facing a maintenance backlog estimated at over $11 billion, training veterans and soon-to-be veterans on the restoration of historic buildings, landmarks, and sites at Alcatraz and the Valor in the Pacific Memorial is a win for the students, NPS, and industry groups that will benefit from skilled workers.
During the week leading up to the Memorial Day holiday, several alumni of the CPI course and industry program sponsors came to Washington to share their stories of how this public-private partnership is making a difference. They encouraged similar collaborations that could help service members make the transition to new careers while addressing the NPS maintenance backlog, which includes decaying historic structures; eroding trails, roads, bridges, and campgrounds; and outdated or malfunctioning water, sewer, and electrical systems.
The CPI-NPS partnership is a win-win-win for military personnel, the industry, and some of American's most treasured places.
Marcia Argust directs The Pew Charitable Trusts' campaign to restore America's parks.