A Key Driver of Poverty in Philadelphia? The Changing Nature of Work
While blue-collar jobs have dwindled, many jobs have moved to the suburbs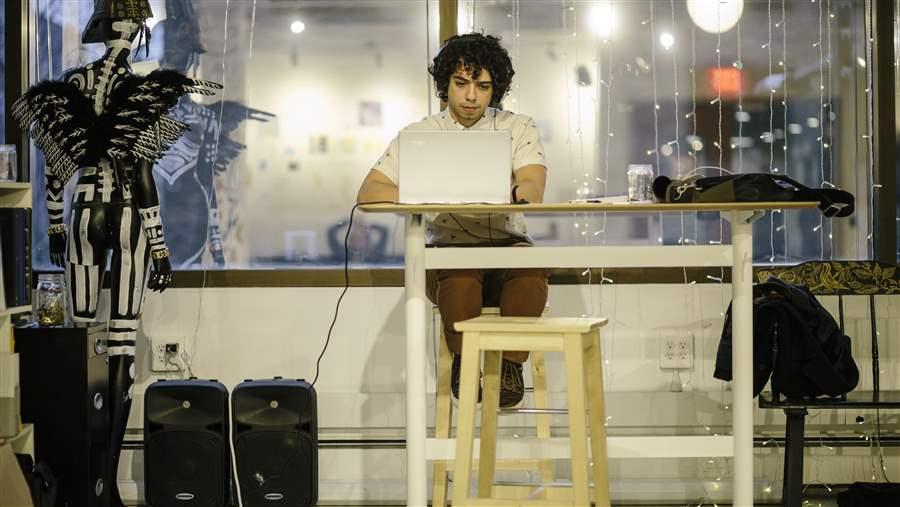 A web developer works at Indy Hall, a co-working space in Philadelphia.
© Lexey Swall/Grain/The Pew Charitable Trusts
The types of jobs available in the Philadelphia region—and the locations of those jobs—have shifted over the past 40 years as the city's poverty rate has increased, according to a recent report by The Pew Charitable Trusts.
In 1970, when Philadelphia's poverty rate was more than 10 points lower than it was in 2016, industrial production and other blue-collar occupations made up the largest share of the city's jobs. By 2016, the number of Philadelphians working in such jobs had fallen by more than half. In 2016 dollars, median annual earnings for male Philadelphians over age 16 were $48,460 in 1970 compared with $36,210 now, while earnings for women increased from $26,420 to $31,505.
Over the same period, the share of Philadelphians working in management and professional positions grew by 85 percent. According to the U.S. Bureau of Labor Statistics, most of these jobs require a bachelor's degree or higher, which 87 percent of the city's poor residents do not have. Another sector, service employment—which includes food preparation—grew by 56 percent. Most of this work does not require advanced education, and the pay is relatively low. Of the 10 sales and service job categories with the most employees in Philadelphia and Delaware County in May 2016, all had median annual earnings below $29,250.
Suburbanization of jobs
Coinciding with the growth in poverty in Philadelphia has been the movement of jobs from the city to the suburbs.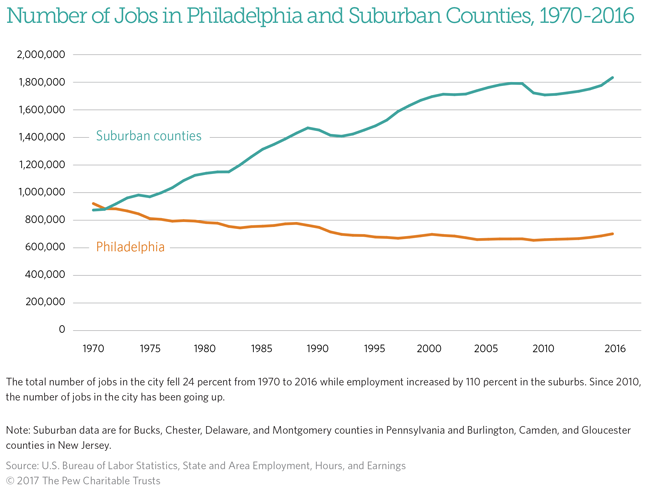 Since 1970, the number of jobs in Philadelphia has declined substantially, although it has increased somewhat in recent years. At the same time, total employment has more than doubled in the seven suburban Pennsylvania and New Jersey counties closest to Philadelphia. That combination—fewer jobs in the city and more in the suburbs studied—has made it harder for many city residents to find work. In addition, overall job growth in the region has been slow compared with that of the nation as a whole.
For more statistics and charts on the demographics of poverty in Philadelphia, including comparisons with other cities and regions, read our full report, "Philadelphia's Poor: Who They Are, Where They Live, and How That Has Changed."
Larry Eichel directs The Pew Charitable Trusts' Philadelphia research initiative; Octavia Howell is a researcher on the team and author of the report.