Hispanics, Blacks Have Highest Degree of Concentrated Poverty in Philadelphia
Where racial and ethnic poverty is clustered throughout the city
Many of Philadelphia's high-poverty areas—places with poverty rates of at least 40 percent—also qualify as racially or ethnically concentrated, meaning that one group accounts for at least half of the total population.
Twenty-nine percent of the city's poor blacks live in racially concentrated poverty in many parts of North and West Philadelphia.
Concentrated poverty areas for Hispanics are clustered in eastern North Philadelphia and the lower Northeast. Although there are fewer such areas for Hispanics than for blacks, the share of poor Hispanics who live in them (40 percent) is higher. In fact, this level of concentration of poor Hispanics is greater than in most of the other cities studied for The Pew Charitable Trusts' November 2017 report "Philadelphia's Poor: Who They Are, Where They Live, and How That Has Changed."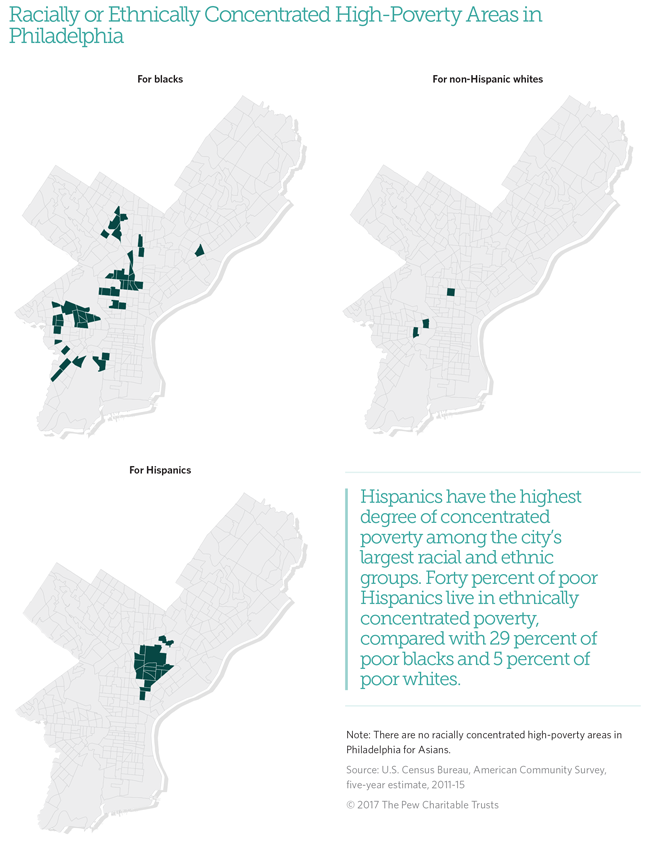 Poor white residents are more widely dispersed. Only 5 percent live in areas of racially concentrated poverty, and those are adjacent to university campuses in North and West Philadelphia. This suggests that a large proportion of those residents are college or graduate students rather than families and individuals for whom poverty is often a long-term condition.
As noted in the map above, there are no racially concentrated high-poverty areas in Philadelphia for Asians.
For more statistics and charts on the demographics of poverty in Philadelphia, including comparisons with other cities and regions, read the full report.
Larry Eichel directs The Pew Charitable Trusts' Philadelphia research initiative. Octavia Howell is a researcher on the team and the study's author.