Backsliding by ICCAT Jeopardizes Future of Atlantic Fisheries
Commission ignores precaution in setting policies for critical species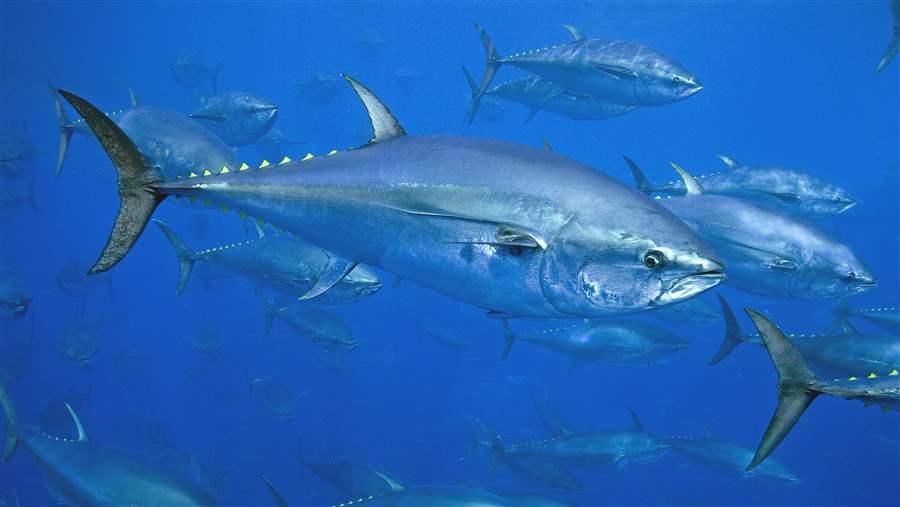 New management measures for western and eastern bluefin tuna fail to take into account the recovery needs of the species.
© Richard Herrmann
The annual meeting of the International Commission for the Conservation of Atlantic Tunas (ICCAT) ended today in Marrakesh, Morocco, largely in disappointment, with fishery managers adopting multiple measures that jeopardize the futures of three critical species: Atlantic bluefin tuna, bigeye tuna, and vulnerable shortfin mako sharks. The decisions included some encouraging ones, but generally the news is bleak for key species and overall ocean health.
Recovery efforts for Atlantic bluefin tuna abandoned
Despite the fact that a 2017 stock assessment failed to confirm the recovery of either the eastern or western stock of Atlantic bluefin, managers chose to abandon recovery plans for both stocks and increased the eastern quota by 52 percent and the western quota by 18 percent. They did this even though scientists predicted that those quotas would lead to decline in abundance of both stocks.
The Commission raised the eastern bluefin quota to 36,000 metric tons by 2020, the highest ever for the population and one that risks returning catch to the levels seen when the stock was in crisis a decade ago. The western bluefin quota is set at 2,350 metric tons annually through 2020, the highest in a decade for a stock estimated to be just 45 to 69 percent of what it was in 1974, when it was already depleted. This jeopardizes the western bluefin rebuilding plan, which began in 1998 and is in its final year. Scientists had noted that eastern and western quotas would need to be set at 28,000 metric tons and 1,000 metric tons or lower, respectively, to allow the stocks to continue to grow.
The Marrakech decisions, which come after several years in which precautionary, science-based management had led to population increases for bluefin, rank among the poorest performances by the Commission since 2008, when an independent review called the management body an "international disgrace" and Atlantic bluefin were so depleted that they were considered for a global trade ban under the Convention on International Trade in Endangered Species of Wild Fauna and Flora (CITES).
Promising proposal for bigeye tuna, but no consensus
One potential glimmer of hope ended in disappointment: In response to the overfished state of the Atlantic bigeye tuna population, eight countries proposed a landmark measure that could have led to capping the number of fish aggregating devices (FADs) in ICCAT waters and the number of large-scale, purse seine vessels that fish for tropical tunas until science-based measures could be adopted next year. That measure was ultimately blocked. Science shows that overfishing of bigeye and yellowfin tuna is being driven largely by fishing for skipjack tuna around FADs, which also attract juvenile bigeye and yellowfin. The vast majority of vessels fishing with FADs are flagged to the European Union.
Before this year's annual meeting, scientists confirmed that the bigeye quota was exceeded by 11 percent, reducing the species' chance of recovery from 49 percent to just 38 percent by 2028. The yellowfin quota was similarly exceeded by 16 percent.
Shortfin mako management comes up short
Although ICCAT managers agreed on a measure requiring the release of accidentally caught shortfin mako sharks in the North Atlantic Ocean in a manner that "causes the least harm," the policy is rife with loopholes that allows for retention of the stock by many vessels. Even with a ban on keeping North Atlantic shortfin mako, which scientists had advised due to the dire status of that population, the northern stock would have only a 54 percent chance of recovery by 2040. Without a clear limit on catch, the new, flawed measure will likely be ineffective at ending overfishing or encouraging stock rebuilding. Further, the Commission failed to reach agreement on limiting catch for the southern stock of the species.
With shortfin mako so depleted, it may be time to consider stronger measures through international bodies, such as CITES.
Hope for improved tuna management
The one encouraging decision from ICCAT in Marrakech was to take a first step away from traditional annual quota negotiations to a more modern management system called "harvest strategies," in which member governments agree to a set of long-term objectives and rules that are automatically triggered based on the health of the stock. The Commission adopted its first harvest strategy for North Atlantic albacore, which will be used to set quotas for this stock beginning next year. If done right, harvest strategies can make fisheries management more effective, predictable, transparent, and resistant to undue outside influence. ICCAT must now stay on pace to adopt harvest strategies for the seven other priority stocks it has identified, including Atlantic bluefin and bigeye, by its 2020 deadline.
Despite a few bright spots, this year's ICCAT meeting was a major setback for the organization, its reputation, and most importantly, its fisheries. Time will tell how damaging the results of its decisions regarding Atlantic bluefin, bigeye tuna, and shortfin mako shark will be. But by once again throwing precaution to the wind, this Commission, supposedly rooted in conservation, has shown that it is still not living up to its name.
Amanda Nickson is the director of international fisheries for The Pew Charitable Trusts.