Deep-Sea Coral Discovery Shows Need to Protect Ocean off New England
Healthy fisheries depend on the ecosystems these slow-growing, vulnerable species build
Several colonies of the stony coral Lophelia pertusa grow on a ledge in an unnamed canyon between Heezen and Nygren canyons. Before this discovery, scientists had never seen this amount of the coral species so far north.
© NOAA Ocean Explorer Program
In June, after centuries unseen by human eyes, deep-sea corals in the dark ocean off New England finally had their moment in the spotlight. Underwater robots operated by a team of American and Canadian scientists illuminated dense forests of corals, including spectacular specimens that are likely many hundreds of years old. As the researchers recounted in a daily summary from sea:
What we found next caused everyone who was watching to shout in astonishment. There were incredible amounts of Lophelia colonies, often densely packed, and hanging from ledges and terraces and overhangs, some rather large, and swarming with other invertebrates. No one had seen this much Lophelia this far north.
The corals and the organisms they support are important parts of the broader ecosystem, helping to maintain those fish populations that are healthy and giving imperiled species a chance at recovery.
New discoveries of old corals—and the urgent need for protection
Among the specimens the team observed was a bubblegum coral that might have taken many centuries, or even a millennium, to reach its 4-foot height—which scientists consider large for this species. Because corals at these great depths grow so slowly, they can take many years to recover from damage—for example, by fishing gear. That's why it's critical to protect these and other deep-sea corals before they are harmed.
Scientists found this "large and very old" bubblegum coral growing on a rock in Corsair Canyon off New England in June 2017. Also pictured are red crabs and Venus flytrap anemones.
© NOAA Ocean Explorer Program
Protecting corals still under discussion
At nearly the same time the scientists were celebrating their discovery, the New England Fishery Management Council was meeting in Maine to discuss how to protect deep-sea corals from damage and destruction from fishing gear with minimal impact on fishing, following the lead of the neighboring Mid-Atlantic Fishery Management Council. While the council voted to protect some coral outcroppings that dot the Gulf of Maine, it postponed a decision on safeguarding corals in a large offshore area. Given how slow corals are to recover, it might come as a surprise that this delay is actually a good thing.
Over some months, the council had developed six options for delineating coral protection areas, following depth contours along the seafloor ranging from 300 to 900 meters. In April 2017, the council signaled it was likely to set protections at 600 meters and deeper. But corals are found in depths much shallower than 600 meters off of New England, and such a move by the council would have left those corals vulnerable to damage and destruction by fishing gear.
Pew and its partners worked quickly to design an alternative protection plan, share it with the council and commercial fishing industry, present it at seven public hearings held to determine deep-sea coral policy, and ensure that the public was aware of it.
Why the 'compromise' is the best solution
Our plan—initially called the Compromise Alternative, and now called "Option 7" by the council—was based on the best data available about where coral are observed and likely to grow, and where fishing occurs. Instead of relying on a constant depth, we set boundaries shallower in some places and deeper in others. Scientists who analyzed Option 7 for the council found that it would protect as much coral as some of the shallower-depth options while steering clear of fishing territory as well as some of the deeper plans do. And to further improve upon the original options, many of which included squiggly boundaries that are hard to follow or enforce, our alternative followed a simpler line.
Option 7 drew public support from 28,162 people who either spoke up at public hearings or submitted written comments to the council. On June 22, managers agreed by a wide margin to have its scientific advisers continue analyzing and perfecting Option 7, and to resume debating the issue once that work was complete. This offers great hope for the protection of the region's deep-sea corals.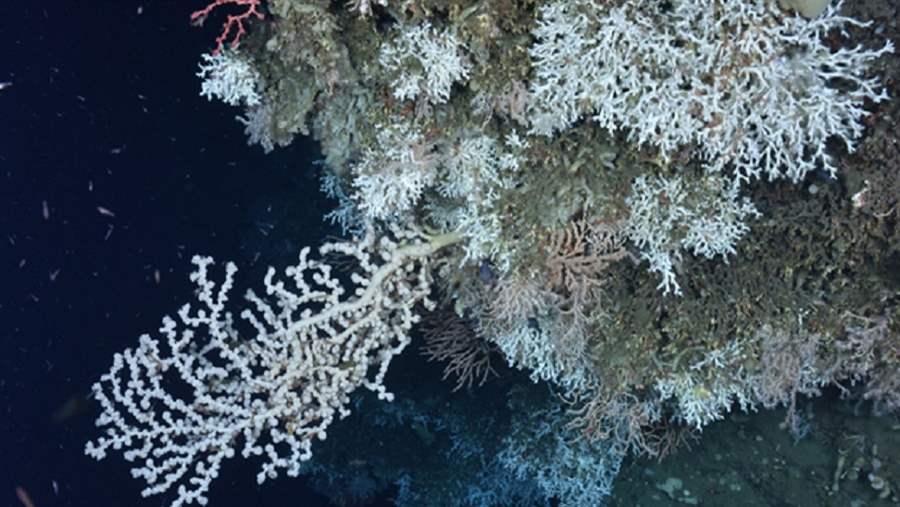 A forest of deep-sea corals, including stony coral, a large white gorgonian, and red Paragorgia (top left) grow in an unnamed canyon off New England. Slow-growing and fragile, deep-sea corals deserve protection from damage by fishing gear.
© NOAA Ocean Explorer Program
Healthy habitat goes hand in hand with productive fisheries
Protecting ocean habitat is sometimes presented as a trade-off with fishing opportunities. But this misses an essential point about sustainable fisheries: Productive fish populations require high-quality habitat. Protecting the places that serve as breeding, nursing, and feeding areas will promote a healthy ocean and a strong, vibrant future for New England fishing. When the council votes on protecting deep-sea corals, we hope that it will choose Option 7.
Peter Baker directs The Pew Charitable Trusts' ocean conservation efforts in the Northeast. Morgan Callahan is an officer for Pew's U.S. ocean conservation project and leads the New England team's coral protection work.