Senate Bill Aims to Cut High Cost of Rebuilding in Flood Zones
Communities would develop plans to reduce reoccurring flood losses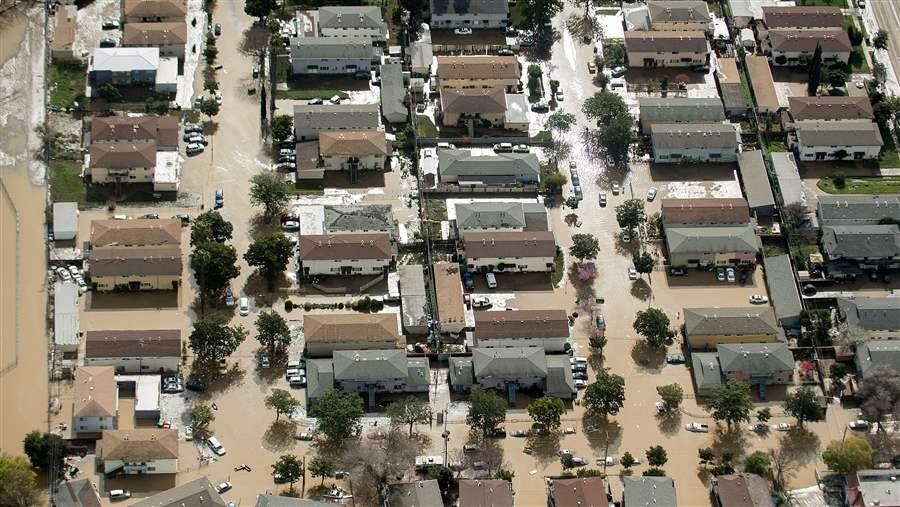 Floodwaters inundated homes and cars in February in San Jose, California. Thousands were ordered to evacuate city neighborhoods in the northern part of the state.
© Noah Berger/AFP/Getty Images
Two senators from opposite coasts introduced bipartisan legislation Tuesday aimed at eliminating the costly cycle of rebuilding homes in communities that have been flooded multiple times. Senators Tim Scott (R-SC) and Brian Schatz (D-HI) introduced the Repeatedly Flooded Communities Preparation Act that would save taxpayers money and help better prepare communities for floods. The bill requires communities that participate in the National Flood Insurance Program (NFIP) and have high numbers of repeatedly flooded properties to develop plans to reduce the impact of flooding rather than continually weathering the events and rebuilding at high cost to taxpayers.
Under the legislation, communities with more than 50 repeatedly flooded properties would be required to:
Analyze areas with large numbers of repeatedly flooded structures to better understand the causes of local flood problems and identify possible solutions, such as improving drainage, elevating structures, offering voluntary buyouts, or other mitigation efforts.
Create a community-specific plan to lower flood risk for people and property. Current federal law does not require repeatedly flooded communities to change their development regulations or infrastructure investments or to take corrective action to address flood risk.
Share action plans and reports with the public to encourage input from the broader community.
The House Financial Services Committee approved similar bipartisan legislation, H.R. 1558, June 21 sponsored by Representatives Ed Royce (R-CA) and Earl Blumenauer (D-OR).
Historically, repeatedly flooded properties have accounted for just 1 percent of NFIP policyholders, but about 25 to 30 percent of flood claims. And the number of such properties continues to rise, according to Roy Wright, deputy associate administrator of the Federal Insurance and Mitigation Administration at the Federal Emergency Management Agency.
With the NFIP's debt escalating to nearly $25 billion, the program cannot afford to continue to pay to rebuild structures time and again. Bringing new emphasis to reducing payouts to properties in areas that flood repeatedly would compel smarter planning and better decision-making about living and building in flood-prone areas.
Laura Lightbody leads The Pew Charitable Trusts' flood-prepared communities initiative.