International Officials Close to Agreement to Protect Central Arctic Ocean Fisheries
Historic accord would prevent commercial fishing until sustainable catch is ensured
Officials from 10 Arctic and non-Arctic countries are close to agreement on a historic accord to protect fisheries in the Central Arctic Ocean. At a meeting in Reykjavik, Iceland, in March, delegates settled many elements of the deal and expressed confidence that it will soon be finalized. Once completed, the legally binding agreement will prevent commercial fishing in 1.1 million square miles of international waters in the region until science-based fishery management measures are in place.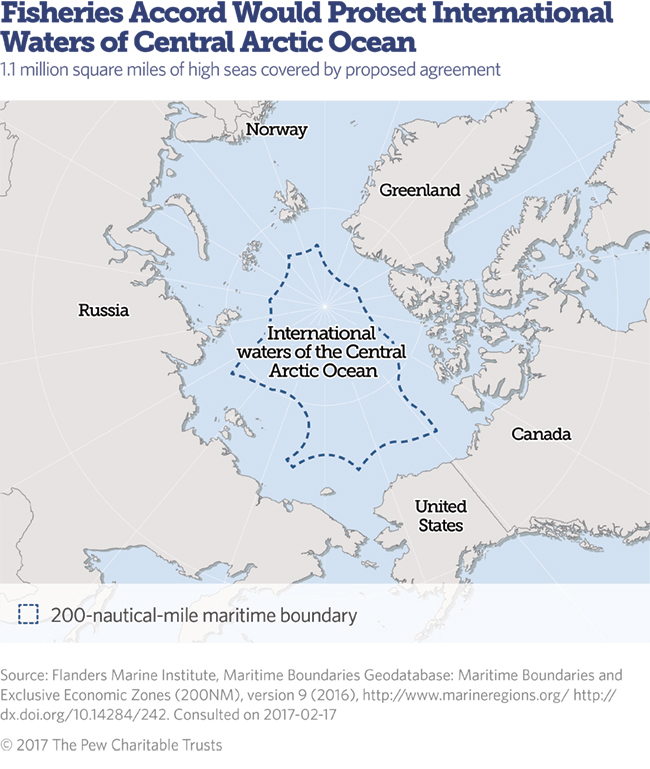 "Delegations made considerable progress in resolving differences of view on many issues under discussion such that only a small number of key provisions remained to be agreed," declared the chairman's statement issued at the conclusion of the three-day meeting. It also noted that officials expect to conclude negotiations "in the near future."
Representatives from the five Arctic coastal countries—Canada, the United States, Norway, Russia, and Greenland/Denmark—as well as officials from Iceland, China, the European Union, Japan, and South Korea attended the Reykjavik meeting, the fifth negotiating session on Central Arctic Ocean fisheries in a little more than a year.
In July 2015, the Arctic countries signed a nonbinding declaration agreeing to keep their fishing fleets out of the region. Following that, the negotiations were broadened to include non-Arctic countries with major fishing interests.
Outstanding issues could be resolved by summer
The Reykjavik chairman's statement said that if officials could resolve outstanding issues within the next couple of months they would not need to meet again to finalize the pact. The delegates have already agreed on matters such as establishing a scientific research and monitoring program, the value of incorporating indigenous knowledge into fishery management policies, and provisions relating to exploratory fishing. Details still under discussion include the legal description of the area covered by the agreement, procedures for decision-making, and the conditions under which additional regional fisheries management bodies might be created to oversee this region.
By taking a precautionary approach, the agreement will help protect the Central Arctic Ocean against damage and depletion from unregulated commercial fishing as permanent sea ice melts due to climate change. In recent summers, as much as 40 percent of this area has been open water for the first time in human history, and although fishing has not yet started in the region, growing global demand makes Central Arctic waters vulnerable in the future.
Steve Ganey directs the lands and ocean programs and oversees Arctic marine projects at The Pew Charitable Trusts.