Montana Public Lands Bill Backed by Wide Range of Stakeholders
Timber, conservation, and recreation interests would gain under proposal for Blackfoot-Clearwater Valley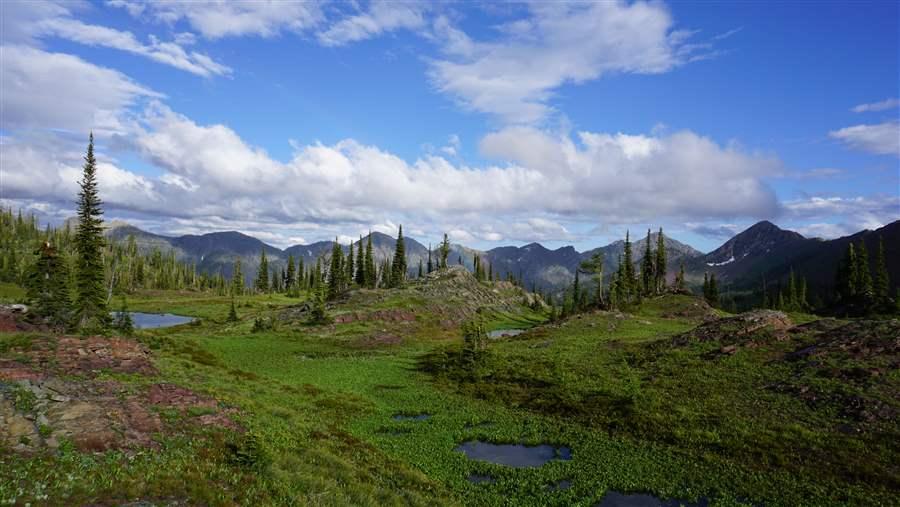 Grizzly Basin in western Montana's Swan Range is one of two proposed additions to the Bob Marshall Wilderness.
© Zack Porter
The public lands surrounding the communities of Seeley Lake and Ovando in the Blackfoot-Clearwater Valley in Montana contain pristine backcountry, prime wildlife habitat, and thousands of acres of terrain that's ideal for recreation such as snowmobiling and mountain biking.
For more than a decade, a wide variety of local stakeholders, working as the Blackfoot Clearwater Stewardship Project (BCSP), collaborated on a plan to meet the needs of the many groups that use those lands. The effort moved a step closer to reality on March 2, when Montana Senator Jon Tester (D) introduced the Blackfoot Clearwater Stewardship Act.
The bill calls for expanding the Bob Marshall, Scapegoat, and Mission Mountains wilderness areas by a total of 79,060 acres. While those areas would gain the United States' highest level of public lands protection, the act also calls for establishing recreation areas that would be open to a range of outdoor activities, and includes provisions that would help support a sustainable timber economy.
The BCSP started in 2005 when wilderness advocates and snowmobilers in Seeley Lake put aside years of dissension to agree to work toward a proposal that protected more wilderness in exchange for an established winter recreation area. Other forest users—outfitters, timber industry representatives, and wildlife advocates—joined the group. The expanded collaboration eventually found common ground on an array of forest management issues, including restoration, recreation, and conservation, all of which are addressed in the new legislation.
Conservation
These existing and newly proposed wilderness regions vary from lush, low-elevation wetlands to high alpine peaks and are home to a wide range of wildlife, including elk, grizzly bears, westslope cutthroat trout, lynxes, and a large herd of mountain goats. The areas are frequented by hikers, campers, cross-country skiers, hunters, and anglers.
The West Fork Clearwater River provides important habitat for bull trout. The area is a proposed addition to the Mission Mountains Wilderness.
© Zack Porter
Recreation
For those who enjoy pedaling through the great outdoors, the bill creates the 3,835-acre Spread Mountain Recreation Area; and for snowmobilers, the legislation adds the 2,013-acre Otatsy Recreation Management Area. The act would also direct the Forest Service to conduct a trails development study to explore opportunities to expand other recreation opportunities in nonwilderness landscapes.
Forest restoration
To promote healthy forests, the group established the Southwestern Crown Collaborative (SWCC). Since 2010, SWCC projects have rehabilitated 130 miles of streams and rivers; improved 1,400 miles of recreational trails; and, over an 80,000-acre area, restored forest, abated weeds, and taken numerous measures to reduce the risk of destructive wildfires.
Sen. Tester's legislation will build on this work and continue to promote restoration of forests and habitat, which provides jobs in the wood products industry and builds the local economy.
The Blackfoot Clearwater Stewardship Act aims to strike a healthy balance on conservation, recreation, and restoration, and Montanans seem to agree that it does. A recent University of Montana poll revealed that 74 percent of state voters support the proposal. Now it's time for Congress to act by passing this legislation to benefit a broad cross section of residents and visitors in the Blackfoot and Clearwater valleys.
Mike Matz directs The Pew Charitable Trusts' U.S. public lands program, focusing on wilderness and national monument projects.