Kermadec Islands Expedition Reveals Creatures Large, Small, and Bizarre
Scientific voyage highlights the environmental value of the remote area off New Zealand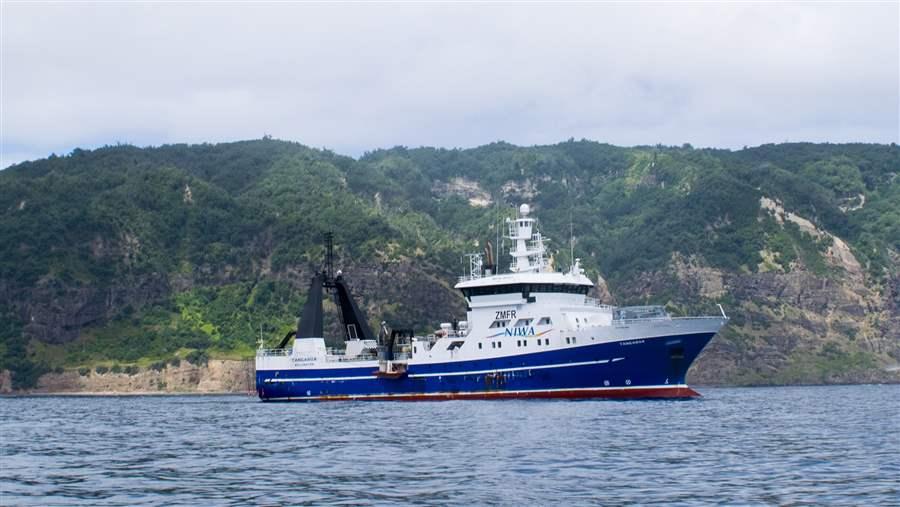 The research vessel Tangaroa at Raoul Island, the largest of the Kermadec islands.
© The Pew Charitable Trusts
As spring began to thaw the Southern Hemisphere last fall, The Pew Charitable Trusts' Amelia Connell joined scientists for an Oct. 20-Nov. 8 expedition to explore and study New Zealand's remote Kermadec region, located in the Pacific Ocean 1,000 kilometres (620 miles) northeast of the nation's North Island.
The seas of the Kermadecs are home to a diverse array of ocean life and serve as a critically important migration corridor for marine mammals during their seasonal shifts between tropical and cooler waters. Experts estimate that only 5 percent of the Kermadec region has been explored.
The scientists aboard the research vessel Tangaroa came from the National Institute of Water and Atmospheric Research (NIWA), Auckland War Memorial Museum, Museum of New Zealand Te Papa Tongarewa, the University of Auckland, Massey University, and the New Zealand Department of Conservation.
We had three main objectives for the expedition: catalogue the diversity of the seafloor and midwater fish and invertebrates from the Kermadec Ridge and islands; photograph and biopsy humpback whales and record their songs; and study the genetic connectivity of shallow reef communities among the islands.
By the end, we had sampled marine life in depths ranging from less than 30 metres (98 feet) to 2,000 metres (6,562 feet) at four sites along the Kermadec Arc: Raoul lsland, Macauley Island, L'Esperance Rock, and the Star of Bengal Bank.
The findings from the mission will give New Zealanders and others a broader understanding of these waters and their relationship to the health of ocean systems and species, which could prove critical as the country progresses toward establishment of the 620,000-square-kilometre (239,000-square-mile) Kermadec Rangitahua Ocean Sanctuary.
Check out more of Amelia's journey at the Auckland War Memorial Museum's blog site on the expedition.
Bronwen Golder leads the Pew Bertarelli Ocean Legacy campaign in New Zealand; Amelia Connell works on the project. Both authors are based in Wellington.