3 Ways to Encourage Healthy Eating During National Childhood Obesity Awareness Month
School nutrition has improved, and parents can help keep the momentum going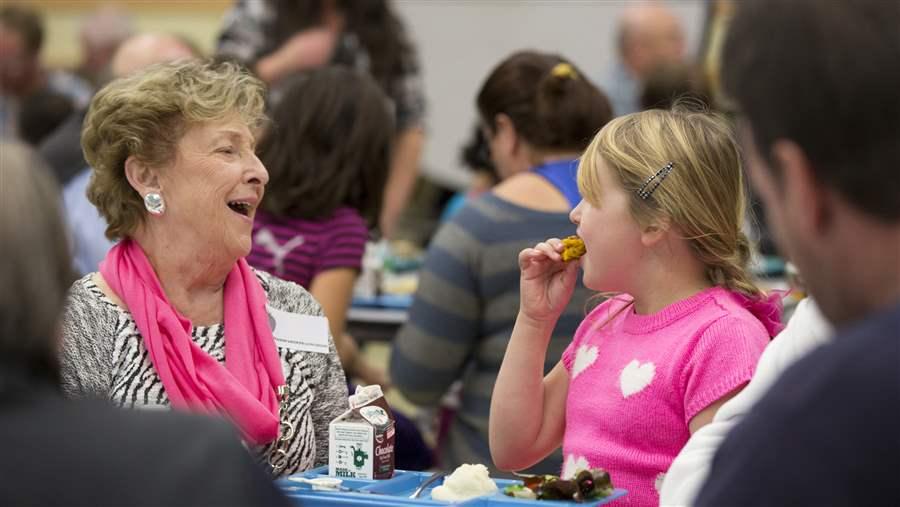 Make a date to eat lunch with your child or grandchild at school, talk about the healthy choices available, and try something new together.
© The Pew Charitable Trusts
September is National Childhood Obesity Awareness Month, which was initiated in 2010 in response to 30 years of rising obesity rates; today, 1 in 3 children is overweight or obese. The occasion is intended to encourage Americans to spend September learning about and engaging in activities that promote healthy eating and physical activity, and many of the best opportunities for participating can be found in your child's school.
Although today's parents can be confident that the foods offered in schools across the United States are healthy and delicious, they did not always have that certainty. A recent Virginia Tech University study found that students who ate school meals from 1998 to 2007 were at higher risk for childhood obesity and that the risk was greatest among those who got between a third and half of their meals through school programs. To address such problems and ensure that school meals support students' health, Congress directed the U.S. Department of Agriculture (USDA) to update school nutrition standards. New requirements, such as keeping menus within age-appropriate caloric ranges and offering more, and more varied, fruits and vegetables, together with meal program efforts including introducing salad bars and doing more scratch cooking, have vastly increased the nutritional quality of school foods and drinks and proved effective in improving students' habits.
Next, schools will be looking to update their wellness policies in accordance with recently announced guidance from the USDA. Children spend more time in school than in any other environment outside of their homes, so ensuring that they are offered only healthy, delicious school meals and nutritious snacks and beverages can significantly affect their overall health. Schools can reinforce those messages outside of the school day by conducting activity-based fundraisers rather than relying on bake sales or other food-focused events to increase resources.
You can play a role in supporting your student in having a healthy school day.
Make a school lunch date! Joining your child in the cafeteria for a meal is a fun way to see firsthand how your school meal program is doing. During lunch, express your support to school staff and students for making nutritious and appetizing meal choices.
Cook school lunch for dinner! Ask your school nutrition director for recipes that your child reports liking, then dial it down to a family-size batch and cook it at home. Share constructive feedback on the dishes with school kitchen staff members so they can gain insight on what's working.
Join your district's local wellness committee! This year, the USDA finalized its guidance on local wellness policies. You can work with members of your community on nutrition promotion and education, physical activity, and other school-based activities.
National Obesity Awareness Month offers an opportunity to promote health, but parents don't need to wait for a reason to engage with their children on good nutrition. The childhood obesity epidemic was years in the making, and while we've turned an important corner through updates to school nutrition standards and local wellness policies, there's more work to do. By encouraging healthy habits, schools and parents can build on the progress already made on behalf of kids in and around the cafeteria.
Jessica Donze Black directs the Kids' Safe and Healthful Foods Project at The Pew Charitable Trusts.