Latin American and Caribbean Nations Meet to Support Shark Protections
CITES to consider international trade restrictions in late September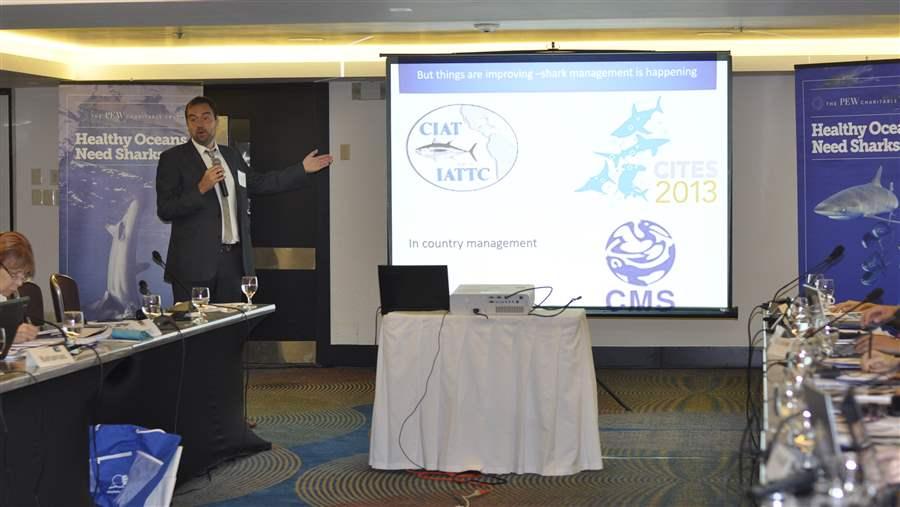 © The Pew Charitable Trusts
Luke Warwick, director of Pew's global shark conservation campaign, speaks at the pre-CITES workshop in the Dominican Republic.
The government of the Dominican Republic recently hosted Latin American and Caribbean nations at a regional workshop in Santo Domingo to discuss proposals to protect 13 species of sharks and rays that will soon be considered by the Convention on International Trade in Endangered Species of Wild Fauna and Flora (CITES).
At the meeting held Aug. 11-12, representatives of 16 nations talked about the need for global shark protections and the benefits of listing the shark and ray species on CITES Appendix II at the convention's upcoming Conference of the Parties (CoP) in Johannesburg in late September.
The nations spanned the region and brought diverse perspectives on the marine environment. Attendees included Argentina, The Bahamas, Brazil, Chile, Colombia, Costa Rica, Cuba, Dominican Republic, Ecuador, El Salvador, Guatemala, Honduras, Panama, Peru, Trinidad and Tobago, and Venezuela.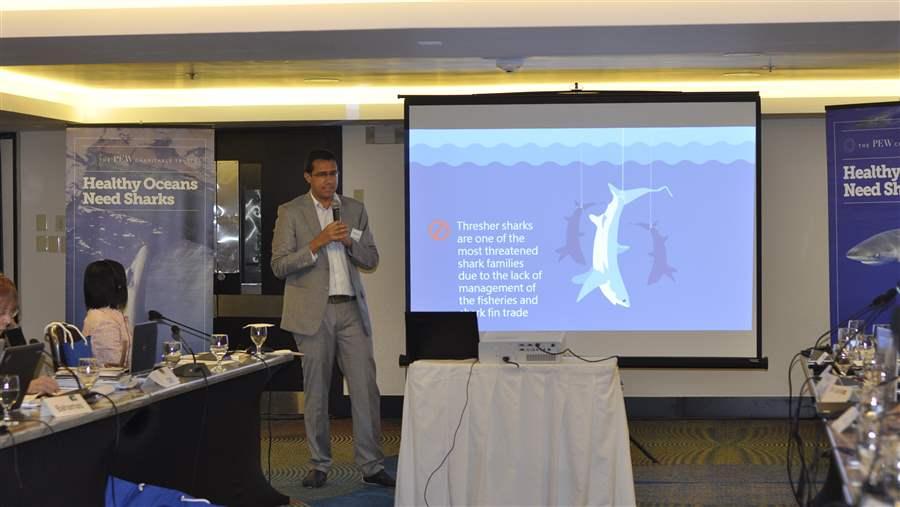 © The Pew Charitable Trusts
Daniel Fernando, adviser to the Minister of Sustainable Development and Wildlife of Sri Lanka, shares thresher shark statistics.
At the CITES CoP, member countries will vote on proposed Appendix II listings for three species of thresher sharks, silky sharks, and nine species of mobula rays. Unsustainable trade in these species has led to population declines of more than 70 percent over much of their range. The Appendix II listings require that countries that want to export these species first demonstrate that the trade is sustainable.
Those attending the workshop discussed at length the need for shark conservation and the role that CITES's can play in achieving that goal. They agreed resoundingly that international cooperation is the only effective way to protect sharks globally.
CITES offers just that kind of opportunity by encouraging the global community to work together. Fisheries that want to continue to supply international markets for these species can do so, but only if they can prove that the trade is sustainable and that all catch is legal.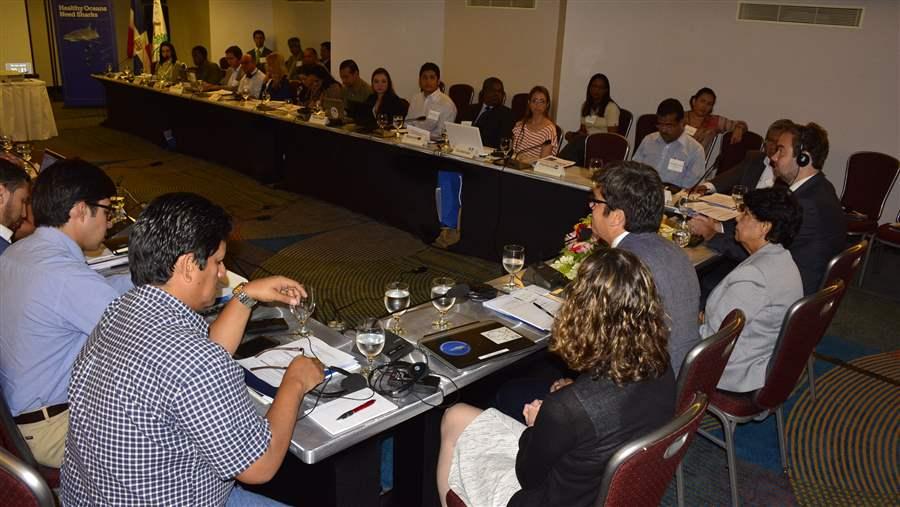 © The Pew Charitable Trusts
Max Bello, a senior officer with Pew's international ocean policy program, addresses government officials taking part in a pre-CITES workshop in the Dominican Republic.
"Given the precipitous declines in these shark species, regional support for CITES listings is essential to their recovery," said Jose Mateo, director of biodiversity at the Ministry of the Environment and Natural Resources for the Dominican Republic. "Our government is proud to host our regional partners in a workshop aimed at building capacity and demonstrating our region's leadership in shark conservation."
In the years since five species of sharks and both species of manta rays were listed on CITES Appendix II in 2013, nations around the world have taken steps to ensure that the listings are fully implemented. Latin American governments have played a leading role.
"We have taken steps since 2013 to ensure that CITES shark listings are properly implemented, and have been delighted with the progress that has been made," said Heins Bent, specialist for Colombia's Department of Marine, Coasts, and Aquatic Resources. "This meeting has showcased the wide range of implementation and enforcement tools available to CITES parties in our region to ensure that shark fisheries continue, but only in a sustainable way. We look forward to the adoption of these new listings to further build CITES' key role in managing the trade in shark and ray products."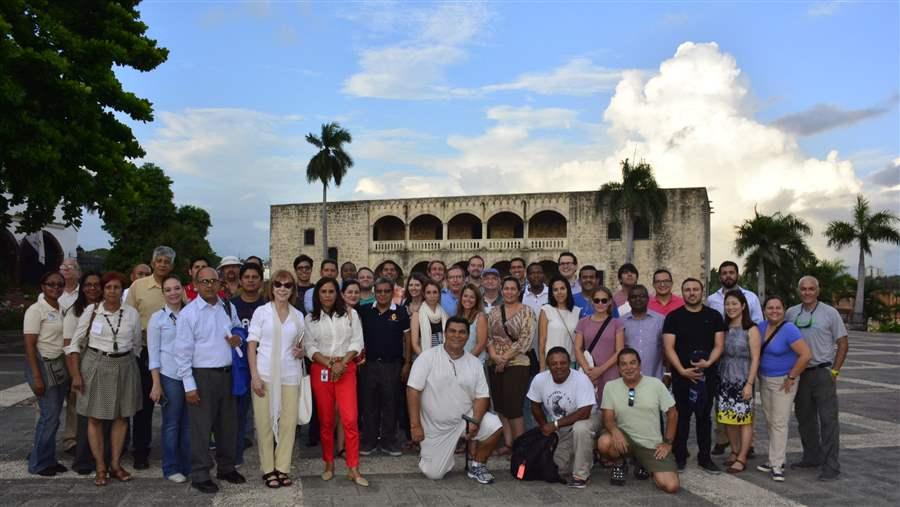 © The Pew Charitable Trusts
Workshop participants explore Santo Domingo during a break from the pre-CITES workshop.
Later this month, the 182 CITES member governments expected to attend the CoP will make final decisions on whether to expand CITES' role in managing global shark and ray populations.
The meeting in the Dominican Republic highlighted the importance of both shark tourism and fisheries in the Latin American and Caribbean regions. These governments were conservation champions for sharks and rays at CITES in 2013, and it's clear that they will again be leading the way to deliver groundbreaking protections for additional shark and ray species at CITES CoP17.
Luke Warwick directs shark conservation efforts for The Pew Charitable Trusts.
Funding for this workshop was provided by the Paul G. Allen Family Foundation.