The Gerlache Strait—Pristine Antarctica
A month at the bottom of the world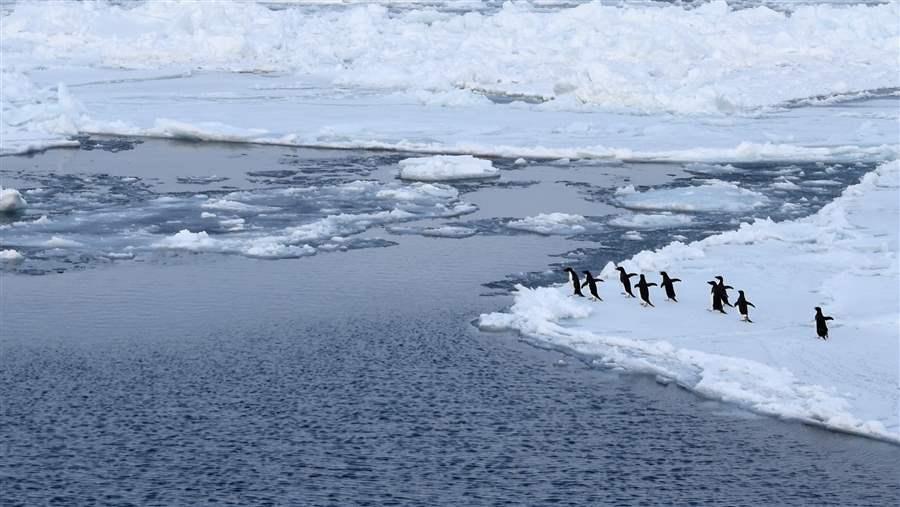 © The Pew Charitable Trusts
Adélie penguins prepare to dive in for a swim.
This is the third in a series of dispatches by Ryan Dolan, a member of The Pew Charitable Trusts' global penguin conservation campaign, who has joined a team of Southern Ocean experts on a research expedition to the Antarctic—in the middle of winter.
Aug. 29, 2016—Gerlache Strait, Antarctica
I've been hearing about the Gerlache Strait since I started working on Antarctic marine conservation 3½ years ago. Those who have experienced the journey through this famous channel, known for its spiky icebergs and humpback whale sightings, describe the beauty of the region and the abundance of wildlife. And now I, too, have fallen victim to the irresistible appeal of this unique wonder of the world. It's hard to describe how spectacular, raw, humbling, dynamic, and alive Antarctica is—and the Gerlache Strait has it all. I am in love.
But the increasingly concentrated impacts of fishing and tourism are raising serious concerns in the region, one of the most heavily fished areas of the continent for Antarctic krill. The region is also the one most visited by tourists in Antarctica—all of whom come during the summer season, from December through February.
Tour operators often complain that krill fishing vessels in the strait spoil the view for their passengers. A greater concern is that the fishing vessels make it more difficult for penguins to find food. One of the benefits of coming here in the winter is that despite the limited sunlight, I am able to experience a pristine Antarctica—at least in appearance.
As our research vessel made its way back north from Andvord Bay, retracing the route we had taken overnight, the dark sky of the Gerlache slowly changed to twilight. Hues of orange and pink signaled that daylight was coming, revealing the snow-covered peaks—rugged, unspoiled, and massive—around us. The crystal-clear water below was sprinkled with pieces of sea ice and icebergs that growled and creaked as they performed somersaults beside the ship. I struggled to record my experience with a camera, but even though every image was better than the last, capturing the true essence of the strait proved impossible. Every angle and wave, every time an iceberg moves, every gust of wind that reconfigures the clouds produces the most unbelievable kaleidoscopes of colors and shapes. Blues turned to pinks, pinks turned to oranges then to blues again, all within minutes of each other.
While I marveled at the unparalleled beauty around us, faint splashing sounds below signaled a group of Adélie penguins jumping in and out of the water as if playing a game of leapfrog on their way to the shore. I have talked about Antarctic penguins for a long time without ever seeing them in their natural habitat—until now. I have read the statistics about dwindling penguin populations in the Antarctic Peninsula region and about increasingly concentrated krill fishing in their feeding ranges, threatening their main food source. I have even seen close-up pictures of Adélies—far better photographs than I could ever take—doing exactly what I've just described. But only after witnessing those tiny-looking seabirds leaping from the water's surface 50 feet below us, accompanied by the delicate sound of their little splashes in contrast to the massive icebergs floating by, did I truly understand the sheer magnitude of the Southern Ocean and how vulnerable these diminutive animals are. If someone hadn't pointed them out, I would have missed them entirely. And they were right in front of me.
I am incredibly grateful to be a part of this research expedition, and I am in awe of the secrets these waters have yet to share with us. I will never see another place on Earth as beautiful as this.
Ryan Dolan is an officer on The Pew Charitable Trusts' global penguin conservation campaign.