A Month at the Bottom of the World
A journey to Antarctica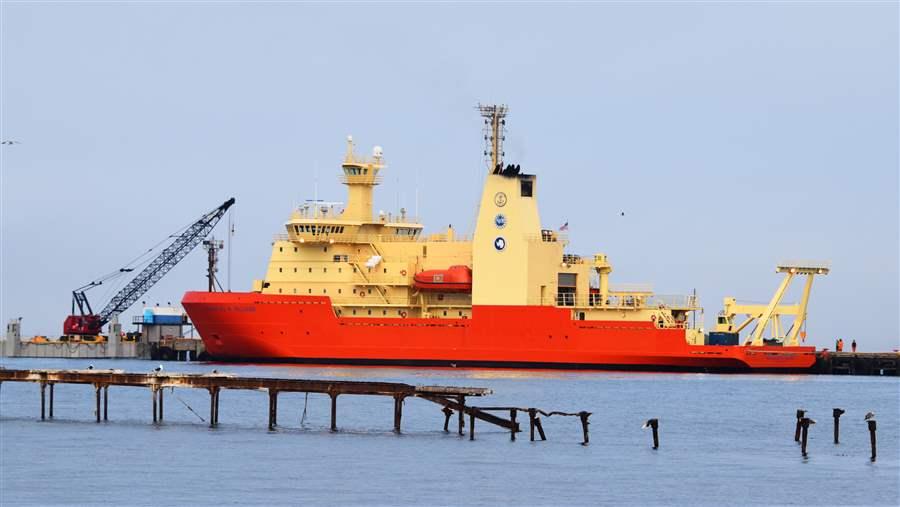 © The Pew Charitable Trusts
The Nathaniel B. Palmer, a National Science Foundation research vessel.
This is the first in a series of dispatches by Ryan Dolan of The Pew Charitable Trusts' global penguin conservation campaign, who has joined a team of Southern Ocean experts on a research expedition to the Antarctic—in the middle of winter.
Aug. 2, 2016—Punta Arenas, Chile
I am at the southern tip of South America, in the city known as the gateway to Antarctica. Here in Punta Arenas, Chile, I stare out at the gray waters of the Strait of Magellan, which are punctuated by beams of light peeking through the clouds. At the end of the pier is my home for the next month: the Nathaniel B. Palmer, a National Science Foundation research vessel. This feat of technology is a beautiful sight, its bright orange hull rising from the water in warm contrast to its wintry surroundings.
During a visit here a few months ago, I was reminded why early European explorers chose to name this place Tierra del Fuego, the "Land of Fire." As Magellan and his crew sailed into the strait that now bears his name, they saw canoes piloted by indigenous people, who had painted their skin and built bonfires in their boats to keep warm while at sea. The Palmer's fiery glow evokes a similar image for me, feeding my excitement to explore a place that so few people have visited.
On Aug. 4, I will board the ship along with a crew hosted by the United States Antarctic Marine Living Resources (AMLR) program of the National Oceanic and Atmospheric Administration (NOAA). From here, we'll embark on a monthlong sea voyage south through the Strait of Magellan, across the Drake Passage, all the way to the Scotia Sea, the waters of the Antarctic Peninsula, and the South Shetland Islands. This will be AMLR's fifth consecutive winter survey to the region—and the last in this research series.
While on board, I'll work 12-hour shifts alongside scientists from the United States, Chile, Germany, and Peru. Our mission will be to conduct much-needed research to better understand the variability of Antarctic krill (Euphausia superba), a tiny shrimplike crustacean that forms the base of the food web in the Southern Ocean and is the food of choice for many species, including penguins.
Aside from a smattering of scientists hunkered down at national research stations across the Antarctic continent this time of year, the Palmer will be alone in a vast sea of darkness as it crunches its way through passable layers of sea ice. Most research in Antarctic waters takes place in the summer months, when krill, migratory species, and Antarctic predators are the most active. Very little of this research has been done in the winter, and there is still a lot scientists don't know about this fragile ecosystem during its more dormant months.
The Antarctic Peninsula and the surrounding waters are prime places to conduct this research, as the area is among the hardest hit by the impacts of climate change. As a whole, the region is warming faster than anywhere else on Earth, and scientists suggest this is driving declines of Antarctic krill, a species that relies on sea ice for its reproductive cycle.
Adding to that pressure is commercial krill fishing, which is more active here than anywhere else. Krill are used in nutraceuticals such as omega-3 supplements and in feed for farmed fish, including salmon. Over the past 40 years, fishing for krill has become increasingly concentrated in this area, making it harder for penguins to find food.
As the Palmer's crew makes final preparations for departure, I feel surges of nervous energy. Even the seasoned polar scientists I've spoken with are impressed to hear I'm braving the Antarctic winter. As if that's not enough of a challenge, I've never been on an extended sea voyage and am heading for some of the roughest waters in the world. Hopefully the three boxes of scopolamine patches I've packed for seasickness will get me through the month.
Here's a list of the rest of my supplies, including lots of extreme cold-weather gear on loan from the National Science Foundation:
1 bright red, very warm Antarctic parka
1 pair of Gore-Tex pants
1 pair of goggles
1 rain jacket
1 pair of rain pants
1 pair of sea boots
1 pair of Sorel Snow Pac insulated boots and liners
2 pairs of field trousers
1 pair of rubber PolarFlex mitts
1 pair of polypropylene gloves and wool glove liners
2 thermal tops and bottoms
1 PolarPlus hat
1 balaclava
1 neck gaiter
1 bib, insulated
4 pairs of wool socks
1 shower kit
1 laptop
1 Nikon D5500 camera
3 camera lenses
1 GoPro camera with underwater housing
1 box of protein bars
A few books
My headphones and some tunes
I hope you'll follow my regular updates about this incredible journey on my Instagram account, Instagram.com/rt_dolan.
Ryan Dolan is an officer on The Pew Charitable Trusts' global penguin conservation campaign.