New Fuel Efficiency Standard Set for 'Big Rigs' and More
Latest rules will increase miles per gallon, cut emissions, and boost the economy
New rules finalized today by the Environmental Protection Agency (EPA) and the National Highway Traffic Safety Administration (NHTSA) will make medium- and heavy-duty vehicles cleaner and more efficient. The standards are the latest in a long list of actions by President Barack Obama's administration aimed at making the U.S. transportation sector more sustainable. The rules will cut consumption by 2 billion barrels of oil, save consumers $170 billion, and reduce carbon pollution by 1.1 billion metric tons over the lifetime of 2021-27 model-year vehicles, benefiting truckers, businesses, consumers, and the environment.
Heavy- and medium-duty trucks, which include tractor-trailers, buses, package delivery vans, and other large trucks, are among the least efficient and most heavily used vehicles on the road. The average combination tractor-trailer, or "big rig," for example, gets just 6 miles per gallon while driving 120,000 miles annually. According to the American Trucking Associations, more than 3 million heavy-duty trucks move nearly 70 percent of all the freight in the United States, requiring over 37 billion gallons of fuel a year.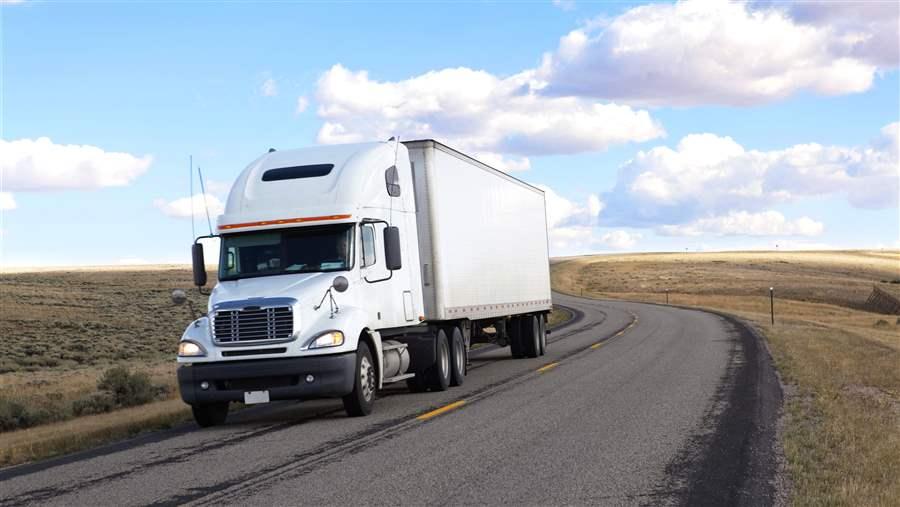 © iStock
Fuel economy for heavy-duty vehicles, including tractor-trailers, is set to increase under new EPA and NHTSA rules.
Filling up at the pump is the single-largest cost of owning and operating a heavy-duty truck, and those expenses are passed on to consumers through higher shipping rates. The average U.S. household pays $1,100 per year to cover fuel costs for vehicles that deliver items to their doorsteps, according to the Consumer Federation of America. The EPA and NHTSA calculate that fuel savings from the new standards could put $150 a year back into consumers' pockets while cutting carbon emissions by an amount equal to that of the annual electricity and power use by all U.S. residences.
Medium- and heavy-duty trucks represent just 7 percent of vehicles on the road, but they consume nearly 25 percent of the fuel used in the transportation sector and are its fastest-growing source of greenhouse gas emissions. The first round of efficiency standards, enacted in 2011, cover 2014-18 model-year trucks. Once those are fully phased in, the latest rulemaking will further decrease fuel consumption and carbon pollution by up to:
16 percent for heavy-duty pickups and vans.
24 percent for vocational vehicles such as buses and garbage and delivery trucks.
25 percent for combination tractors.
9 percent for trailers, compared with the average 2017 model.
Going farther on a tank of gas and reducing carbon pollution is a win for industry, consumers, the economy, and the environment.
Phyllis Cuttino directs The Pew Charitable Trusts' clean energy initiative.