Discoveries and Connections in the Kermadecs
Proceedings from the 2016 Science Symposium in New Zealand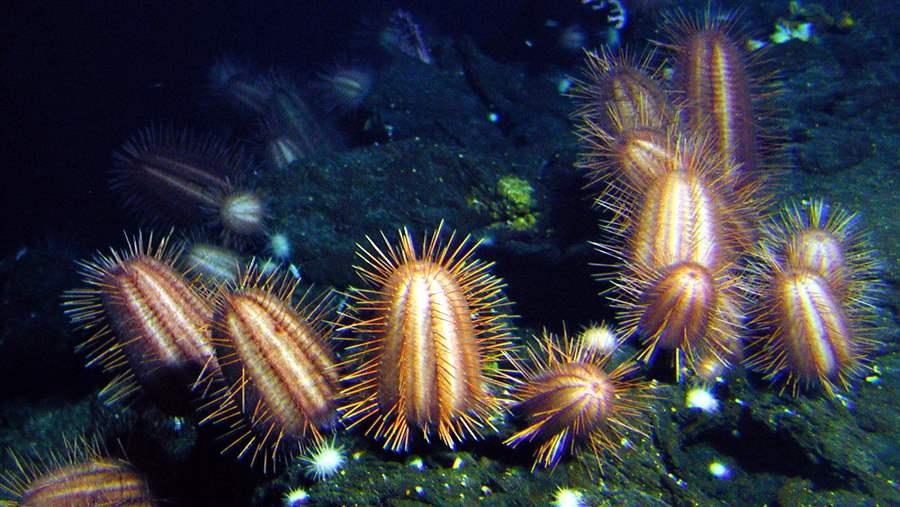 © New Zealand-American Submarine Ring of Fire 2005 Exploration, NOAA Vents Program
Deep-sea urchins that resemble cacti grow on the lava at Rumble V volcano, an underwater volcano on the Kermadec Arc. Scientists observed this species alive on the seafloor during the 2005 New Zealand American Submarine Ring of Fire expedition.
The Kermadec region of New Zealand, located 1,000 kilometers (620 miles) northeast of the nation's North Island, represents one of the last frontiers in marine and island exploration. The Kermadec Islands and the surrounding ocean are home to a wide array of species and serve as an important migratory pathway for marine mammals making seasonal journeys between tropical and cooler waters. The near-pristine waters and island ecology offer scientists, government ministries, nonprofit organizations, and other entities unique research and management opportunities.
Last September, New Zealand Prime Minister John Key announced that the government planned to create one of the world's largest fully protected areas in the world in the Kermadecs. In April 2016, The Pew Charitable Trusts; WWF-New Zealand; and Forest & Bird, the national conservation society, brought together scientists, conservation managers, and others involved with the region for the Kermadec Science Symposium, Kermadec—Discoveries and Connections, in Wellington. Over two days, scientists reported on their most recent expeditions and findings.
Between 2010 and 2015, these experts have made their way to the region to explore its unique biodiversity and geography, which includes islands, nearshore waters, and deep sea. Its 50 underwater volcanoes are part of the longest underwater volcanic arc on the planet. Although scientists estimate that only 5 percent of the Kermadec region has been explored, recent research there has significantly added to scientists' understanding of these waters and their relationship to the wider health of ocean systems and species.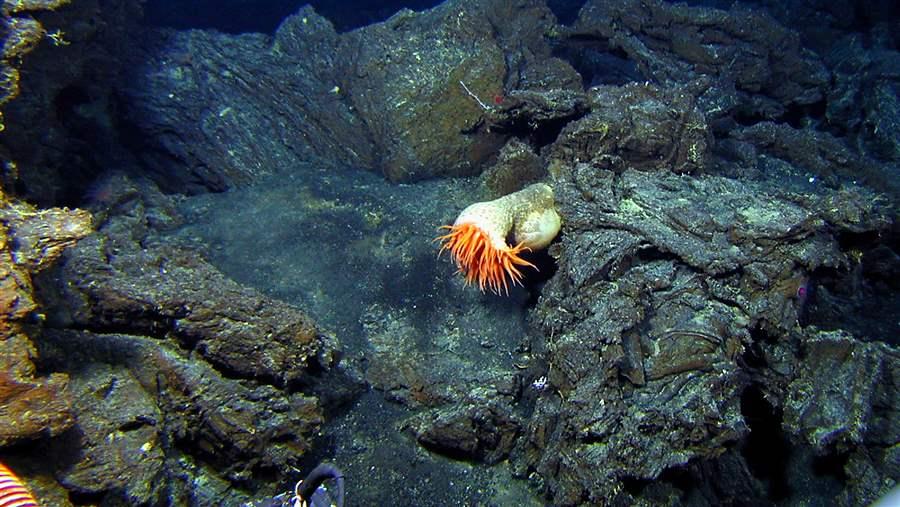 © New Zealand-American Submarine Ring of Fire 2005 Exploration, NOAA Vents Program.
An anemone on relatively young lava flows at Volcano W, an underwater volcano on the Kermadec Arc.
The symposium showcased new and exciting discoveries. For example, 15 new species were identified by the 2011 Kermadec Biodiscovery Expedition, which was led by scientists from the Auckland Museum. In 2012, scientists recorded and investigated the largest submarine eruption of the underwater Havre volcano. In other work, researchers discovered pine pollen in the depths of the 10,000-meter-deep Kermadec-Tonga Trench—the deepest ocean trench in the Southern Hemisphere. And for the first time, Oceania humpback whales were tracked with satellite tags from Raoul Island, the largest and northernmost of the main Kermadec Islands, to their feeding grounds in Antarctica. Other discoveries can be found in the 2016 proceedings report.
This symposium was a follow-up to the 2010 Kermadec symposium, Deep—Talks and Thoughts Celebrating Diversity in New Zealand's Untouched Kermadecs, which was hosted by Pew.