Who's Your Favorite Penguin? The 2016 Race Is On, and Adélie Wants Your Vote!
Southern Ocean conservation is dominating the election campaign. Help pick the most popular Antarctic penguin.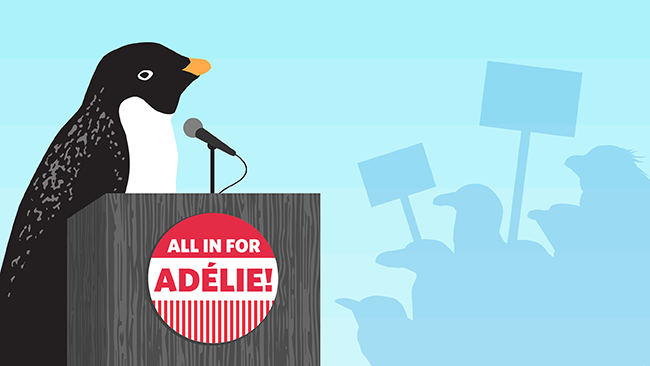 © The Pew Charitable Trusts
The Adélie penguin is one of the most abundant Antarctic penguin species, but does it deserve your vote?
The 2016 U.S. presidential contest is just one of many important races ramping up around the world. As candidates sprint toward finish lines, let's focus on a little-heralded campaign with global implications: the race to conserve the Southern Ocean.
Hanging in the balance are the fates of six species of penguin, all of which live, feed, and breed in and around Antarctic and sub-Antarctic waters. To help draw attention to their home, these birds have agreed to participate in a contest to determine the world's favorite Southern Ocean penguin species—with you as the decider!
Through Sept. 30, you'll have a chance to meet each candidate so you can make an informed choice. Each of these hopefuls is running on a powerful platform to earn your vote and to help these waters continue to support thriving ecosystems.
Who is running and what are their positions on the issues? We'll be answering those questions and more as we profile each candidate. We'll announce the winner Oct. 13.
Already know which penguin you'll choose? The polls are now open, so cast your ballot.
Remember: Vote before the polls close Sept. 30!
Candidate: the Adélie
Campaign slogan: All in for Adélie
Platform promise: "If elected, I'll help all Antarctica penguin populations bounce back from recent declines!" How? By ensuring that the Commission for the Conservation of Antarctic Marine Living Resources (CCAMLR) renews the conservation measure that helps move krill fishing farther away from our colonies! And I'll push hard for a Ross Sea marine reserve designation.
Signature trait: dark eyes surrounded by white feathers; beak may be partially or wholly black.
Penguin profile: The Adélie represents a major Antarctic faction. With more than 2.37 million breeding pairs, this species is one of the most abundant on the frozen continent.
Still, Adélie populations near the Antarctic Peninsula have declined by 50 percent in the past 30 years, largely due to climate change, scientists say. Because larval krill rely on sea ice to reach adulthood, melting may be causing declines in the crustaceans' abundance in some areas around the peninsula. Commercial fishing of Antarctic krill—a chief source of food for many Antarctic penguins—may also be contributing to declining populations of Adélies by making it harder for them to find food.
Visible light and sea ice conditions are two matters close to the Adélie's heart. Evidence suggests these factors affect when and where the species will go on yearly feeding migrations and are therefore integral to its survival.
This species knows how to compromise and work as a team. Male and female Adélie penguins share egg incubation and chick-raising duties by alternating shifts to protect their young. They're also very social and communicate through unique displays and postures.
Why the Adélie deserves your vote: Dubbed the "bellwether of climate change," the Adélie is among the marine life likely to be directly harmed by our warming planet. According to research published in June in Scientific Reports, up to 60 percent of current Adélie habitat in Antarctica will not be able to host colonies by 2100. And one of the only places left for their refuge may be the Ross Sea.
By winning the vote as humankind's favorite penguin, the Adélie would continue to remind the world of what is at stake in Antarctica, how human activity is harming this special environment, and why CCAMLR and the world must act now to protect the Southern Ocean.