BLM Plan to Decide Management of Region in SW Colorado
Public involvement can preserve Uncompahgre's striking landscapes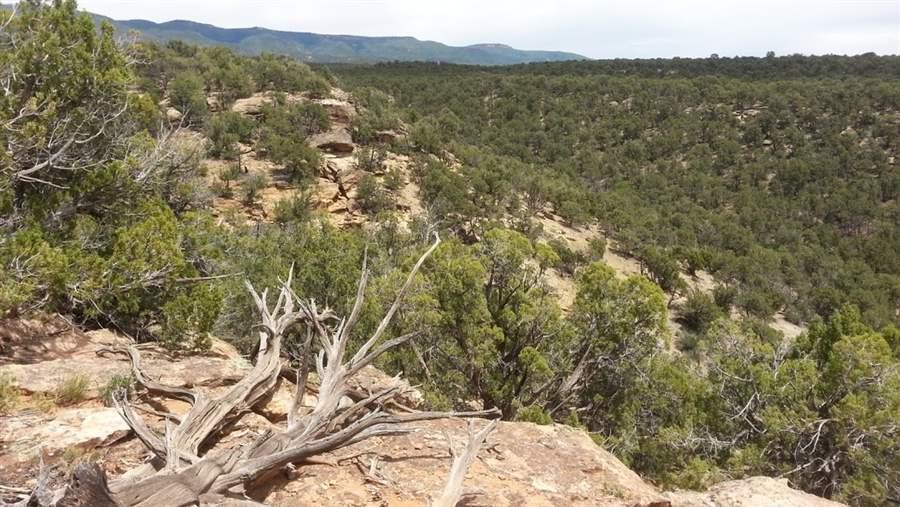 © Scott Braden/Conservation Colorado
The Uncompahgre Plateau provides sweeping vistas like this perspective on the Tabaguache area, located on its southern slopes.
From lowland expanses of the arid Colorado Plateau to 12,000-foot craggy Rocky Mountain peaks of subalpine forest, the Bureau of Land Management's (BLM) Uncompahgre area offers stark contrasts in topography.
Stretching northwest from Telluride to the Gunnison County line and west to the Utah border, the district includes more than 675,000 acres of BLM-administered public lands, which are managed for a variety of uses ranging from coal, oil, and gas leasing to wilderness and recreational activities, such as camping, hiking, climbing, mountaineering, and big game hunting.
The region west of Telluride is Colorado Game Management Unit 70, a legendary hunting area of vast and rugged lands. Spanning much of the San Miguel Watershed and including a 10,000-foot rise of aspen, fir, and pine forests, this region is known for its striking natural landscapes and the trophy deer and elk that call it home.
Local communities benefit greatly from the support of hunters and other outdoor enthusiasts. BLM estimates that some 500,000 people visit the Uncompahgre Field Office area for recreational purposes each year. These visits are an integral piece of the state's economy, with $275 million spent annually by people engaging in quiet (nonmotorized) recreational activities in communities within 50 miles of recreation sites on BLM lands.
The BLM recently released a draft management plan for Uncompahgre that addresses which areas will continue to be conserved for natural or recreational values—such as hiking, rafting, hunting, and fishing—and which will be available for development, including mining and renewable energy projects. This plan is open for public review and comment. Once finalized, it will provide the area's overarching management framework for the next 20 to 30 years.
The Pew Charitable Trusts, in collaboration with local and national partners, is engaging in this planning process to ensure that it contains an appropriate balance between conservation and development. In the draft plan, released June 1, the BLM recommended protecting 18,320 acres of these lands because they generally have the same qualities as formal wilderness areas but have not been designated by Congress. Places such as the lower Tabeguache Area, the Camel Back Wilderness Study Area, and the Dolores River Canyon Wilderness Study Area addition, for example, are wild and remote public lands deserving management that would keep them as they are: accessible to hikers, backpackers, sportsmen and women, and others who enjoy these places in low-impact ways.
The Uncompahgre Draft Plan also identifies 175,000 acres of potential Ecological Emphasis Areas--a unique and innovative approach BLM uses to manage public lands at a landscape scale to prioritize the importance of interconnected habitat and migration corridors. Although this is a good start, Pew will be working with local partners to expand this acreage while also ensuring that management plans are strong enough to protect the pronghorns, mule deer, elk, and bighorn sheep that depend on this habitat.
As the management planning process unfolds, the public has numerous opportunities to make its voice heard on how the area should be administered. Submit comments on the draft plan by Sept. 1 at http://www.blm.gov/co/st/en/fo/ufo/uncompahgre_rmp.html.