Science and Policy Leaders Call for Collaboration on Arctic Fisheries Research
Roundtable discussion in South Korea yields recommendations to promote international cooperation
© The Pew Charitable Trusts
The Korean Polar Research Institute in Incheon, South Korea, hosted a roundtable discussion on the future of Arctic fisheries research.
For two days in late March, Arctic experts from South Korea, China, Japan, Russia, Canada, and the United States gathered at the Korean Polar Research Institute in the Songdo International Business District in Incheon, South Korea, for a roundtable discussion on how to foster more research on fish stocks in the Central Arctic Ocean to support a proposed international fisheries accord for those waters.
Five Arctic countries, in collaboration with non-Arctic nations such as South Korea, are working on an agreement that would prohibit commercial fishing in the Central Arctic Ocean until scientific data can ensure that a sustainable fishery and management measures are in place. For scientists, the question is how to use the accord to bolster and organize cooperative international research as well. Participants pointed out that extensive research is taking place in Arctic waters, but little of it is about fish.
Furthermore, most of the work to date has been within the exclusive economic zones of the Arctic coastal countries, with far less in the international waters of the Central Arctic Ocean. These gaps can be described as "the missing middle," referring to both the location of the Central Arctic Ocean and the fact that research has focused on zooplankton at the base of the food web and marine mammals and seabirds at the top but not on the fish that connect them.
This existing body of research, however, does provide a good foundation for international cooperation. Many of the studies that are underway are multinational, using vessels operated by different countries, and together they will create a consistent record of various oceanographic characteristics from the northern Bering Sea through the Arctic Ocean.
Discussions at the meeting focused primarily on the Pacific sector of the Arctic Ocean—adjacent to Alaska, Russia, and Canada—that is closest to South Korea and other Asian countries and has experienced the most dramatic retreat of summer sea ice. As much as 40 percent of the Central Arctic Ocean, mainly on the Pacific side, has been ice-free in recent summers.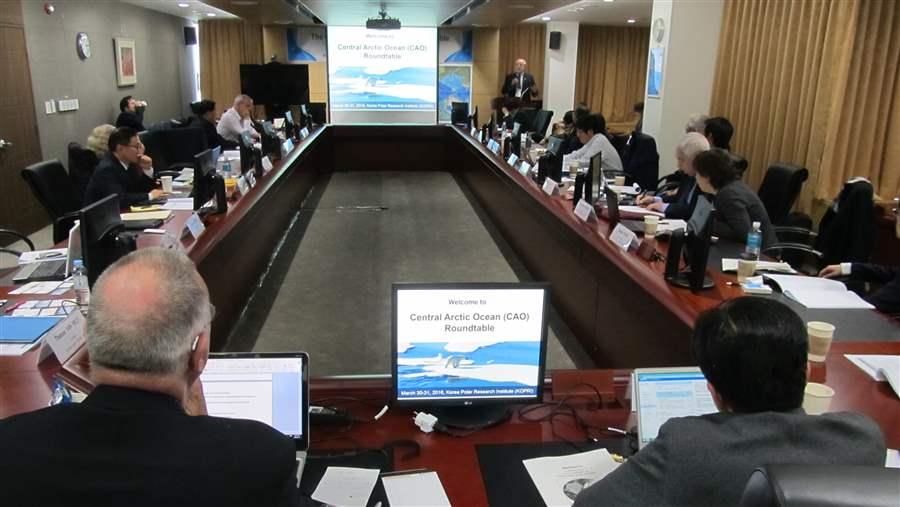 © The Pew Charitable Trusts
Participants listen to a presentation at the Korean Polar Research Institute's roundtable on an international fisheries accord.
Effective coordination is vital to making the most of the intellectual and logistical capacity spread across different countries. Several participants suggested that a stand-alone science organization focused on the Central Arctic Ocean and offering equal participation to all interested countries could fill this role. Participants passionately made their case for an inclusive approach to diplomacy and science.
South Korea may not have Arctic territory, but it has invested substantially in research and outreach in the Arctic. China and Japan, too, have devoted considerable resources to Arctic science, in addition to their commercial ventures in the region. The Asian countries have a great deal to offer this effort, with a strong interest in playing a constructive role in a sustainable Arctic. Add to that the general agreement that scientific research should precede fishing in the Central Arctic Ocean, and there are many reasons to be optimistic about a collaborative future that will avoid the overfishing tragedies seen in so many places around the world.
In 2012, more than 2,000 scientists issued a letter calling for an international agreement to prevent the start of commercial fishing in a 1.1-million-square-mile (2.8-million-square-kilometer) high seas area surrounding the North Pole. The letter noted that nations needed to act because melting Arctic ice, a changing ecosystem, and inadequate scientific data meant unregulated commercial fishing in the emerging region posed a great risk to marine food webs.
Three years later, five Arctic countries voluntarily announced that they would not allow their fishing fleets to enter the area, and in December 2015 they met for the first time with five non-Arctic nations to discuss the text of an agreement. President Barack Obama and Canadian Prime Minister Justin Trudeau highlighted the importance of this issue again when they met at the White House in March.
This week, the Arctic and non-Arctic countries will meet again in Washington to continue their work toward an accord to protect this vital region.
Henry Huntington is a senior officer and science director for The Pew Charitable Trusts' Arctic programs.