Colorado Election Reforms Improve Voter Experience
Pew recently released a brief documenting the impact of Colorado's Voter Access and Modernized Elections Act of 2013 as reflected in state data and a survey of more than 1,500 Colorado voters. Our findings indicate that the average cost per vote of administering elections decreased, the number of provisional ballots issued declined sharply, most voters returned their ballots in person rather than by mail, and voter satisfaction with the new system is very high.
Election costs. Forty-six of the state's 64 counties—those with data available—spent an average of $9.56 per vote in 2014, down from $15.96 in 2008, and all but three spent less per vote in 2014 than in 2008. Of the five cost categories tracked—printing, labor, rental, postage, and miscellaneous—the analysis found decreases in four on a per-vote basis.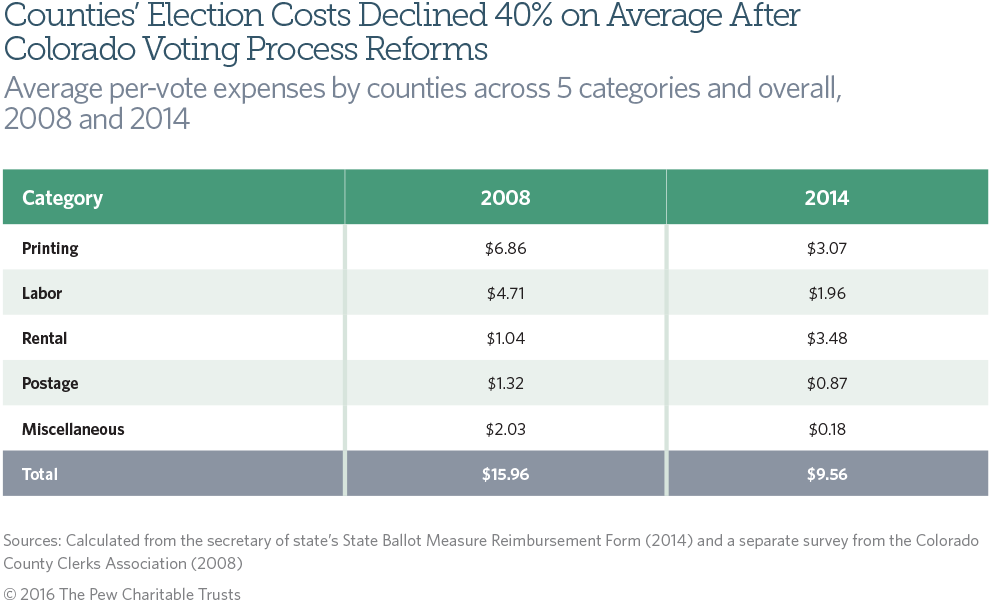 Provisional ballots. The implementation of same-day registration, vote centers, and the delivery of mail ballots to all voters appear to have contributed to a nearly 98 percent reduction in the issuance of provisional ballots between 2010 (39,361) and 2014 (981). Thirty-six counties had no provisional ballots cast in 2014, up from just eight in 2010. Amber McReynolds, director of elections for the city and county of Denver, estimates that the decrease saved her office approximately $28,000.
Mail ballots. Nearly two-thirds (64 percent) of voters said they returned their ballots in person, usually to a drop box, rather than by mail. Convenience seems to have been a factor: Of these voters, 78 percent said it took less than 10 minutes to get to a designated drop-off location.
Voter satisfaction. Mail and in-person voters said they were satisfied or very satisfied with their voting experience at nearly identical rates: 95 and 96 percent, respectively.
Sean Greene is the project director and Kyle Ueyama is a research associate for election initiatives at The Pew Charitable Trusts.
Follow us on Twitter using #electiondata and get the latest data dispatches, research, and news by subscribing today.